BA Simon Fraser University
MA University of Saskatchewan
PhD University of Saskatchewan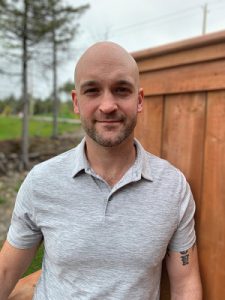 Colin was born in Halifax, N.S., but grew up in the Annapolis Valley. He currently holds a SSHRC funded Postdoctoral Fellowship and is a Bora Laskin Fellow in Human Rights Research.
Colin is a Community-Engaged Historian who is currently working with the Pictou Landing First Nation on a project that analyzes the ways that Industrial Colonialism has shaped Mi'kmaw lives and livelihoods in Pictou County, Nova Scotia. His current project looks at how the expansion of several industries in Mi'kma'ki challenged Mi'kmaw access to resources, while also providing new opportunities for wage labour and the sale of Mi'kmaw produced goods (such as axe and pick handles for coal mining).
Peer Reviewed Articles and Book Chapters:
Osmond, Colin M. "Logging, Laughing, and Staying Alive: The New Ethnohistory and Coast Salish Reflections on Dangerous Work in the Woods." Pacific Northwest Quarterly Vol. 109, no. 3 (Summer 2018): 120-134.
Osmond, Colin M. "I Was Born a Logger: Stó:lō Identities Forged in the Forest." In Towards a New Ethnohistory: Community-Engaged Scholarship Among the People of the River, eds., Keith Carlson, John S. Lutz, David Schaepe, and Sonny McHalsie. Winnipeg: University of Manitoba Press, 2018.
Co-Authored Articles/Chapters:
Francis-Denny, Michelle, and Colin M. Osmond, "Reclaiming A'Se'k", in Canadian Coastal Histories, L.R. Wilson Rethinking Canada in the World Series (Montreal-Kingston: McGill-Queens University Press, expected 2022): Forthcoming 2022.
Carlson, Keith Thor, Albert "Sonny" McHalsie, Colin Osmond, and Tsandlia Van Ry, "The Collaboration Spectrum: Reflections on Community-Engaged Scholarship in a Historical Study of Gendered Territoriality among the Stó:lõ", in Benjamin J. Barnes & Stephen Warren, eds., Replanting Cultures: Community-Engaged Scholarship in Indian Country (New York: SUNY Press [expected publication Spring-summer 2021].
Carlson, Keith, and Colin Osmond. "Clash at Clayoquot: Manifestations of Colonial and Indigenous Power in Pre Settler Colonial Canada (The Overlooked 1792 Journals of David Lamb and Jacob Herrick)." Western Historical Quarterly vol. 28, no. 2 (2017): 159-188.
Co-Authored Books:
Carlson, Keith; Osmond, Colin; Hutton, Norman. The Lodge We Built: 100 Years of Freemasonry in Powell River. Saskatoon: University of Saskatchewan Community- Engaged Collaboratorium, 2016.
Non-Refereed Articles:
Osmond, Colin M. "A'Se'k – Boat Harbour: A Site of Centuries' Long Mi'kmaw Resistance," Active History, Oct. 18 2019, http://activehistory.ca/2019/10/asek-boat-harbour-a-site-of-centuries-long-mikmaw-resistance/
Batwell, Emma, and Colin M. Osmond, "Salmon and Christianity", Active History, May 20 2019. http://activehistory.ca/2019/05/salmon-and-christianity/
Osmond, Colin. "The Collaboratorium – University of Saskatchewan Launches Initiative in Community-Engaged History." Active History, July 26 2016. http://activehistory.ca/2016/07/the-collaboratorium-university-of-saskatchewan-launches-initiative-in-community-engaged-history/
Osmond, Colin. "'We made a strong statement for First nations loggers, plus we put on a good salmon BBQ!': Aboriginal Logging Sports and Masculinity in British Columbia." NiCHE, April 4 2016. http://niche-canada.org/2016/04/04/we-made-a-strong-statement- for-first-nations-loggers-plus-we-put-on-a-good-salmon-bbq-aboriginal-logging-sports- and-masculinity-in-british-columbia/
Expository Articles:
Osmond, Colin M. "Review of Joseph Weiss, Shaping the Future on Haida Gwaii: Life Beyond Settler Colonialism (Vancouver: UBC Press, 2018), 230 pgs., in Ethnohistory (forthcoming, expected Fall 2021).