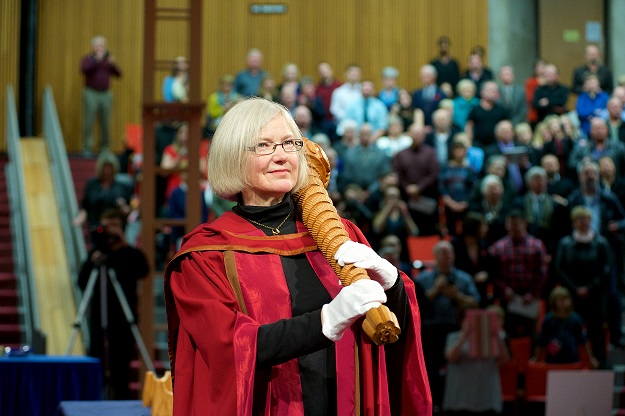 Professor Emerita
B.A. (Trent)
M.A. (Leicester)
Ph.D. (London)
E-mail: susan.drain@msvu.ca
Susan Drain has taught courses in writing, from the introductory level to a senior seminar, and from time to time, courses in Victorian literature or children's literature. Over her career the quality of her teaching has been recognized locally (MSVU Award for Instructional Leadership, 2002), regionally (Association of Atlantic Universities Teaching Award: Instructional Leadership, 2003), and nationally (3M Teaching Fellowship, 2006).
Her research interests are eclectic, but often include biography. A recent publication is "Truncated Ambition: Thomas King Chambers, MD (1817-1889)," in the Journal of Medical Biography. She has written for a number of reference works such as the Oxford Dictionary of National Biography (2004) and the Oxford Encyclopedia of Children's Literature (2006). She has published on the children's writers L.M. Montgomery and Margaret Gatty.
Recent work is the editing and online publication, in real time plus one hundred years, of an archive relating to the World War One Canadian artillery soldier Percy Theobald. The archive includes diaries, letters, photographs, documents, and ephemera; set in a broader context of military and cultural history (including contemporary fiction, poetry, and art), and including a love story, the blog is really a work of creative non-fiction. Read it at https://PercysWar.wordpress.com
And for a different perspective on writing, see her 2014 (but now only occasional) blog called Trouble (On) Writing, a project for the Mount's Writing Centre.
In addition to her scholarly work, Susan undertakes and publishes a small amount of creative writing, in poetry and memoir. She is polishing a collection of short stories for publication. In 2019 she won the Writers Federation of Nova Scotia's Budge Wilson Prize for short fiction for a story called "In the Dugout."
The image above shows Susan in her past role of Secretary of Senate, and therefore, ex officio, mace bearer at University convocations.