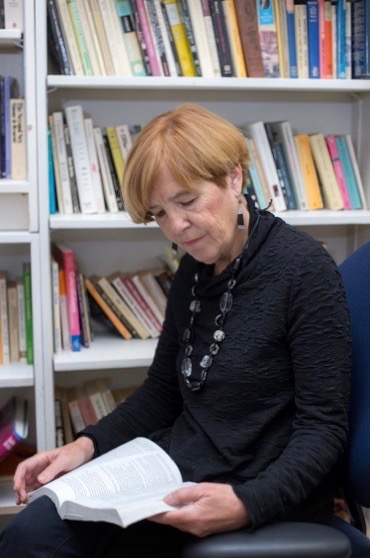 Associate Professor
BA University of Alberta
MA University of Alberta
PhD University of Alberta
Office: Seton 519
Phone: 902-457-6534
E-mail: rhoda.zuk@msvu.ca
Research interests:
Feminist theory, cultural studies, women's literary tradition, children's literature, popular culture, contemporary feminist literature
Selected publications:
(With Donna Varga). "Golliwogs and Teddy Bears: Children's Popular Culture and 'Innocent' Racism." Journal of Popular Culture. Vol. 46.3 (June 2013): 647-471. Web.
Editor of Atlantis: A Women's Studies Journal, 2004-2007; co-editor of seven general following issues in that time.
"The Courtesan's Progress in the late 1790's: Elizabeth Gooch and Margaret Coghlan." Women's Writing: Elizabethan to Victorian Age 11.3 (2004): 363-376.
Two articles in the New Dictionary of National Biography. Oxford: Oxford UP, 2004.
R. Zuk and P. Baker. "Feminist Curating in Public Spaces." Resources for Feminist Research 30.1 & 2 (Spring/Summer 2003): 51-62.
R. Zuk and P. Baker. " 'Could we be any more feminist: Make me barf': Responses to Art at a Women's University." Journal of International Women's Studies 2.1 (November 2000).
Editor of Bluestocking Feminism: Writings of the Bluestocking Circle, 1738-1790. Volume 3: Hester Chapone and Catherine Talbot. Pickering & Chatto Publishers, 1999.
"Entertaining Feminism: Roseanne and Roseanne Arnold." Studies in Popular Culture 21.1 (October 1998).
"The Little Mermaid: Three Political Fables." Children's Literature Association Quarterly 22.4 (Winter 1997-1998): 166-175.