Annual Social Enterprise for a Day

What is SE4D?
What is a Social Enterprise?
According to the Social Enterprise Network of Nova Scotia (SENNS), "a social enterprise is a business operated to address social, cultural, environmental or economic challenges. Most profits are reinvested to support that purpose."
The Event
The Mounts Social Enterprise for a Day is a collaborative event focused on providing knowledge to our students about the concept of social enterprise and then tasking them with creating a product or service that they can "take to the streets" to inform the public about social enterprise.
What it's all about:
Day 1 – In the afternoon, students will gather to work with a local social entrepreneur (Hope for Wildlife is our 2020 organization) and after hearing about the issues that Hope for Wildlife is experiencing, will collaborate in teams to try to develop innovative ideas and solutions that might resolve some of the issues. In the evening, students will break into teams and engage in the activity of developing ideas for a social enterprise and then they work to develop their product or service so they can be ready to "hit the streets" on Day 2 and inform the public about the value of social enterprises to our communities and hopefully sell their product or services to raise funds for Hope for Wildlife.

Day 2 – In the morning students will add the finishing touches to their newly created social enterprise idea. They will then "hit the streets" of HRM between 12:00 – 2:00pm to educate the public about their social enterprise product or service. In a very short time frame, students are able to produce a product or service and are able to earn revenue that is donated to the annual charity of choice. Students will debrief at MSVU at 2:30pm to share their ideas with the other teams and to discuss their experiences.
How can you support SE4D?
Look for our students in HRM in March and purchase their product or service.
Interested in becoming a SE4D Sponsor? Contact Business. Check us out on Facebook and Twitter.
Yes! We are making plans now!
SE4D will tentatively be scheduled for March 16 and 17th.
Start making your plans!
The Mount's Social Enterprise for a Day is a collaborative event focused on providing knowledge to our students about the concept of social enterprise.
This year our guest panelists engaged in an open-ended discussion hosted by Nick Deal, about their companies, history and views on how entrepreneurs can make a positive impact on people and society.
Lori Barker, CEO, Ronald McDonald House Charities (RMHC) Atlantic
Mary Gordon, Founder/President, Roots of Empathy
Connie McInnis, CEO/President, R Studios
Kate Pepler, Owner/CEO, The Tare Shop
Nick Sharpe, Executive Director, Big Brothers Big Sisters of Colchester 
This year's event featured Nick Sharpe, Executive Director of Big Brothers Big Sisters. A live case study followed the panel session which allowed students an opportunity to work together and develop innovative ideas and solutions that might resolve some of the challenges faced by Big Brothers Big Sisters.
Thank you panelists!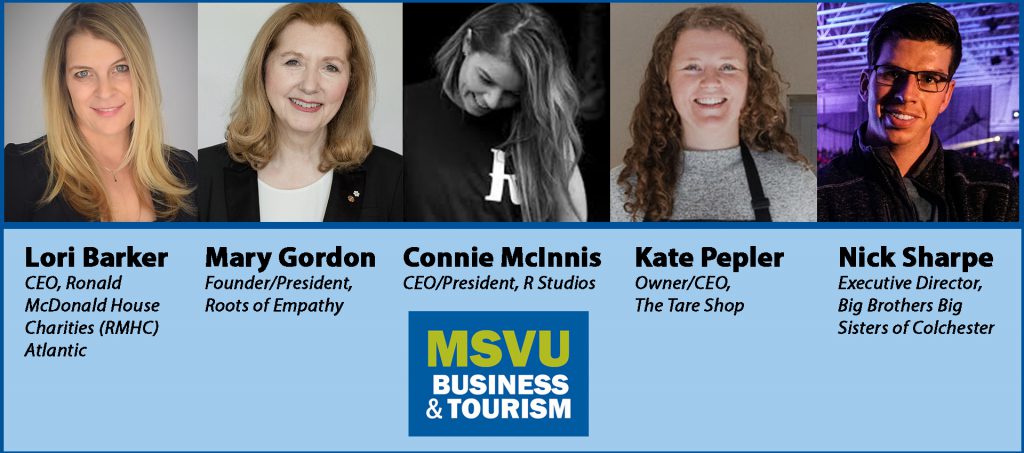 This year's Social Enterprise for a Day was held on March 4 and 5 and was a resounding success. There were 104 registered students who participated from MSVU along with 11 coaches and facilitators comprised of MSVU faculty, CEED managers, and the Spark Zone. Sponsorship was provided by Labor and Advanced Education, the Centre for Women in Business, and the Centre for Entrepreneurship Education and Development.
Students were required to identify, plan, and implement a socially responsible business idea in less than 24 hours which included selling their goods or services throughout HRM on day 2 and informing the public about the benefits of social enterprises to local communities. The revenues raised this year were donated to Hope for Wildlife, a wildlife rehabilitation and education center focused on the education of others about the importance of conserving wild animals and the ecosystems that sustain them.
Enjoy our day through the photos on Flickr
Social Enterprise for  a Day
March 14 and 15
Dr. Peter Mombourquette began another successful SE4D with encouraging opening remarks followed by a stimulating presentation from the Executive Director of Prescott Louis Brill.
The students helped brainstorm a wealth of creative ideas to help Prescott navigate its growth path challenges and strategic plan objectives.
The evening proceeded with 100 students forming 9 teams to create their Social Enterprise Ideas with the help of mentors and coaches from CEED and the Sparkzone.
They hit the streets Friday to execute their activities and pulled in $1174.25 to give to Prescott, as our selected charity.
See our photos on Flickr     Watch the video highlights on YouTube
 We would like to thank our sponsors
Labour and Advanced Education and CEED
Social Enterprise for a Day – 2018
Thursday, February 1
Opening Remarks, Dr. Peter Mombourquette, Chair, Department of Business Administration and Tourism and Hospitality Management
Social Enterprise Panel Watch the discussion
Cathy Deagle Gammon, Executive Director, Dartmouth Adult Services Centre; President, Social Enterprise Network of Nova Scotia
Dave Rideout – President and CEO, Stone Hearth Bakery
Jayme Melrose – Project Coordinator, Common Roots Urban Farm
Jessie Jollymore – Executive Director, Hope Blooms
Cystic Fibrosis Canada Atlantic Region: Issues and Concerns Watch the presentation
Friday, February 2
Students Finished Social Enterprise ideas
Students "Hit the Streets" of HRM
Student Debriefing; Sharing of Ideas and Experiences
Watch the video highlights on YouTube    See our photos on Flickr
We would like to thank our sponsors:
CWB, CEED, and the Spark Zone
Social Enterprise for a Day (SE4D) was held on January 26 and 27, 2017 at Mount Saint Vincent University. Social enterprises are created to solve or influence social objectives or issues at many levels – local, national and international. Social enterprises do not force a choice between economic and social benefits. Rather, they can focus on both. Individuals who create and operate social enterprises are called social entrepreneurs. They dream big and aspire to create a better world for tomorrow. A social enterprise has a "socially purposed" mandate and that is what differentiates it from a regular enterprise. More than 80 Mount students attended this two day event and participated in a simulated short-term activity that required them to develop, plan, and implement a social activity within HRM for day two of the event.
The event was headlined by a panel of social entrepreneurs who spoke passionately to the students about their own enterprises and how they were making a difference in our communities.
Panel members included:
Jessie Doyle from Fruition
Jenny Kierstead from Breathing Space Yoga
Sarah Wilson from Homeward Bound City Pound
Lindsay Cross from CUA also spoke to the students about the importance of social entrepreneurship.
Watch the expert panel on YouTube
The pictures tell the story! We had 8 groups of students actively engaged in the planning and execution of their ideas and students came from many different cultures and countries which only enhanced the learning experience. Ideas ranged from a group of 5 students who just happened to all be from a different country providing language lessons in their native language, a balloon pop with inspirational messages, cards to Syrian refugees with hand written messages, to student musicians in the street spreading the message of inclusion. Over $1300 was raised in the selling of these ideas with all monies going to the Syrian Refugees. Students gave a debrief at the end of the 2 day event and the enthusiasm for the friendships that developed and the knowledge about social entrepreneurship was astounding.
Watch the video highlights on YouTube  Watch our day in photos on Flickr
Over 120 students participated in this years CUA SE4D
Participants had the opportunity to learn from 24 social enterprise industry experts, develop their entrepreneurial skill set and put their own social enterprise to the test.
Read our success story published in The Metro News featuring the efforts of one team of students participating in the SE4D event and read the highlights from the Mount Media Centre.
The two day event:
DAY 1: Students learned about social enterprise from an industry expert panel
Marie-France LeBlanc – CEO of Habitat for Humanity, Halifax Nova Scotia
Sean Coutinho – Owner 'Such a Teas', Halifax Nova Scotia
Sarah Andrews – Owner, SattVa Boutique, Halifax Nova Scotia
and special guest from CUA, VP of Member Services, Scott Durling.
Keynote speaker, Chris Webb, wrapped up the evening with an enthusiastic speech to motivate students as they endeavored to create a social enterprise of their own. Students were provided support from Gold Sponsor and partner, The Centre for Women in Business (CWB) and Community Partner, Centre for Community Entrepreneurship Education (CEED). Dinner was provided by the generous support of CUA.
DAY 2: Morning: Students added the finishing touches to their newly created social enterprise and enjoyed a lunch provided by The Centre for Women in Business. Afternoon: Students, facilitators and coaches "hit the streets" of Halifax to sell their business idea. Students regrouped at The Mount to share the success of their day and enjoyed a coffee break sponsored by KPMG.
The fourth annual Social Enterprise for a Day 2015 conference was held on January 29 – 30, 2015. SE4D is a collaborative initiative between the Mount's Business department and the Centre for Women in Business. Students gather for this event to create and implement a social enterprise.
The two-day event is fast, fun and focused. Volunteers from local agencies, social enterprises and educational institutions team up with participating students to help create each social enterprise.
Hear from Wendy Keats keynote speaker as she shares her perspective on Social Enterprise (People, Planet, Profit)