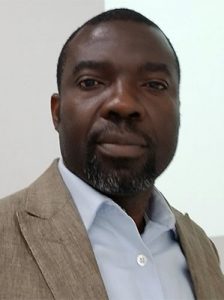 Dr. Amos Nkrumah
Assistant Professor
Contact
Office: EVR 457
Phone: (902) 457 6711
Email: amos.nkrumah@msvu.ca
Background
PhD, Sociology, University of Saskatchewan
Masters of Arts, Social Justice and Equity Studies, Brock University
Masters of Philosophy, Sociology, University of Ghana
Bachelor of Arts (Honours), Sociology and Political Science, University of Ghana
Current Teaching

Courses that I am teaching for the 2020/21 academic year are Power, Inequality & Social Justice (SOAN 2540), Questioning Society (SOAN 1502), Family, Marriage & Kinship (SOAN 2520), Quantitative Approaches (SOAN 3512), Deviance (SOAN 2580).
Research

My research focuses on transnational migration, immigrants' socio-economic activities in Canada, and issues on race and racism. My current research focuses on immigrant entrepreneurship, specifically immigrants of African descent – challenges and coping strategies (the impact of COVID-19 on immigrant businesses).
Selected Peer-Reviewed Publications
Nkrumah, A. (2018). Immigrants' Transnational Entrepreneurial Activities: The Case of Ghanaian Immigrants in Canada, Journal of International Migration and Integration, 19:195–211. https://doi.org/10.1007/s12134-017-0535-z
Nkrumah, A. (2016). Ghanaian Female Immigrant Entrepreneurs in Canada: Experiences, Challenges, and Coping Strategies. Open Journal of Social Sciences, 4, 59-78. http://dx.doi.org/10.4236/jss.2016.410005
Book Review
Nkrumah, A. (2019). [BOOK REVIEW: The experiences of Ghanaian live-in caregivers in the United States, by Martha Donkor] Ethnic and Racial Studies, https://doi.org/10.1080/01419870.2019.1583354
Nkrumah, A. (2014). [Review of the book Brokered Boundaries: Creating Immigrant Identity in Anti Immigrant Times, by Douglas S. Massey and Magaly Sanchez R.] Journal of International Migration & Integration.15(4), 803-804.