About the Unique Opportunities within the Program
Ceilidh Matheson, Major of French,
winner of the French Consulate Prize 2014 says…
… about her trip to Saint-Pierre-et-Miquelon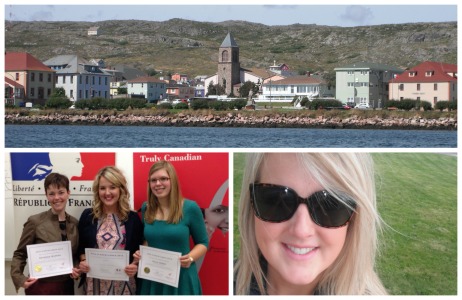 My experience at the Francoforum in beautiful Saint-Pierre-et-Miquelon was incredibly enriching. It made a huge difference not only in terms of my linguistic capacity, but also my cultural knowledge. I was very fortunate to have spent a week on the archipelago during summer 2014. Mornings at the Francoforum were focused on written and spoken French. As a student, I did a variety of different workshops, from grammar to French song. Each professor at the institute has a "specialty", which they teach during said workshops. These professors are absolutely top-notch, and are incredibly knowledgeable of their language and culture. Afternoons with the Francoforum were spent in downtown Saint-Pierre, visiting various museums and culturally rich sites. Intermingled in this cultural enrichment was an amazing opportunity to practice oral French in a place where most of the population does not speak English.

Another aspect that sets the Francoforum apart from many other language programs is the lodging. Students are paired with a host family, with whom they stay for the duration of their visit. Not only do the families help immensely with improving conversation skills, but also introduce students to local cuisine. I had some of the best authentic French food with my "famille d'accueil". In fact, I am still close to the family, and keep in contact with them weekly.

As a French major of Mount Saint Vincent University's Modern Languages Department, I highly recommend Francoforum to anyone wishing to enhance or improve their French language skills, as well as their knowledge of Francophone culture. My week in Saint-Pierre helped me perfect many aspects of my spoken French, as one is immersed into this language on the island. The only option is to speak French the entire duration of the stay, and the benefits are phenomenal. My knowledge of French culture was also immensely enhanced and further motivated me to continue studying and working in French. My experiences at the Francoforum were absolutely wonderful, enriching and heightened my confidence speaking and writing in a language with which I now identify. The opportunities at this institution are endless. I am planning my next trip back already, as the benefits of even a short visit to Francoforum will stay with me forever. I am immensely thankful for the opportunity to have had studied at this school of language.
French Program Testimonials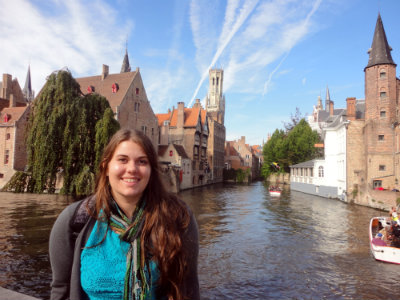 Mount Saint Vincent University is my home away from home. The professors, the students and all the faculty in the Modern Languages Department are all incredibly helpful, supportive and kind. I would not have been prepared for the amazing experience of going on exchange had it not been for everyone at the Mount.
Konner Russell,
Bachelor of Arts with a Major in French
Participant of Exchange program, Lille, France
---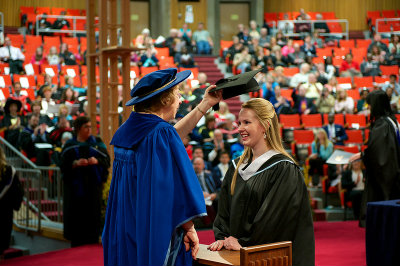 My experience with the Modern Languages Department was unforgettable and exciting. I enjoyed my French courses and feel that I truly benefited from everything I learned. Being bilingual is, in my opinion, an extremely important asset, and the professors in the Department supported me as I pursued and achieved my goal of becoming bilingual. French has opened so many doors for me, and I encourage my fellow Mount peers to enroll in language courses to enrich their university experience.
Sarah Drake,
Bachelor of Arts, General Studies
Certificate of Proficiency in French
Concentration in French
Spanish Program Testimonials

After studying Spanish for three years at MSVU, I have acquired invaluable confidence in my oral and written skills. Not only are the professors passionate about their job, the language lab offers additional support to encourage your acquisition of a second language.
The small classes and many resources available to you will ensure that you learn to speak Spanish fluently by the end of your studies.
Samantha Roy,
Bachelor of Arts with a Combined Major (French and English)
Minor in Spanish
Chinese Program Testimonials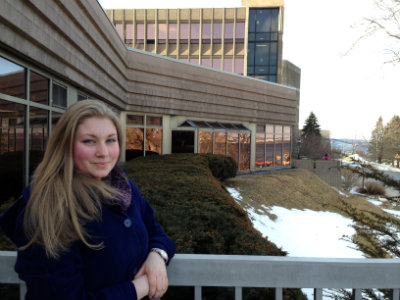 The Chinese program at Mount Saint Vincent University has provided me with a wonderful opportunity to delve into the rich culture and history of one of the oldest civilizations on Earth.
The staff at the language laboratory are also available to facilitate students' learning by providing tutors and other helpful study resources.
Since participating in the program, I along with other students of the program have made plans to study abroad in China or other parts of Asia through the Mount's study abroad programs.
I have also since achieved my TESOL/ESL certification, allowing me to teach English as a second language, where I hope to continue my education of Asian culture through travel.
Amanda Field,
Bachelor of Arts with a Major in French