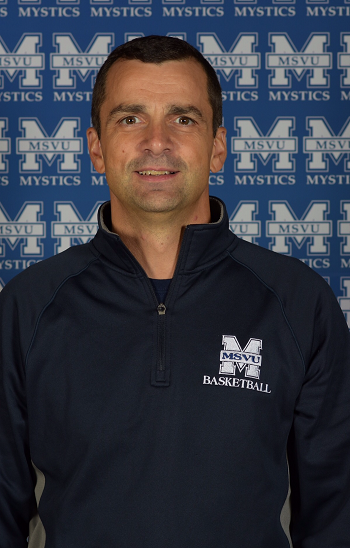 Mark Forward – Head Coach
Mark Forward has been the head coach of the MSVU Women's Basketball team since 2010.


Prior to coaching the women's team Mark was the assistant coach of the Men's Basketball team from 2001-2010 and 1993-1995, and the Head Coach of the Men's Daltech Basketball team from 1995-2000. Mark is certified with the National Coaching Certification Program (NCCP) in both Learn to Train and Trained to Train and is currently trained in the Train to Compete level.
Mark has been recognized with several honors, including Atlantic Collegiate Athletic Association (ACAA) Coach of the Year in 1995-96, 1999-2000, 2009-10, 2016-17, 2017-18, 2018-19 and was named CCAA Women's Coach of the Year for the 2018-19 season. As an assistant with the MSVU Men's basketball program he was part of the Canadian Collegiate Athletic Association (CCAA) bronze medal team in 1993 and silver in 2010. As Head Coach of the Women's program he has guided his teams to an ACAA gold in 2009-10 and 2018-19, ACAA silver in 2010-11, 2012-13, 2016-17 & 2017-18, a CCAA silver medal in 2009-10 and a 4th place finish in 2018. As a player, he played for MSVU from 1989-1992 and achieved 2 ACAA titles, earned a CCAA All Canadian and 3 ACAA All Star awards. Currently Mark resides in Bedford with his wife, Deanne MacLeod and 2 boys, Jack and Nathan.
Kenny Reardon – Assistant Coach
A former top ranked tennis and basketball player, with over 40 years experience as a player, coach, administrator and volunteer, Kenny has a lot of offer the MSVU varsity program! With a daughter playing on the Mystics varsity basketball team, a son assistant coaching the men's basketball team and his wife working for in the Mount's President's Office, the Reardon family is making a definite contribution to MSVU's athletic, academic and administrative programs!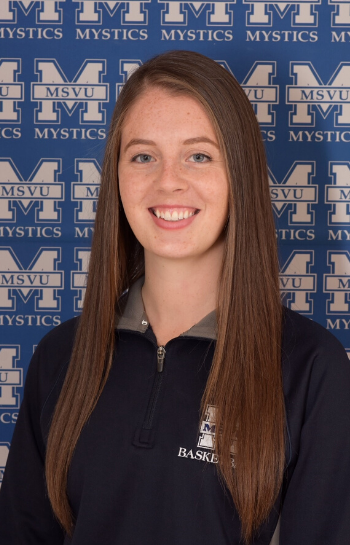 Maria Carroll has experienced the highs and lows of varsity Women's Basketball and considers her five seasons with the MSVU Mystics as the most transformative years of her life.
After Carroll's collegiate playing career came to an end last March at the CCAA Women's Basketball National Championship, she will return to the team this fall as an apprentice under former Head Coach Mark Forward.
"Being a varsity student-athlete is very demanding in many ways but also teaches time management, resilience, conflict management and most importantly provides a constant support system like no other," said Carroll, who was named a CCAA All-Canadian last season.
As an athlete in the Atlantic Collegiate Athletic Association (ACAA), she was taught to be a student of the game, and Carroll will continue to take this approach as she transitions into coaching.
"With the help and guidance of Coach Forward, I was pushed to be the best player I could be, and I know that as an apprentice, he will also help and guide me to be the best coach I can be," she said.
While at MSVU, Carroll served as a basketball camp leader and for the last three seasons, she has volunteered as co-head coach of the Nova Scotia Mercury girls U14 club team. Over that time, Carroll has gained confidence in her ability to teach, inspire and connect with players.
"I have noticed my own growth as a coach to develop individual skills, teach concepts and the effort needed to run effective practices and coach in games," she said.
Forward, the reigning CCAA Women's Basketball Coach of the Year, believes Carroll has the enthusiasm, maturity and drive to be a wonderful coach – the kind student-athletes will want to play for.
"Maria brings a positive energy into any room or gym she walks into," said Forward, who has guided the Mystics for 10 years. "She has earned an enormous amount of respect with our players and coaching staff as well as around the ACAA."
According to June Lumsden, Director of Athletics & Recreation at MSVU, Carroll is a natural leader who has the gift of inspiring others and getting the most out of every experience.
"Maria's aspiration to be a coach and her love for the game of basketball and people is evident in her life choices and community work," said Lumsden. "Maria is an outstanding person who has the skill set, the life experiences and passion to learn."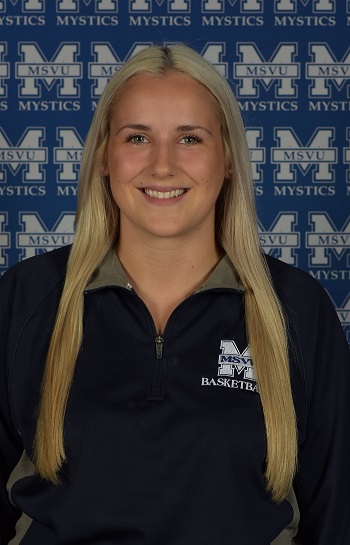 Kate Gallant – Assistant Coach
Marcus Eaton – Assistant Coach
Marcus Eaton joins the coaching staff of the Mystics and will bring a wealth of knowledge and expertise to the program.

He was the Head Coach with the Halifax Prep Men's basketball program from 2017-2019 and spent 2015- 2017 coaching both boys and girls in U12 to U18 divisions with the Bedford Eagles and Fairview Warriors clubs.

Marcus is the owner and Head Coach of the Halifax Havoc Women's Basketball program where he mentors the players on what steps they need to take to meet all the challenges their aspirations require. Whether that is skill development, exposure, uncovering funding opportunities or learning create, survive and grow inside a team culture.Marcus brings expertise in the areas of skill development, video teaching & learning and recruiting strength to the Mystics. He lives in Halifax with his wife Teyana Haley and his newborn son Marcus Jr.



Bryan Fader – Athletic Mental Skills Trainer
Bryan Fader has been MSVU 's Athletic Mental Skills Director since 2010. Working with university student athletes since 2006, Bryan has coached and trained over a thousand Athletes to various levels of regional and national success. Focusing on "process through whole growth" athletes are given a broad range of mental skills/tools, such as mental toughness, imagery, self-relaxation, team mission, goal setting, identity driven play and a process driven approach. "The ability to lay a foundation of mental skills tools and then stay and witness the use of these tools is the greatest job in the world. Bryan not only prepares student athlete's for a championship but more importantly prepares them for life.