Established in 2013, the Black Student Support Office (BSSO), formally the Africentric Support Group (ASG), was created to foster a safe and welcoming environment for all African ancestry students at MSVU and potential students of African ancestry.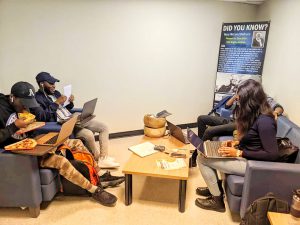 Since its beginning, we have remained focused on providing opportunities to empower all students while tirelessly advocating for and supporting the Black community at MSVU. We work collaboratively with the entire MSVU community to ensure that you receive the best supports and services necessary to succeed academically.
Our commitment to seeing you succeed remains the same, even as we all go through the Covid-19 pandemic. Office hours are Mondays to Fridays, 10 am – 2 pm, for online or in-person meetings. Please contact  blackstudentsupport@msvu.ca to book an appointment outside of these times. The BSS Office also offers endless opportunities for the MSVU community to get involved in our programs and events, and we would love to partner with you.