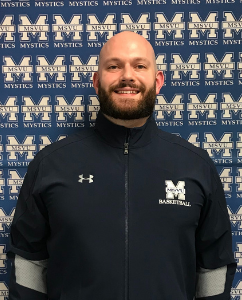 Danny De Palma – Head Coach
Mount Saint Vincent University (MSVU) Athletics Department is pleased to welcome Danny De Palma, the new Head Coach of the Mount Mystics Men's Basketball Team.
From Bedford, Nova Scotia, Coach De Palma is an MSVU alum (BA, 2011) who has been contributing to the sport of basketball both provincially and at the USport level for over 12 years.
He began his coaching career with the CP Allen High School Cheetah's basketball program and volunteered with Basketball Nova Scotia where he was the Head Coach of various boys U13-U17 basketball teams. Most recently, Coach De Palma has spent the last five years as the full-time Assistant Coach for both the Women's and Men's Basketball teams at Acadia University. Over these years, he has been part of a number of championship teams, including the 2016 BNS U17 National Champions, 2018 & 2019 AUS Women's Champions. In 2017, Coach DePalma was named Sport Nova Scotia Coach of the Year.
His coaching experience at the community and post-secondary level has certainly prepared him for his new role.  Welcome to the Mystics, Coach De Palma!