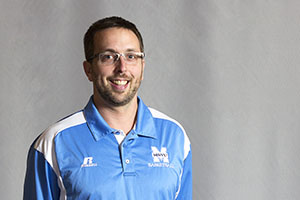 Ian MacRae
Men's Basketball Head CoachBorn in Jackson Mississippi but growing up in Halifax, Coach MacRae played his high school basketball at Queen Elizabeth High in Halifax where he was part of a provincial championship team and named provincial all star. Coach MacRae played his four year collegiate basketball career at MSVU where he was the Most Valuable Player of the ACAA and CCAA All Canadian in the 2000-01 season. Immediately after his playing career, he served one season as an assistant coach at MSVU before taking over as head coach at Daltech, formerly of the ACAA, for three seasons. After 6 seasons as an assistant coach at QEH/Citadel High Boys team, he took over the girls program at Citadel High Girls' team where he lead them to a perfect 66-0 record and city and provincial championships (2012/2013). In 2013 he was named head coach of the MSVU Men's Basketball program. In 4 seasons the Mystics have had two top two regular season finishes including a 20-1 record in 2016-17 and a trip to the conference finals in 2015-16. He has also won ACAA Coach of the Year in 2013-14 and 2016-17.

Contact information:
Email: IMacRae@hrce.ca
Phone: 902-488-9645
---
Mark Ross – Assistant Coach
Mark Ross joins the Mystics with great playing and coaching experience. Mark was a 5 year starting point guard and Captain for Saint Mary's University Men's Basketball team from 2003 – 2008. He led the AUS in assists for 2 straight seasons and holds the single game assist record for the CIS. He won an AUS championship in 2008 and qualified for Nationals 3 out of 5 years.
After his playing career was over, Mark transitioned into the lead assistant role with the Saint Mary's University Women's Basketball team. Over his 9 years as an assistant coach at SMU, the Huskies won 4 AUS Championships, 2 CIS Bronze Medals and 1 CIS Silver Medal.
---
Derrick Norris – Assistant Coach
Derek Norris is originally from Upper Tantallon, Nova Scotia and is a recent graduate from Mount Saint Vincent's Education program. While at the Mount, Derek played two seasons for Men's basketball team where he was a 2x Conference All-Star and 2x CCAA Academic All-Canadian. Prior to attending the Mount, Derek played several seasons at Dalhousie University where he was also a CIS Academic All-Canadian. Derek now works within the Halifax Regional School Board as a Teacher.