VIRTUAL RECREATION PROGRAMS
This term we are offering a small selection selection of VIRTUAL recreation programming to add variety to your routine!
Are you a Mount Student? Check out additional CAMPUS REC events and activities just for you!
DanceFit

This fan favorite is an easy way to get fit AND have fun at the same time! Every class will include basic dance moves, choreography and will be a workout, but you will forget you are exercising due to the fabulous music and energy of the group. Learn moves from Hip Hop, Bollywood, Disco, Salsa, Merengue and more. This class is for all levels (even those with 'two left feet') so join us to sweat, burn calories, tone, laugh, and de-stress from your day!
Instructor:  Melissa Millar
Date:  Thursdays, September 24 – October 29
Time:  7:10 – 8:00pm
Fee: $41.00 + HST
Mount Student, Faculty & Staff discounted fee:  $26.65 + HST
Body Reboot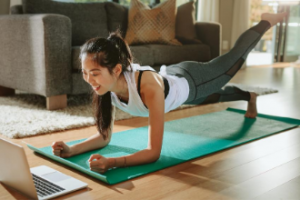 Want to feel invigorated, energized and stronger? Burn fat and tone/build muscle? This HIIT based cardio and strength program is designed to give you a MEGA-boost on your own fitness training. These classes involve short but intense cardio intervals, full-body strength moves and a extra dose of abs at the end. Physical assessments are done at the beginning and end to showcase your progress!  With a small group class, Body Reboot has a dedicated trainer ready to provide you with training advice to help you reach your fitness goals.  Join, meet other awesome people, get your sweat on and leave feeling fit-sational!
Instructor:  Brigitte MacInnes
NEW DATE!  Wednesdays and Fridays, October 14 – December 9, 2020
8 week session.  No class Nov. 11
Time:  1:10-1:55pm
Fee: $153.28 + HST
Mount Student, Faculty & Staff discounted fee: $99.64 + HST