Events & Workshop Materials
Wed. Feb. 24 | LinkedIn for Future Professionals
Tues. Mar. 23 | Brushing Up Your Resume and Cover Letter
SHIFT: Building Career & Life Resiliency in Uncertain Times | February 8th, 2021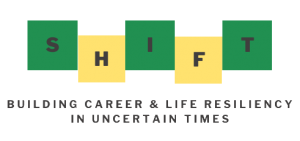 Keynote Speakers 

Keynote 1: Finding Your Stride, Finding Your Passion (PDF) by Carolann Wright, Halifax Partnership
Road to Economic Prosperity for African Nova Scotia Communities (PDF)
Carolann is a trained facilitator and mediator with over 30 years' experience in the economic development sectors in Halifax, Toronto, South Africa and now Ghana. She works with the African Nova Scotian Community in the areas of strategic, community and business planning and labour market development. What excites Carolann most about Halifax is that it is the home of the oldest population in Canada of Africans in the diaspora.
Keynote 2: TD Bank: Introduction to Money Management (PDF)
Video Recording on MS Teams (use your Mount email and password to access)
We need knowledge, tools and advice to make confident financial decisions about their money. During this time, financial health is increasingly more important and top of mind for many. This presentation will help provide additional insights on key money management topics such as budgeting, credit and investing basics.
Exhibitors

Business is Jammin'
Empowering Black Youth Through Entrepreneurship
Instagram: @bijyouth
Twitter: @bijyouth
CBDC Blue Water
CBDC Blue Water provides MSVU students with knowledge on our organization. Informing students on the variety of different loan products and training/consulting services we can provide to young, aspiring entrepreneurs.
Business Development Contacts at CBDC Blue Water (PDF)
Facebook: @BlueWaterCBDC
Instagram: @cbdcbluewater
Community Sector Council of NS 
Learn about Careers in the Nonprofit Sector: Did you know there are 20,000 people working in over 6,000 nonprofit organizations all across Nova Scotia in a wide range of roles? Come hear directly from people who have chosen this impactful career path. The sector needs talented undergraduate and graduate students from all disciplines and with a wide of interests and diverse backgrounds. You have valuable skills and knowledge and you can build a career that aligns with your passion and interests.
Twitter: @csc_ns
Graduate to Opportunity
Get an edge on your career search with provincial funding programs designed to create permanent full-time jobs for new graduates like you! Learn about Graduate to Opportunity and Innovate to Opportunity and how to use these programs to market yourself to potential employers.
About Graduate to Opportunity (PDF)
Twitter: @NSLAE
Halifax Partnership Connector Program
The Connector Program helps recent graduates build professional networks and access the hidden job market.
Job Junction
Resume critiques, job search assistance, interview tips.
Mount Saint Vincent Alumni Association
Gain support and connections as you launch your career! The Mount Mentorship Program offers unique hands-on guidance designed to help 4th year students with the transition from university life to the workplace, as well as new graduates navigating the ever-changing career world. MSVU mentors bring diverse career experiences, backgrounds, and perspectives to the table, and can offer guidance and advice to mentees in all areas of work or study.
Facebook: @msvualumni
LinkedIn: Mount Saint Vincent University
Instagram: @msvu_alumni
Twitter: @msvu_alumni
Nova Scotia Works – Opportunity Place
Information on student incentive programs and free services designed to help them secure employment in their chosen field.
About Nova Scotia Works — Opportunity Place (PDF)
February 2021 Newsletter (PDF)
Instagram: @nsw_opportunityplace
Twitter: @OPRCNS
Teamwork Cooperative
To facilitate inclusive employment and workplace opportunities for people in Nova Scotia.
Facebook: @TEAMWork1997
Instagram: @teamwork1997
Twitter: @TEAMWork1997
Venture for Canada
Provided a presentation about Venture for Canada Fellowship Program, that is suitable for soon to be or recent graduates.
2021 Fellowship Program (PDF)
2021 Fellowship Program FAQ (PDF)
Facebook: @Venture4Canada
LinkedIn: https://www.linkedin.com/school/ventureforcanada/
Instagram: @venture4canada
Twitter: @Venture4Canada
Volta
Volta, Canada's East Coast Innovation Hub, offers various resources and services to remote workers, entrepreneurs, future founders, startup employees, corporate innovators and students. Whether you're starting a business, looking to develop your skill set, meet a mentor or connect with an industry expert, Volta offers space to work, learn and grow.
Network Membership (PDF)
Facebook: https://www.facebook.com/voltaeffect
Instagram: @voltaeffect
Twitter: @voltaeffect
Summer Job Search and Volunteer Opportunities | January 22, 2021
Applications for summer jobs are heating up now — know where to look to make the application process smoother. Planning to volunteer in the summer to add to your experience? We've got that covered, too.
Networking from Home During COVID-19 | January 21, 2021
Learn to network from home. We'll review ready-made ice breakers, how to craft your online identity, and where to look for virtual networking events.
What I Wish I'd Known About Career Planning | October 23, 2020
Learn what to expect from your degree, from a career perspective. If that's feeling really big right now, we take a look at a few checklists you can use during your time at the Mount to help with program indecision, career options, job searching, and self reflection. You might not have all the answers today, but you'll know where to look to help you figure it out.
The Strong Interest Inventory Assessment: Is it Worthwhile? | updated January 2021 (October 16, 2020)
(3-minute video and instructions to order)
Learn more about the 30-minute online Strong Interest Inventory and discover more about your career path, from your work style preferences to potential occupations. Most students find the results validate their thinking to date or offer suggestions they can act on.
Being Fierce: Adding to Your Work and Volunteer Experience | October 14, 2020
Learn more about the skills employers are seeking and the actions you can take to become a strong job candidate in any career path. If you're an international student, consider checking out this presentation to find ways to build your Canadian experience.
Interview Coaching | September 24, 2020
Features interview tips you can use anytime, anywhere, this workshop sets you in a great position for job applications to come.
LinkedIn for Future Professionals | June 25, 2020
(Webinar)
Join Christine Larade to learn how you can use LinkedIn to your advantage while job searching during the pandemic recovery…and beyond. Margaret Schwartz from the Government of Nova Scotia talks about the Graduate to Opportunity program.
Workshop Series | Job Club: COVID-19 Edition | April 2020
Resume Formats and When to Use Them
(Handout)
Find out which resume formats to use during these complex times. We cover LinkedIn profiles and online portfolios too.
Job Search Tools, Apps and Funding Sources
(Webinar)
(Handouts)
Access Nova Scotia-focused and Canadian-focused tools, apps, and funding sources, current as of April 2020, for your job search as a returning student or new graduate during these uncertain times. We highlight industries hiring in Nova Scotia and potential job leads. Co-hosted with International Education Centre and Accessibility Services.
Job Search Decision Making + Conversations with Alumni
(Webinar)
(Handouts)
Get a better sense of your decision-making flow and hear perspectives from alumni co-hosts Jeremy Neilson and Vanessa Yurchesyn, currently working in Nova Scotia. Session also co-hosted with our MSVU Learning Strategist.
Job Search Strategies and Side Hustles
(Webinar)
Catch up on effective job search and application strategies. Figure out if a realistic side-hustle is for you. We also highlight industries hiring in Nova Scotia and potential job leads. Co-hosted with International Education Centre.
Nailing the (Online) Interview: Tips + Q&A
(Webinar)
Great reminders and new tips, especially for online interviews. Co-hosted with Co-operative Education.