Welcome to Learning Strategist Services
What does a learning strategist do?
A learning strategist can help you develop study skills, learn effective time management, prepare for exams, and more. Available for one-on-one appointments, the learning strategist can help you take a detailed look at your learning and find an individualized approach toward success.
Note Taking Strategy
Cornell* Notes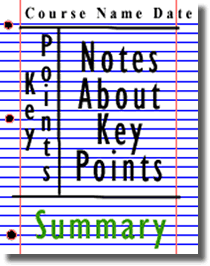 Divide the paper into 3 sections:
Draw a horizontal line about 5 or 6 lines from the bottom.
Draw a vertical line about 2 inches from the left side of the page.
Draw a dark horizontal line over the top line.
Document
Write course name, date and topic at the top of each page.
Write Notes
The large box to the right is for writing notes.
Skip a line between ideas and topics.
Use abbreviations and shorthand as much as possible (not complete sentences).
Review & clarify
Review the notes the same day.
Pull out main ideas, key points, dates, and people and write them in the column on the left.
Summarize
Write a summary of the main ideas in the bottom section.
Study your notes
Reread your notes in the right column.
Spend most of your time studying the ideas in the left column and the summary at the bottom. These are the most important ideas and will probably include most of the information you will be tested on.
*This strategy is based on the strategy presented by Pauk, W. (1997). How to study in college (6th ed). Boston: Houghton Mifflin. Learning Toolbox. Steppingstone Technology Grant. James Madison University, MSC 1903, Harrisonburg, VA 22807
Tips for Exam Preparation
Take time to make a plan – Use strategies such as calendar blocking and to-do lists to plan your week
Check your knowledge – Start your study session by writing everything you know on a piece of paper to determine the gaps in your knowledge. Use this to decide what to study first or where to spend more time.
Prioritize – Use the traffic light method to organize your material (Red=study first, Yellow=study second, Green=study last/review)
Use effective study strategies
Helpful links