About Us
Founded in 1976 the Mount's Child Study Centre is a non-profit organization that provides high-quality, affordable childcare. Our programs are designed to facilitate, stimulate and maximize a child's intellectual, physical, social and emotional development.
Mission Statement
Mount Saint Vincent University Child Study Centre is dedicated to providing high quality, inclusive learning programs for young children and their families. Together with the Department of Child and Youth Study, the Child Study Centre provides onsite practicum placements, supervised by qualified early childhood educators, for students enrolled in the Bachelor of Arts (Child and Youth Study). In addition the Child Study Centre also serves as a community resource by providing opportunities for observation and research.
Program Philosophy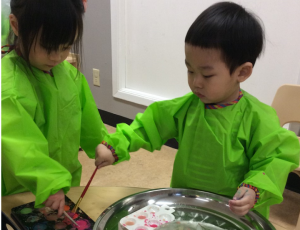 The program provided at the Child Study Centre strives to be family-focused with an emphasis on learning through play. Families are at the core of the program and are seen as partners working collaboratively with the teachers to provide a quality experience for their children. The Centre has an "open door" policy which means parents are welcome to observe or participate in the program at any time. Families are included in decision making and are supported in the care and nurturing of their children. The teachers recognize that each child is a unique individual and offer a program that is inclusive of everyone.
The focus of the program is to provide a nurturing home environment for the children with the goal of meeting the children's need for emotional security. Children learn best when they are secure in their relationships with care givers, and have a sense of belonging. A home-like environment is achieved in numerous ways throughout the daily activities at the Child Study Centre.