Virtual Private Network (VPN) Tips
What's a VPN and Why Would I Use One?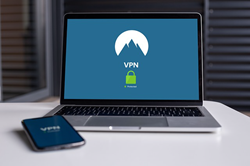 A Virtual Private Network (VPN) provides you with a hidden, encrypted, private, network connection. It hides your Internet connection between your computer and the VPN server from eavesdropping.
When travelling abroad, you could connect to a Canadian VPN server to protect your Internet traffic from eavesdropping outside of Canada, or you could use it when connecting to a public or shared wifi network, such as in an airport, coffee shop, or hotel. Use it on any untrusted network to help protect your privacy.
However, you need to pick a trustworthy VPN service because, while your Internet traffic is hidden between your computer and the VPN provider, the VPN provider can see your traffic.
How Do I Pick a Trustworthy VPN Service?
There are many VPN providers, but they vary widely in cost, quality, reliability, speed, and trustworthiness. You are trusting them with your privacy, so here are some tips on selecting a VPN.
Avoid totally free VPNs as they may record your activity and share your data with third parties, and they often are slow and unreliable. If it's free, you are the product.
For a tight budget, some paid VPNs offer trial or freemium versions. IT&S does not support nor recommend these companies, but some examples are:

TunnelBear offers 500MB of free traffic a month,
Windscribe offers 10GB of free traffic a month, and
ProtonVPN's free version doesn't limit bandwidth, it limits functionality.

For the best experience, pay for a premium VPN account.
To research options, Google "best vpn for privacy", but only trust established websites. Some VPN companies create fake review websites to promote themselves. Some established sources include PC Magazine, PC World, CNET, Toms Hardware Guide, and TechRadar.
For a short trip, you can get a 1-month subscription to a premium VPN for $15 or less.
Check the company's privacy policy to understand what information they log about you.
Select a VPN that supports all your devices to protect your laptop, home computer, tablet, and phone with one service.
Consider the company's jurisdiction. For instance, a Swiss VPN might have better privacy protections that a US company. If they hide their jurisdiction, then perhaps avoid that provider.
Some countries prohibit the use of VPNs, so research the laws of your destination before departing. Also see our Travelling With Electronics page for more on preparing for a trip.
Can I Use the Mount VPN Instead of a Commercial VPN?
No, the Mount VPN is only for connecting to the Mount network, so do not rely on it for general privacy protection.
Is a VPN a Complete Privacy Solution?
No, using a VPN is a good step towards protecting your privacy, but there are other ways your private information can be leaked. Consider using ad blockers and always install antivirus software on all your devices, including Apple products. Learn more about cyber safety here.