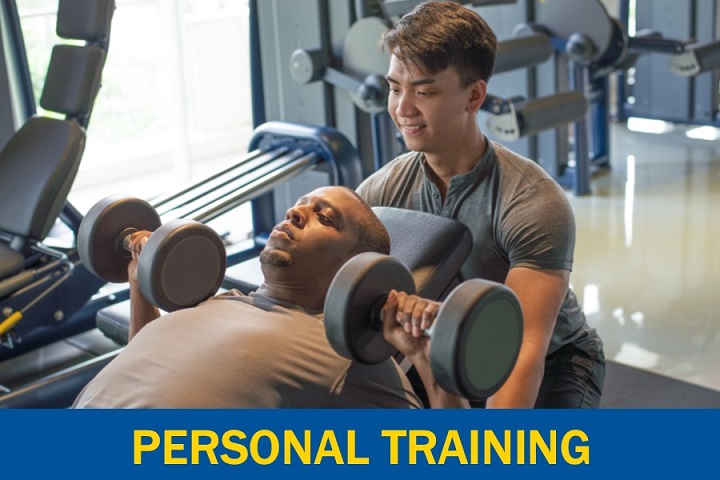 50% off 5 Partner Sessions (1hr each)
Members regularly pay $150 each, NOW $75 per person. Only $15 per session.
Non-Members regularly pay $185 each. NOW $92.50 per person. Only $18.50 per session.
35% off 5 1-on-1 Sessions (1hr each)
Members regularly pay $189, NOW $140. Only $28.00 per session.
Non-Members regularly pay $235.75, NOW $175. Only $35.00 per session.
-All prices include HST
· –Offer only available to FIRST TIME clients.
· –Special may only be purchased once.
· –Gift certificates are available
· –Sessions must be completed 1 yr from time of purchase (unless the purchase is a gift certificate in which case it is 1 yr from the date the certificate is redeemed)
—

WHAT IS PERSONAL TRAINING?
Feeling sluggish and unhealthy? Bored or unfocused with your workouts?

Our certified fitness trainers will help you fix these problems and more.

Personal Training provides you with expertise, motivation, accountability and variety.
The Mount Fitness Centre Personal Trainers offer you:
Basic fitness and wellness assessments to evaluate where you are starting
Flexibility in scheduling workout sessions
Access to and education on how to use new and exciting equipment
Varied skill-sets including knowledge of weight loss, bodybuilding, incorporating mindfulness, muscle strength & toning, overall health, goal setting, TRX training, yoga/pilates, and MUCH MORE!
We offer packages for 1-on-1 and Group Training with discounts available for Mount Fitness Centre Members. You'll feel the difference and see the results!
All sessions are one hour. Sessions are booked by appointment, 902-457-6420.
Personal Training slots often fill-up FAST, so call to reserve your space now!
TRX TRAINING
Need something NEW & INTERESTING to spice up your workouts?
Book a 30 minute TRX workout with a Personal Trainer for ONLY $15 HST inc
Must be of good health with no current injuries or conditions.
Call to register your interest: 902-457-6563
Melissa will call you back to book a time.
Personal Trainer Bios
Brigitte MacInnes
Brigitte's passion for health and fitness, coupled with her teaching and administrative background, led her to becoming a fitness professional. She is a Certified Personal Trainer (NSFA), Group Exercise Leader, Pilates Instructor and is Level 1 Reiki certified. Brigitte's training experience ranges from first time exercisers to athletes; RCMP, Military candidates, youth and older adults. She believes a fit and healthy lifestyle is achievable for anyone and particularly enjoys helping beginners feel comfortable in the gym.
Brigitte will provide you with the tools needed to kick start life changes, shake up your current routine, and reach your goals, whatever they may be!
Stacey McKay
Whether it's not knowing where to start, feeling overwhelmed, or not knowing how to push yourself out of your comfort zone; Stacey gets it! Hiking mountains is her passion but she also enjoys running in races & working out in the gym. Her greatest accomplishment to date is doing a bike race up Mount Washington in New Hampshire.
Stacey is a Certified Weight Resistance Trainer, has earned a Diploma in Health Wellness and Recreation and became a Certified Personal Trainer through the Nova Scotia Fitness Association. She takes pride in helping each client reach their goals and beyond. She believes it's important to work hard but to have fun too. Let's do it!
Eric Skinner
Eric moved from Engineering to the fitness industry over 10 years ago. Eric specializes in functional exercise as it relates to everyday activities, occupational or recreational, has experience in sport specific training, strength training, and plyometric exercise routines and enjoys varying routines of strength training throughout the year. He is certified not only as a Personal Trainer, but in Group Fitness, Level 2 Coaching, Fitness Theory and Resistance Training.
He is experienced working with youth with disabilities, older adults and adults with chronic medical conditions as well as candidates for RCMP, Firefighters, and Military. You can also find Eric teaching Tabata Fit and Power 45 on our Group Fitness Schedule. Whether it is to get into shape or train for a career, Eric will help you get there.
Caroline Anderson
Caroline Anderson is an energetic Certified Personal Trainer (ACSM), and Group Exercise Instructor (CanFitPro). She holds an honours degree in Applied Human Nutrition from MSVU (2017), as well as a diploma in Health, Wellness, and Recreation from Eastern College (2013). Caroline is currently pursuing a Master's in Applied Human Nutrition at MSVU. She teaches a variety of classes, including yoga, HIIT, and kettlebell offering a challenging workout with modifications that are inclusive to any level. She believes that that we can all find a challenge in the basics with slight modifications. Additionally, Caroline believes in body respect and acceptance, and that movement and eating should be joyous occasions.
Melissa Millar
Melissa is a dynamic fitness professional involved in the industry for over 20 years. Currently she is the Coordinator, Fitness and Wellness here at The Mount. She is a Certified Personal Trainer (NSCA), teaches Group Fitness, presents Fitness Workshops, and has been a YMCA Master Trainer. Melissa has degrees in Kinesiology and Dance, as well as multiple training through YMCA Canada, Can-Fit-Pro, ZUMBA and YogaFit.
Melissa has a passion for teaching dance fitness and training clients of all ages and abilities. Her personal regime includes meditation and yoga and she believes in the importance of a whole health approach (body, spirit, mind together). Melissa will work with you on changing lifestyle habits, improving coping skills and making exercise fun!