Jillian Rankin, Clinical Supervisor, Counselling Services
I have a Master of Education in Counselling from Acadia University and a Bachelor of Science with Honours in Psychology from St. Francis Xavier University. I am a Canadian Certified Counsellor and a Registered Clinical Therapist (Candidate).
I have experience in counselling children, adolescents, and adults in various therapeutic settings since 2009. My counselling experience includes providing support to individuals who have experienced depression, anxiety, relationship difficulties, stress management, and study skills. My areas of specialization include trauma, abuse, and sexualized violence.
In the past, I have worked for 10 years as an Academic Strategist for the Centre for Accessible Learning at St. Francis Xavier University.
If you would like to make an appointment, please contact our office at (902) 457-6567 or email counselling@msvu.ca.
Kyle Cleversey, Counsellor, Counselling Services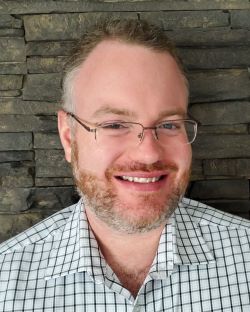 I have a Master of Arts in Counselling Psychology from The University of Western Ontario (2016) and a Bachelor of Science with a Psychology Research Specialization from The University of Toronto (2014). I am a Canadian Certified Counsellor and a Registered Counselling Therapist.
I have experience counselling in a variety of therapeutic settings with a focus on post-secondary environments. My counselling style is integrative, client-centered, trauma-informed, and LGBTQ2S+ friendly. My past work with students has focused on issues of anxiety, depression, stress management, adjustment to university, relationships, trauma, addictions, gender, sexuality and identity.
My past work in a post-secondary setting was as a Personal Counsellor with Fanshawe College's Counselling and Accessibility Services in London Ontario.
If you would like to make an appointment, please contact our office at (902) 457-6567 or email counselling@msvu.ca.
Jane Gavin-Hebert, Intake Worker, Counselling Services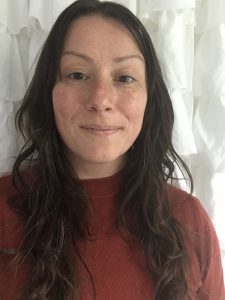 Jane Gavin-Hebert holds a Master of Social Work degree from Dalhousie University, a joint Master of Arts degree from Mount Saint Vincent University and Saint Mary's University, and a Bachelor of Arts (Honours) in Gender and Women's Studies from SMU. Jane is a registered social worker with the College of Social Workers in Nova Scotia.
Jane has experience as a counsellor in a variety of settings including schools, prisons, and community-based organizations. Jane brings a feminist and trauma informed approach to counselling, and specializes in Eye Movement Desensitization and Reprocessing (EMDR) as a trauma processing modality. Jane has worked at Avalon Sexual Assault Centre for the past 11 years as a therapist and educator, and most recently has completed the Yoga Teacher Training program with "Yoga in Schools" certification. She has enjoyed working with students across campuses, helping to co-create safer communities with a focus on sexualized violence prevention through policy and programming development, training, education, awareness, and advocacy.
If you would like to make an appointment, please contact our office at (902) 457-6567 or email counselling@msvu.ca.
Brianna Drover and Sebastian Gaskarth, 2020-21 Peer Support Workers
Sebastian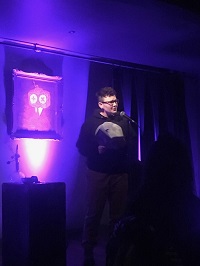 Hello! My name is Sebastian Gaskarth, and I am in the last year of my psychology degree at the Mount; as well, I am working towards a social work degree.  I am 33 years old. I am a French settler who grew up on the West Coast and moved to K'jipuktuk (Halifax), three years ago to attend university. I identify as non-binary and use they and them pronouns. My long-term career goal is to become a clinical social worker and practice in Nova Scotia.
I enjoy reading, hiking, gardening, spoken word, playing volleyball, painting, and being outside. I spent my twenties working various precarious jobs, learning and developing life skills while accepting and loving myself through chronic pain. One of my favourite jobs was milking cows, haha! Before being drawn back to post-secondary education, I lived on a small island where I gardened, painted houses, walked trails barefoot, howled with wolves, and curled up by a woodstove reading books and writing spoken word.
Mental health, like my body health, is something that I learned to pay attention too. It is an ongoing journey of noticing and developing skills to make sure I am taking care of myself while applauding my strengths and resilience. I am pleased to be a peer supporter this year at the Mount and to get to know more students.
A favourite quote I often reference is, "We do not grow absolutely, chronologically. We grow sometimes in one dimension, and not in another, unevenly. We grow partially. We are relative. We are mature in one realm, childish in another. The past, present, and future mingle and pull us backward, forward, or fix us in the present. We are made up of layers, cells, constellations." – Anais Nin
Brianna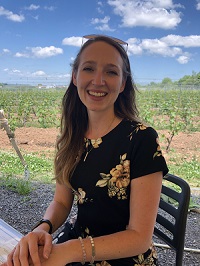 Hi All! My name is Brianna Drover. As some of you may know, I was one of the Peer Support Workers last year. I am in the final year of my BSc in Psychology at the Mount. I am originally from Ontario but moved to Nova Scotia four years ago with my husband and son.
I love being outdoors, some of my favourite activities include hiking, camping, and hanging out at the beach.
Mental health has always been important to me and is something I work on regularly through self-care, meditation, and spending times with loved ones. I look forward to sharing tips and tricks to stay mentally healthy throughout your academic career!
If you have any questions or would like to access Peer Support, please e-mail peer.support@msvu.ca