About the ASC
Located at 46 Melody Drive (lower level), the Aboriginal Student Centre (ASC), supports students in an educational and culturally engaging space on the Mount campus. As part of a larger strategy dedicated to creating a welcoming environment for Indigenous students attending the Mount, the ASC is a space where students can meet and chat and also have access to a resident counsellor who can help them navigate any questions or concerns pertaining to their student life. View our photo gallery »
At the ASC you'll find computer stations with hard-wire internet; Wi-Fi, a group study area with large table to seat up to 12 people; a lounge with comfortable living-room style furniture, a large-screen TV, printing and faxing services; and a growing collection of Aboriginal-based resource materials –– many available for loan.
Our mission
The Aboriginal Student Centre strives to provide an opportunity to empower, encourage and educate all students of all nations in an environment rooted in indigenous cultures and values. Mount Saint Vincent University ta'n L'nu'k etl mawita'jik aq melkuktimi'tit kisi apoqnmasin aq kina'masin wen L'nuiktuk.
Our values
• Protection / kelo'timek
• Preservation / anko'timek
• Promotion / welkwija'luek
• Empowerment / melkuktimek
• Encouragement / ajipjutuek
• Education / kekina'mueyek
Aboriginal Student Guide
Our Aboriginal Student Guide is filled with helpful information and resources for Indigenous current and prospective students. Download the Aboriginal Student Guide (PDF).
More Information
Aboriginal Academic Access to Post-Secondary program
MSVU is also proud to offer the Aboriginal Academic Access to Post-Secondary program in collaboration with Mi'kmaw Native Friendship Centre. Delivered onsite at the Friendship Centre, this program is designed to help Indigenous learners transition to their chosen university program.
Our staff
Patrick Small Legs-Nagge, MSW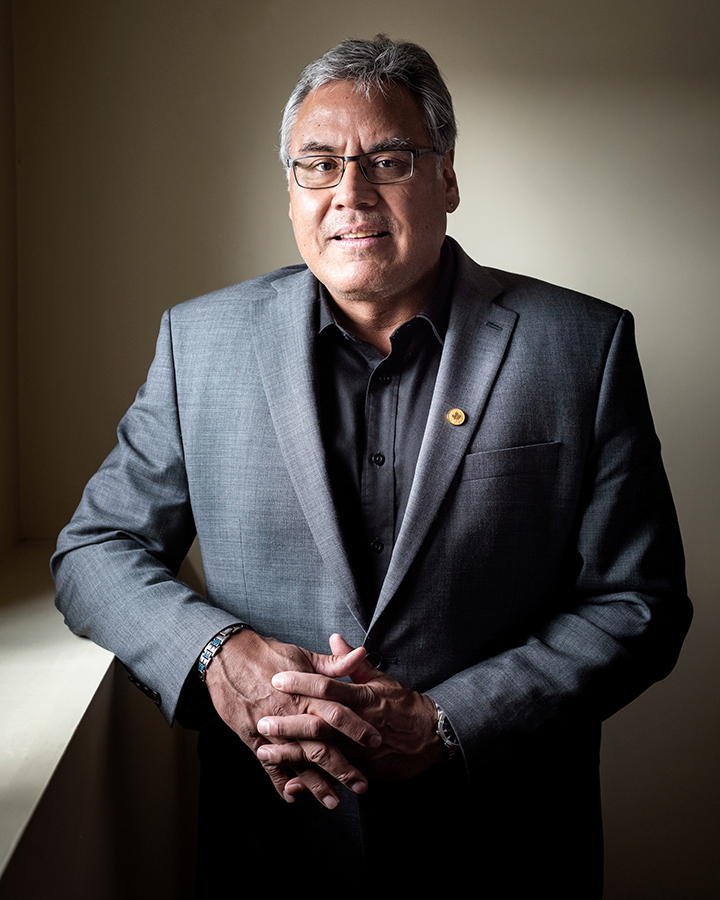 Patrick joined the Mount community September 13, 2017 in the role of Special Advisor to the President on Aboriginal Affairs. This is a new role at the Mount and one that plays an important part in supporting the success of Aboriginal learners and building meaningful relationships with the Aboriginal community – both of which are of great importance to the Mount.
Patrick is a member of the Piikani First Nation (in Alberta) and most recently worked with Health Canada as Director of Mental Wellness, First Nation and Inuit Health. During his time with Health Canada, he also contributed to the National Aboriginal Suicide Prevention Strategy and the Labrador Health Secretariat to support the Labrador Innu in their development of an effective Innu-controlled health system. Patrick has extensive policy experience having held advisory roles on Indigenous issues across housing, social services, environment and other portfolios. Recently, Patrick developed curriculum for and taught in the Mi'kmaw Mental Wellness & Addictions Certificate program at the Nova Scotia Community College. He has also taught within the Faculty of Social Work at Dalhousie University.
Patrick holds a Bachelor's and a Master's degree in Social Work from Dalhousie University and a Diploma in Management from Saint Mary's University.
As Special Advisor, Patrick provides leadership to the University in supporting faculty, staff, and students in meeting our commitment to reconciliation, and plays a vital role within our Aboriginal communities. He provides support to Aboriginal learners throughout the student life cycle, assists with student recruitment, retention, and systems navigation, and provides community outreach to Aboriginal Students through management of our Aboriginal Student Centre. Patrick also helps provide strategic direction on Aboriginal Affairs and develop initiatives, programs and policies that respond to Aboriginal community and institutional needs.
You can reach him by phone at: (902) 457-5535 or by email at Patrick.Smalllegs-Nagge@msvu.ca

The role of Special Advisor to the President on Aboriginal Affairs and programming of the Aboriginal Student Centre at the Mount are generously supported by TD Bank Group.