A Visual Identity with Meaning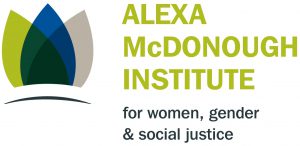 On March 6, 2013, while the Institute hosted Girls 2013, the Mount announced the renaming of the Institute. The idea of developing a visual identify for the Institute for Women, Gender and Social Justice gained momentum later that week, during International Women's Day. The direction was clear; the steering committee and membership sought a visual identity that would capture the spirit and meaning of the work being done by the Alexa McDonough Institute for Women, Gender and Social Justice.
In June, attendees at the Institute's Annual General Meeting were invited to participate in a discussion that helped to shape the direction of the new visual identity. This collection of statements, words and ideas became the driving force behind each graphic element for the Institute's new visual identity.
Deconstructing the elements
The visual identity for the Alexa McDonough Institute for Women, Gender and Social Justice brings to life its mandate in a visual way. With a crisp and fluid design, the first impression speaks to the level of professionalism that can be attributed to the work being done by the Institute, its steering committee and its members. Finally, the recognizable colour palette reinforces to viewers that the Institute is a cherished part of the Mount Saint Vincent University community.
The Institute's new visual identity incorporates three petals, representing 'Women, Gender and Social Justice' in an overall 'lotus flower' shape, symbolic of growth, progress and vitality. The overlapping petals indicate a collaborative and welcoming environment in which diversity is cherished – represented by the three varying petal colours. The petals – firmly rooted in an arched foundation representing movement, community and inclusiveness – reach upward, indicating progress and forward-thinking.
The petals also represent the connection to Project TWENTY12, the Mount's largest ever fundraising campaign, which resulted in the construction of the new McCain Centre, the future home of the Alexa McDonough Institute.
The text element highlights the Alexa McDonough Institute as the focus, considering future references as they may be shortened. The AMI will be considered for website short URLs, msvu.ca/ami, as it is also a French derivative of 'friend'.
Typeface and Colour
To remain consistent with the University visual identity guidelines, the typeface used for this logo is Franklin Gothic Book. The full colour logo is to be used on white backgrounds, and reflects the Mount's colour palette, with blue and green being the primary colours, while accented by a warm grey and charcoal.