Equity, Diversity, Inclusion, & Accessibility (EDIA) at the ECCRC
The Early Childhood Collaborative Research Centre (ECCRC) values the implementation of principles and practices that reflect and support equity, diversity, inclusion, and accessibility (EDIA) in its day-to-day work, in its research processes, with its partnerships, and in the creation of knowledge mobilization materials.
See our employee document outlining how we will achieve EDIA in our work. Our team will adapt this document as we learn and grow. To ensure this happens, we will do a thorough review every six months. The next review will be in October 2023.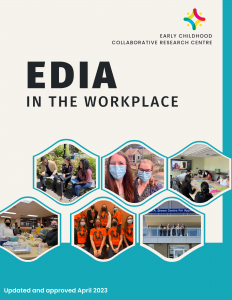 Our commitment to EDIA principles and practices align with the theme of EDIA in Mount Saint Vincent University's (MSVU) 2020 strategic plan.
Please also see our Reconciliation Statement. This was written in June 2023 and will be revised in June 2024.