Bodies in Translation: Age and Creativity
The Nova Scotia Centre on Aging was pleased to present an Art Exhibition in partnership with Bodies in Translation and the MSVU Art Gallery. This exhibition featured work that challenges assumptions about aging and explores the lived experience of aging as it relates to identity, culture, embodiment, sexuality and disability.
Thank you to everyone who joined us on Sunday, October 1, 2017 for a Reception to celebrate the Art Exhibition in conjunction with National Seniors Day and International Day of Older Persons.
Special thanks to El Jones, Nancy's Chair in Women's Studies and former Halifax Poet Laureate for her moving performance.
The Exhibition ran September 9 – November 12, 2017 at the Art Gallery, Mount Saint Vincent University.
The following artists' work were featured: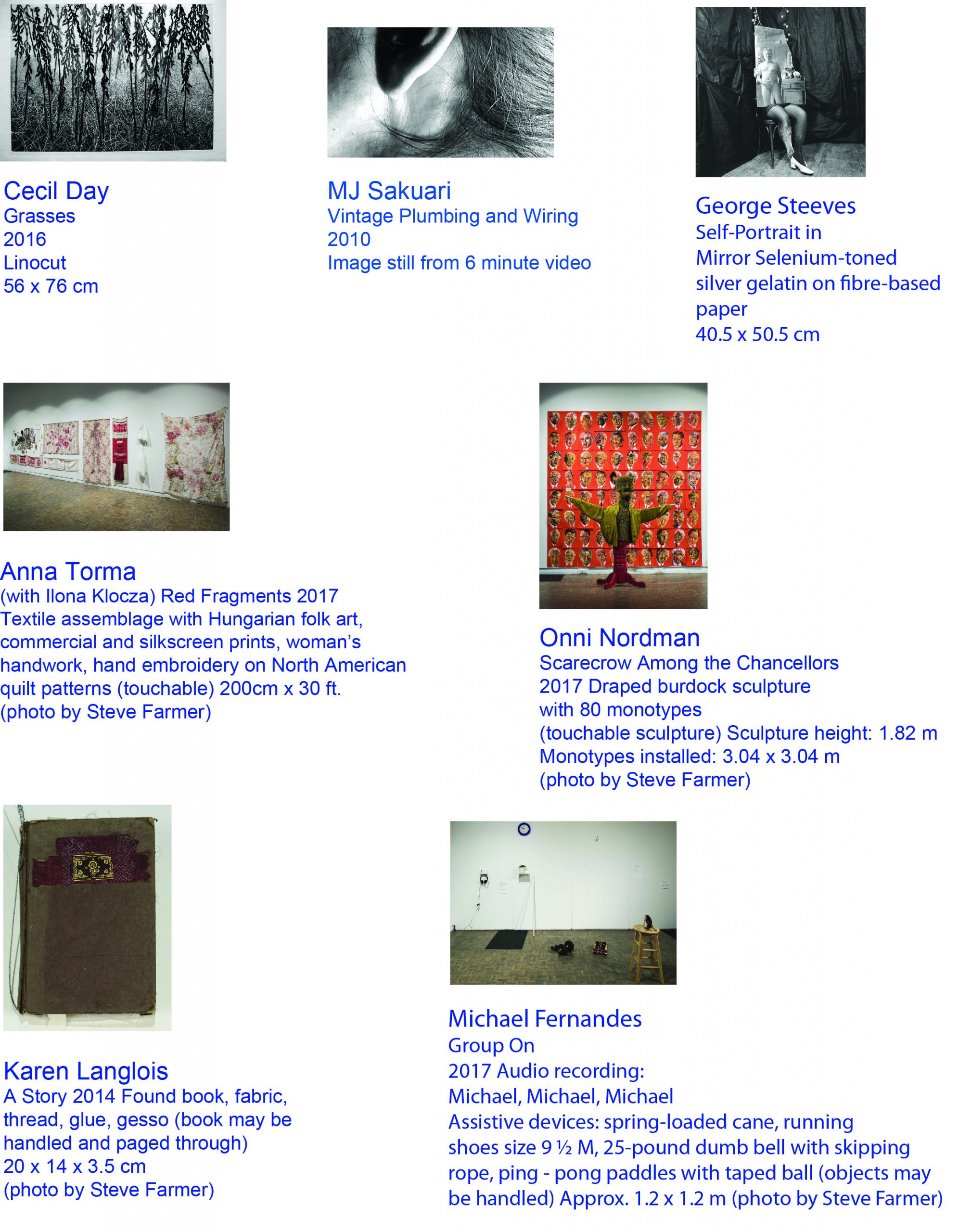 Accesible Media Inc. – Click here to view a 5 minute story on the Age and Creativity Exhibition.
There were a number of special programming events in support of the Exhibition. These included:
Creatively Engaging: Disability Arts, Aesthetics, and Accessibility – A public dialogue on September 21 featuring Co-curator Eliza Chandler which centred on disability arts and its role in the disability rights and justice movements, the emergence of disability aesthetics and practices of accessible curation.
Age and Creativity: Conversation with the Artists and Curators – Curators Ingrid Jenkner and Eliza Chandler hosted a conversation with Artists Cecil Day and George Steeves on September 23 about their work, and how it responds to the Exhibition theme and the challenge to make their art accessible changed, or enhanced their work.
How can Art and Art Exhibitions Challenge Assumptions about Aging? – A panel discussion on October 30 with diverse perspectives offering insights into how art and exhibitions can support public awareness of the social and cultural contributions older adults make to our communities.Panelists included: Michael Fernandes, artist; Bill VanGorder, Canadian Association of Retired Persons; Dr. Ardra Cole, MSVU Centre for Arts Informed Research & Teaching; and Marcel McKeough, Nova Scotia Department of Communities, Culture & Heritage.
Click here to view a video of the October 30 panel presentation.
For information on these public events and the exhibition and the accessibility supports offered visit msvuart.ca