Mobilizing Innovative Models in Early Childhood Education and Care for Newcomer Families and Children: A Pan-Canadian Environmental Scan
High-quality early learning and child care programs are positioned to support newcomer family settlement, reduce socio-economic inequities, and can enhance children's overall development.  The goal of this research was to describe how ELCC is implemented through settlement agencies in Canada and identify innovative approaches to programming.
This research employed an environmental scan of settlement organizations and invited key informants to participate in interviews and surveys. Overall, participating organizations (n=38) identified innovative practices including a focus on trauma-informed care and developing partnerships to support the broader needs of newcomer families. The findings also suggested a need to continue to emphasize a broader purpose for early learning and child care, alongside other settlement services, which will contribute to the professionalization of the field across the country.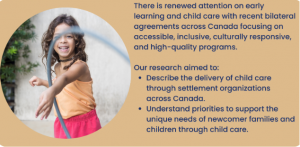 This research was funded through the Child and Youth Refugee Research Coalition (CYRRC) with funding from Social Sciences and Humanities Research Council (SSHRC).
The Results: