The NSCA is pleased to host the following community events throughout Nova Scotia which will offer new insights on different aging related topics. All events are free and light refreshments will be provided thanks to financial support from the Dr. F.R. MacKinnon Endowment Fund.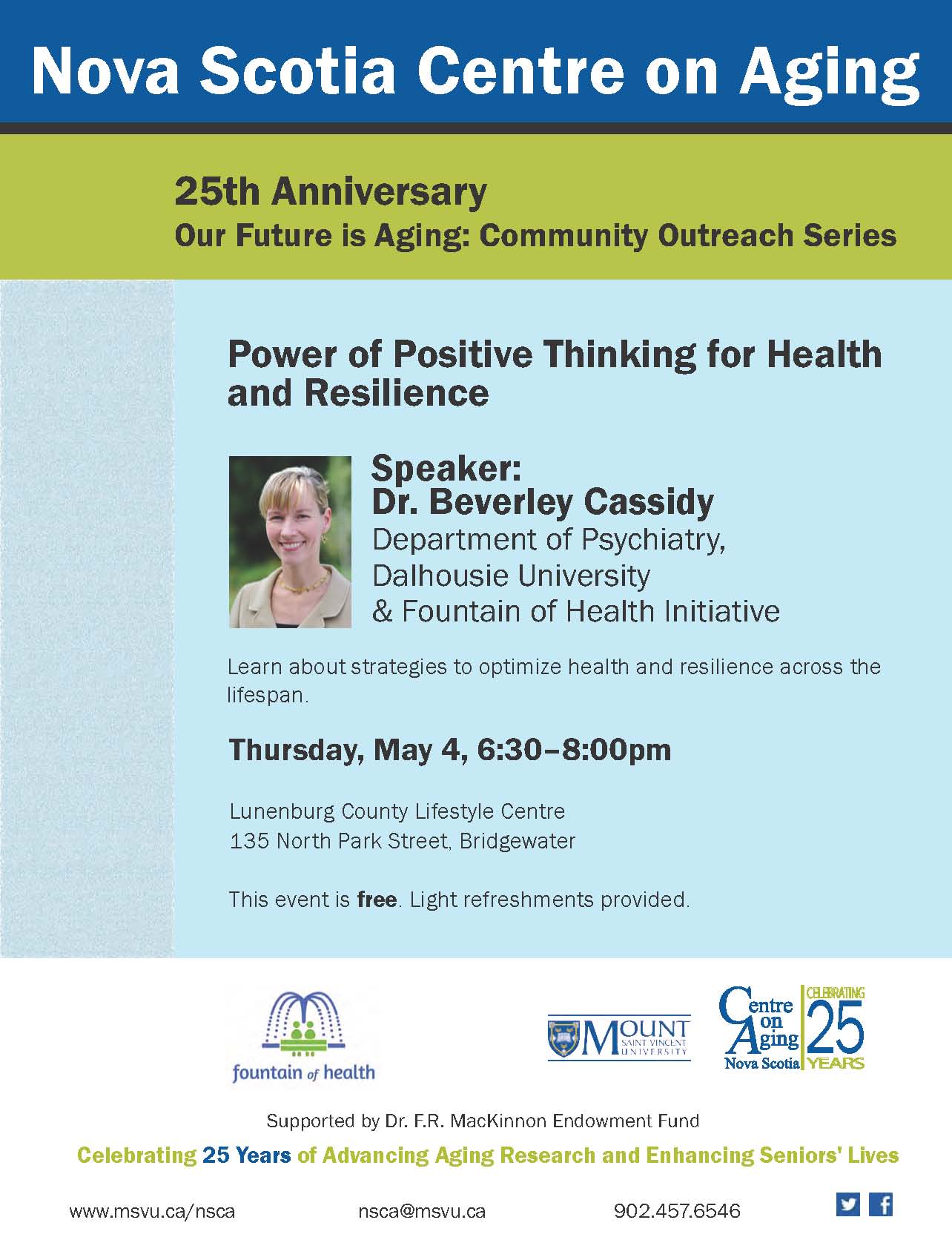 May 4, 6:30 – 8:00 pm
Power of Positive Thinking for Health and Resilience
Guest Speaker: Dr. Beverley Cassidy, Department of Psychiatry, Dalhousie University & Fountain Of Health Initiative
Location: Lunenburg County Lifestyle Centre
135 North Park Street, Bridgewater
May 9, 6:30-8:00 pm
Positive Aging and Nutrition: Let's Talk About it!
Guest Speaker: Dr. Catherine Morley, School of Nutrition and Dietetics, Acadia University
Location: Community Room, Wolfville Farmers' Market
24 Elm Avenue, Wolfville
May 23, 6:30–8:00 pm
Caregiving: Is there a silver lining?
Guest Speaker: Dr. Janice Keefe, Department of Family Studies and Gerontology & Nova Scotia Centre on Aging, Mount Saint Vincent University
Location: Paul O'Regan Hall, Halifax Central Library, 5440 Spring Garden Rd.




May, 25, 7:00-8:30 pm
Creative Aging
Guest Speaker: AHA! Artists, Arts Health Antigonish (AHA!)
Location: Community Room, Antigonish Public Library