2017 Recipient of The Global Ageing Network for Excellence in Applied Research Award
WHAT'S HAPPENING!

DR. JANICE KEEFE AND COLLEAGUES AWARDED $2.1 MILLION IN NEW FUNDING: Dr. Janice Keefe, Director of the Nova Scotia Centre on Aging, and colleagues were awarded a $2.1 Million CIHR Project Grant: Fall 2022 (announced in February 2023) for their multi-site study starting in April 2023 that aims to improve quality of work life for staff in long-term care. This study seeks to understand how working conditions in residential long-term care settings may affect the conditions of care of the residents. It will assess how work environment impacts the quality of work life of staff in LTC and, ultimately, resident quality of care outcomes in Atlantic Canada. The Atlantic region currently has limited data to understand LTC staff quality of work life and what can be done to support these staff. Ultimately, this study will enable tangible interventions to improve LTC staff quality of work life, their work environment, and the quality of care for residents. https://www.msvu.ca/msvu-researchers-awarded-2-5-million-in-new-funding-from-cihr/
RESEARCH PROJECT MANAGER OPPORTUNITY: The Nova Scotia Centre on Aging is seeking a professional to join the project team in the role of Research Project Manager for a four-year CIHR funded Atlantic Canada project. For more information and to apply, click here.
HEALTH STANDARDS ORGANIZATION (HSO) PUBLISH NATIONAL LONG-TERM CARE STANDARDS: The Health Standards Organization (HSO) and the Canadian Standards Association (also known as CSA Group) announce the publication of CAN/HSO 21001:2023 Long-Term Care Services and CSA Z8004:22 Long-Term Care Home Operations and Infection Prevention and Control. The standard focuses on promoting good governance, upholding resident-centred care and enabling a meaningful quality of life for residents, ensuring high-quality and safe care, fostering a healthy and competent workforce, and promoting a culture of quality improvement and learning across LTC homes. Dr. Janice Keefe is a member of HSO's Long-Term Care Services Technical Committee. Click here to view the media release.
DR. KEEFE PANALIST FOR HEALTHCARE EXCELLENCE CANADA'S SPOTLIGHT SERIES: Dr. Keefe will be a panelist for Healthcare Excellence Canada's Spotlight Series, Better home care for older adults and caregivers, on Feb. 9 at 12:00 p.m. (ET). Hear panelists discuss the emerging research in home care and how we can support providers, caregivers and clients, including some of the latest tools and resources. Register: https://healthcareexcellence.ca/en/events-and-opportunities/spotlight-series/
NEW PUBLICATIONS ON LONG TERM CARE: Two new publications on long term care are now available: A review of policies that support family involvement in long-term care, and A look at family visitation during COVID.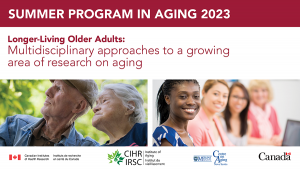 NSCA TO HOST SPA 2023: We are pleased to be hosting the CIHR Institute of Aging Summer Program in Aging (SPA), June 4-9 at White Point Beach Resort, Nova Scotia. The program theme for SPA 2023 is Longer-living older adults: Multidisciplinary approaches to a growing area of research on aging and planning for this immersive 4+ day event is underway. For more information go to www.SPA2023.ca
NSCA LAUNCHES WORK ON FAMILY/FRIEND CAREGIVING IN NS: We are pleased to be working with Caregivers Nova Scotia on a A Strategic Review of Family/Friend Caregiving in NS. The project involves a jurisdiction and literature review and opportunities for family/friend caregivers and people who work with caregivers to have their voice heard. Through the consultation component of the work we want to understand the current realities – both good and bad – of family/friend caregivers to identify how to better support for these individuals. For more information go to nscaregivingproject.ca or contact CaregivingProject@msvu.ca or call 1-877-302-4440.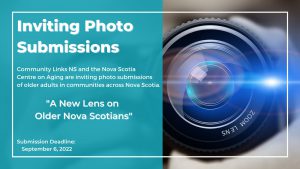 INVITATION FOR PHOTO SUBMISSIONS: Community Links NS and the Nova Scotia Centre on Aging are inviting photo submissions on an ongoing basis of older adults who are living vibrant, active lives in communities across Nova Scotia. For more information on guidelines and how to submit, visit: https://www.msvu.ca/research-at-the-mount/centres-and-institutes/nova-scotia-centre-on-aging/projects/current-projects/a-new-lens-on-older-nova-scotians/
PRACTICE BRIEFS AND WEBINAR RELEASED WITH RESULTS ON FAMILY VISITATION IN LONG TERM CARE DURING COVID: A number of briefs are available with suggested actions and strategies to help care homes with implementing family visitation policies:
Family Visitation in Long-Term Care During COVID-19-Communication is key
Family Visitation in Long-Term Care During COVID-19-Impact on Residents, Family and Staff
Family Visitation in Long-Term Care During COVID-19-Actions to Take From Staff Perspective
Family Visitation in Long-Term Care During COVID-19 Actions to Take from Family Perspective
Watch webinar in which Dr. Janice Keefe and Cheryl Deveaux, CEO/Administrator share results from the study to long term care leaders in Nova Scotia and Prince Edward Island https://www.youtube.com/watch?v=2e-tx3p358Q
TWO BRIEFS RELEASED AS PART OF SALTY'S KNOWLEDGE TRANSLATION SERIES: Two briefs with a focus on staff in long-term care and volunteers in long-term care have been released as part of the Seniors Adding Life to Years – (SALTY) Knowledge Translation Series:
The Role of Volunteers in Enhancing Resident Quality of Life in Long-Term Care: Analyzing Policies that May Enable or Limit this Role and Long-Term Residential Care Policy Guidance for Staff to Support Resident Quality of Life.
RECRUITING FOR POSTDOCTORAL POSITION: The project, How Approaches to Care Shape the Pathways of Older Adult Clients, researches how policy, practice and decision-making shape a client's journey through the home care system. The NSCA is recruiting for a Postdoctoral position for this project. For more information go to HC Pathways-PDF Recrtmnt_25Jan2022

TRAINING OPPORTUNITY IN DATA ANALYTICS: MSVU is one of several partners of the CAnD3 initiative, an innovative training program in Population Analytics in an Aging Society to equip the next generation of academic and applied population researchers with the knowledge, skills, and networks to support data-driven decision-making in aging societies. Contact nsca@msvu.ca for more information on training opportunities and possible funding through our site. For more information on the CAnD3 initiative go to https://www.mcgill.ca/cand3/
HOME CARE PATHWAYS TEAM SHARING RESULTS: The Pathways team are sharing results to various audiences and working on a number of manuscripts. Stay up to date with news at  www.homecarepathways.ca
SALTY PROJECT: The SALTY Project has ended but stay up to date with news about manuscripts and other project summaries being released. Go to www.saltyltc.ca