2017 Recipient of The Global Ageing Network for Excellence in Applied Research Award
WHAT'S HAPPENING!

RESEARCH LAUNCHED ON STAFF QUALITY OF WORK LIFE IN LONG-TERM CARE: This Atlantic Canada research collaboration is up and running with data collection to get underway in Nova Scotia and Prince Edward Island this fall. Team members with the NS/PE Hub have begun reaching out to randomly selected care homes with the opportunity to participate in this study. For more information go to www.arcltc.ca
PRESENTATION'S AT CANADIAN ASSOCIATION OF GERONTOLOGY CONFERENCE: Several staff and students are headed to Toronto to share findings and research with other leading researchers in the field.
DR. KEEFE APPOINTED CHAIR OF REVIEW PANEL OF LONG-TERM CARE AND PERSONAL CARE HOME PROGRAMS IN NL: Dr. Keefe is chairing the panel established to review long-term care and personal care home programs in Newfoundland and Labrador. The Panel's work is getting underway this fall.
NSCA COLLABORATED WITH NATIONAL ASSOCIATION OF FEDERAL RETIREES, NS CENTRAL:  Dr. Janice Keefe was a presenter at, Tackling the next "ism" Ageism event which was held on October 1 to recognize International Day of Older Persons.
DR. JANICE KEEFE 1 OF 4 AUTHORS OF GLOBE AND MAIL ARTICLE: Dr. Janice Keefe is one of 4 authors of an opinion article in the Globe and Mail – Can Canada and its long-term care sector learn from COVID-19 or have we returned to 'normal'? Click here to view the article.
DR. KEEFE CO-AUTHOR OF BMJ PAPER: Dr. Janice Keefe is a co-author of the British Medical Journal's latest paper, "The predictable crisis of covid-19 in Canada's long term care homes", released July 25. The article is part of the BMJ Canada Covid Series. The BMJ Canada Covid Series provides a critical analysis of what worked and what didn't in Canada's covid-19 response and calls for a national independent review to learn lessons and ensure accountability for the past and future preparedness. Click here to view the research paper.
NEW PUBLICATION ON HOME CARE CLIENTS: A new publication on home care clients and their pathways in two provinces is now available: Inter-provincial variation in older home care clients and their pathways: a population-based retrospective cohort study in Canada
NS LONG-TERM CARE STAFF QUALITY OF WORK LIFE: SURVEY FINDINGS – VIDEO AVAILABLE: The Nova Scotia Long-Term Care Staff Quality of Work Life: Survey Findings & Next Steps presentation to representatives from long-term care sector in Nova Scotia (48 mins) is now available. Click here to watch the video.
PRACTICE BRIEFS AND WEBINAR RELEASED WITH RESULTS ON FAMILY VISITATION IN LONG TERM CARE DURING COVID: A number of briefs are available with suggested actions and strategies to help care homes with implementing family visitation policies:
Family Visitation in Long-Term Care During COVID-19-Communication is key
Family Visitation in Long-Term Care During COVID-19-Impact on Residents, Family and Staff
Family Visitation in Long-Term Care During COVID-19-Actions to Take From Staff Perspective
Family Visitation in Long-Term Care During COVID-19 Actions to Take from Family Perspective
Watch webinar in which Dr. Janice Keefe and Cheryl Deveaux, CEO/Administrator share results from the study to long term care leaders in Nova Scotia and Prince Edward Island https://www.youtube.com/watch?v=2e-tx3p358Q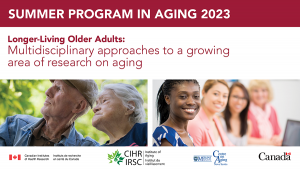 NSCA HOSTED SUCCESSFUL SPA 2023: The NSCA  hosted a successful 2023 CIHR Institute of Aging Summer Program in Aging (SPA) at White Point Beach Resort from June 4-9, 2023. SPA 2023 brought together more than 40 graduate students and post-doctoral fellows for an immersive 4+ day advanced learning experience that crossed disciplines, sectors, institutions and geography. The 40+ trainees had the opportunity to hear from and talk to several speakers and mentors in the field of aging. The Theme for SPA 2023 was Longer-living older adults: Multidisciplinary approaches to a growing area of research on aging. We would like to thank all of the participants for making SPA 2023 such a success! For more information go to www.SPA2023.ca

HOME CARE PATHWAYS TEAM SHARING RESULTS: The Pathways team is sharing results to various audiences and working on a number of manuscripts. Stay up to date with news at  www.homecarepathways.ca
SALTY PROJECT: The SALTY Project has ended but stay up to date with news about manuscripts and other project summaries being released. Go to www.saltyltc.ca
TRAINING OPPORTUNITY IN DATA ANALYTICS: MSVU is one of several partners of the CAnD3 initiative, an innovative training program in Population Analytics in an Aging Society to equip the next generation of academic and applied population researchers with the knowledge, skills, and networks to support data-driven decision-making in aging societies. Contact nsca@msvu.ca for more information on training opportunities and possible funding through our site. For more information on the CAnD3 initiative go to https://www.mcgill.ca/cand3/