2022 International Day of the Girl Child Celebration
Friday October 14 | 9:00am – 1:00pm | Virtual, Microsoft Teams
The Alexa McDonough Institute for Women, Gender, and Social Justice (AMI) is organizing a free virtual event on 14th October 2022 to celebrate the International Day of the Girl Child. This day was created by the United Nations in 2012 to celebrate the achievements and potential of girls. The conference theme this is, She-roes: The Power to Change the World. This event is intended for girls ages 12-15 (approximately).
'She-roes' are, inspirational and empowering women who have made a difference in our lives and in our communities. Dr Alexa McDonough is our she-roe because of her advocacy for justice, social policy, human rights, international development, and peace.
REGISTER for this free event through EventBrite »
We have an exciting lineup of speakers and presenters planned for this year's celebration, please view the full 2022 IDOTGC Digital Program (web) for the most current details! We will continue to update our program leading up to the celebration, with the complete program to be circulated to all those who have registered.
Keynote Address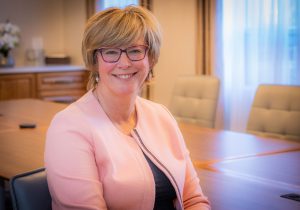 Karen Oldfield K.C., ICD.D
Interim President & CEO
Nova Scotia Health
Karen Oldfield served for more than 18 years as President and CEO of the Halifax Port Authority where the organization saw record level growth in investments and expansion translating to a significant increase in trade activity for the region. Under her leadership, Halifax became the first port in Canada to achieve the internationally recognized standard for environmental management systems earning the ISO14001 certification.
As the Interim President and CEO of Nova Scotia Health (NSH) by appointment of Premier Tim Houston, Karen has been tasked with leading the organization's effort to take immediate action to improve health care in Nova Scotia. While seconded to Nova Scotia Health, Karen has also been appointed Deputy Minister of Priorities and Planning for the Government of Nova Scotia, a role fundamental to the strategic priorities of the province.
During her tenure at the Port Authority, revenues more than tripled, enabling the organization to make significant financial investments in strategic port and transportation infrastructure to improve port competitiveness and the livability of the City of Halifax. Oldfield has global experience, particularly in trade development and the establishment of new markets together with deep expertise in supply chain management and logistics. Karen operates and achieves results in complex, multiparty/stakeholder environments, particularly at the nexus of levels of government interacting with the private sector.
Organizational future-proofing and recruiting and developing talent are Karen's passions. Her inquisitive nature and ability to anticipate issues and remove the barriers that challenge high-functioning systems, has aided Karen in spotting themes and trends to propel organizations to the forefront of change.
Ms. Oldfield is Past Chair of the Board of Governors of Saint Mary's University. In recognition of her dedication and passion for excellence in business, in May 2022 she received an honorary Doctor of Commerce from Saint Mary's University. She has served as President of the Canadian Chapter of the International Women's Forum, a global organization comprised of female leaders with a stated mission to further develop female executive and board talent. Ms. Oldfield serves as Lead Director of Acadian Timber (ADN.TO), serving as Chair of Nomination and Governance and Executive Compensation as well as member of the Audit Committee.
Karen has a supportive family, husband Darren and daughter Laura whom allow her to go and "get things done".