Research Ethics Review Process
Download the Research Ethics Application Form.

You must include all relevant supporting documentation in final form (e.g. surveys, interview script, informed consent forms). To facilitate the referencing of reviewers' comments on the submission, please ensure that the pages are appropriately numbered and that changes made to the proposal are clearly indicated when re-submission is required. Please forward the required number of copies to the Research Ethics Coordinator, University Review Ethics Board, located in the Research Office, Evaristus 238.

Note: If you are not sure that your research project requires ethics review, please consult with the Research Ethics Coordinator before submitting an application.
Please review the section on Informed Consent for detailed information on this important aspect of your research.
Note: Researchers may not begin any research with human participants until ethics clearance has been issued.
Application Process for Research Ethics Clearance
Research Ethics Applications are received by the Research Ethics Coordinator who then vets the applications and assigns a review process based on the assessed risk (minimal risk = expedited 2 reviewer process; >minimal risk = full review process). The initial review requires ~3-4 weeks at which point, reviewers will provide (via email) the researcher/applicant with a request for clarifications, revisions, or an indication of approval. In the event that clarifications or revisions are requested, researcher/applicants must clearly demonstrate amendments made (e.g., use bold/underline, track changes or highlight modifications) and resubmit to the same reviewers. Subsequent reviews require ~1-2 weeks. This cycle of request for clarifications/revisions followed by researcher/applicant submission of clearly marked modifications continues until ethics requirements have been satisfied and ethics approval is warranted. At this point, a certificate of research ethics clearance is issued.
Click here for more information on the application process.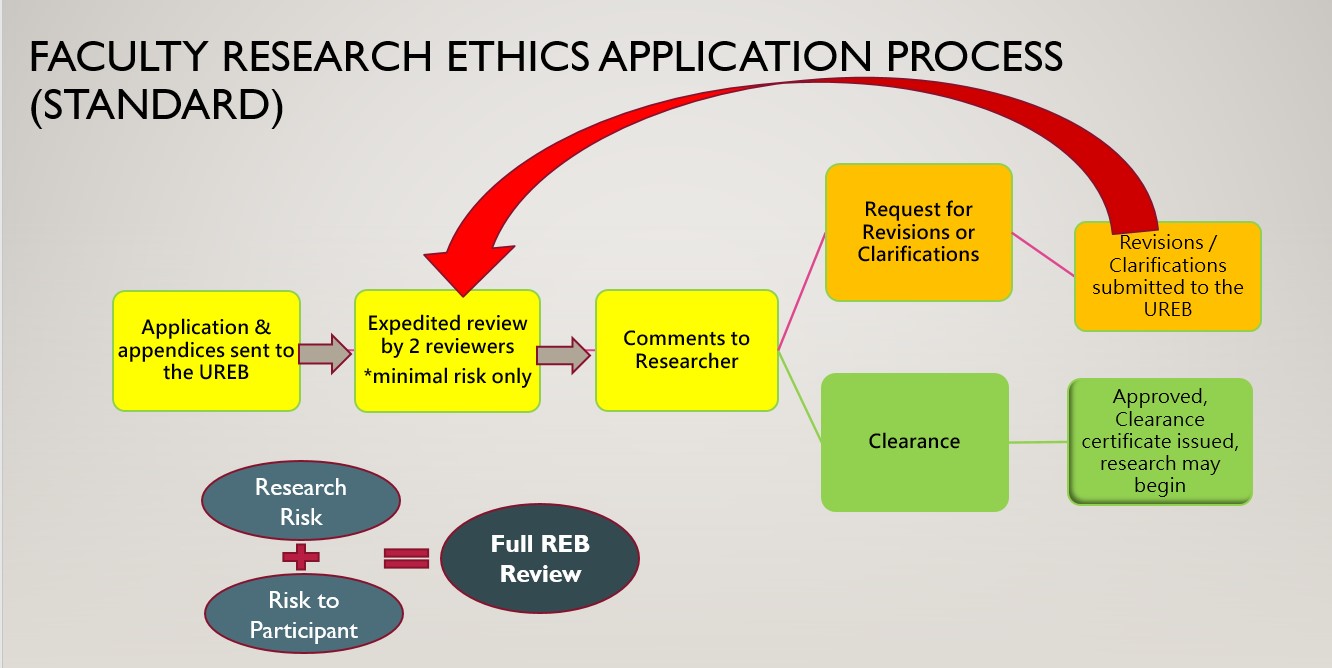 Please contact Brenda Gagne if you have any questions or concerns.