About the Chair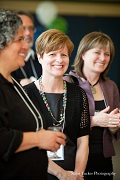 Dr. Jamie Metsala
Mount Saint Vincent University has re-appointed Dr. Jamie Metsala as the Gail and Stephen Jarislowsky Chair in Learning Disabilities.


The Chair in Learning Disabilities is be involved with teaching, research and course development in the Mount's Faculty of Education at both undergraduate and graduate levels. Dr. Metsala's research and programming initiatives will have a positive and lasting impact on public education practices and on the children and families who struggle with learning disabilities.

Dr. Metsala comes to the Mount from the University of Western Ontario where she was an Associate Professor in the Faculty of Education. Prior to that, she taught at the Mount for four years in the Faculty of Education's Graduate School Psychology Program, she served as Director of Research and Psychology at Integra Children's Mental Health Centre in Toronto and she was Associate Professor at University of Maryland. Dr. Metsala received a PhD in Applied Psychology from the University of Toronto (Ontario Institute for Studies in Education).

Dr. Metsala's current research focuses on cognitive and linguistic processes related to learning disabilities. Throughout her career, she has applied her knowledge and expertise in cognitive science to help children with learning disabilities.


About the Donor
Stephen A. Jarislowsky, CC, GOQ
The Chair was made possible through donations from the community as well as a generous $1 million donation from the Jarislowsky Foundation, which was established by Canadian businessman and philanthropist, Stephen A. Jarislowsky, CC. The Foundation has contributed to numerous initiatives in health, science, the arts and education, including the endowment of twelve academic Chairs at Canadian universities.

Stephen A. Jarislowsky was born in Berlin, Germany in 1925, the stepson of a steel mill owner in Germany who was ousted by the Nazis for harbouring Jews. He attended public and high school in the Netherlands and France. In 1941, he emigrated to the US where he attended preparatory school in Asheville, North Carolina, studied mechanical engineering at Cornell University. He then went on to serve in the US Army. Once completing basic training, he studied Japanese at the University of Chicago prior to serving in Counter-Intelligence in Japan after the war.

Returning to the United States in 1946, he also returned to the University of Chicago, and graduated with an MA and Phi Beta Kappa Honours. He followed this with MBA studies at Harvard Business School, graduating in 1949. He worked three years with Alcan Aluminum in Montreal and briefly returned to the United States prior to starting Jarislowsky, Fraser & Company Limited in June 1955 in Montreal.

Now Chairman and Chief Executive Officer and former President of the firm for 40 years, he has directed the growth of the company to become one of the largest and most successful investment management firms in Canada.

He is a recipient of the Companion of the Order of Canada and has Honourary Doctorates of Law from a growing list of Canadian Universities.