Mount Saint Vincent University celebrated more than 600 graduates from 18 countries during spring convocation ceremonies held in Halifax, Nova Scotia on May 18 and 19. Students crossed the stage from Arts, Science, Education, and professional programs to accept a wide range of certificates, diplomas and degrees before becoming part of the Mount's network of more than 34,000 alumnae.
Honorary degree recipients
The Mount bestowed honorary degrees on three exceptional women: influential athlete and one of the best female hockey players in the world Hayley Wickenheiser, Mount alumna and dedicated supporter of countless community organizations Elizabeth Fountain and President of The Asper Foundation, which spearheaded the creation of the Canadian Museum for Human Rights in Winnipeg, Gail Asper (
bios/additional photos
).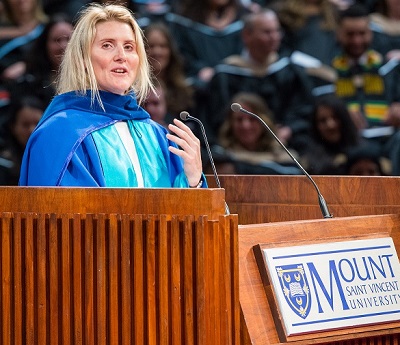 In her address,
Hayley Wickenheiser, OC, BKin, MSc,
encouraged graduates to use their talents for good and to see pressure as a force propelling them forward as opposed to a force bearing down on them. "It's one thing to be the best in the world, but it's completely another thing to be the best for the world. . .with that pressure comes privilege." She reminded graduates of how much they have to give, noting: "People wouldn't ask you to do really hard and really great things if they didn't think you were really capable of them."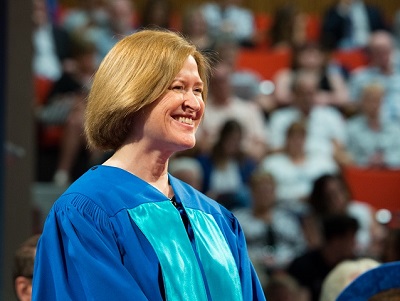 Elizabeth Fountain, DCnL,
shared the story of losing her son Alex to suicide in 2009. She told of her grief, but then hope in the conversations that started when her family chose to be open about Alex's struggles and how he died. "How can anyone even get to the help they need if they continue to feel they are surrounded by shame? For us it has remained helpful and important to talk about what happened to Alex, to be open with others and to share with anyone who has questions and listen to anyone who needed an ear," she said. "This is something we all can do and something we all must do." Elizabeth's wish for the class of 2017 included "much happiness, success and good mental health."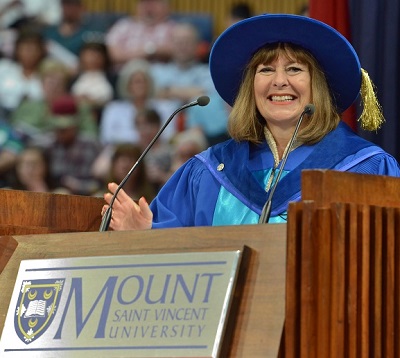 Gail Asper, OC, OM, LLD,
spoke of the challenge of creating the Canadian Museum of Human Rights calling on graduates to never quit when the going gets tough. "I encourage all of you to say yes when life presents you with interesting opportunities because you will not regret it," she said explaining that when her father died suddenly she took up the charge to open the museum he'd started work on. "Be a lifter not a leaner. Lend a hand and strengthen a person or an organization. By helping them, you get stronger too. Whatever you do, adopt a reach for the stars attitude. Don't settle for mediocrity."
Student prizes
Valedictorian Prizes for significant contributions to extracurricular activities at the Mount and in the community-at-large were awarded to:
Rachel Witt
, BSc (Science Communication), Salmon Arm, BC
Adrian Downey
, Master of Arts in Education (Curriculum Studies), Halifax, NS
The President's Prize, awarded to graduates whose generosity, energy and commitment enriches the university, was presented to:
Rachel Witt, BSc (Science Communication), Salmon Arm, BC
Governor General's Medal
Amy Patricia Zwicker, BEd (Curriculum Studies), Halifax, NS
Meredith Bessey, BSc (Hons, Applied Human Nutrition), Halifax, NS
Membership to Kappa Gamma Pi, the National Catholic College Graduate Honor Society, is based on scholarship, leadership, and service, and was presented to:
Meredith Bessey, BSc (Hons, Applied Human Nutrition), Halifax, NS
Merly Prentt, MEd (Lifelong Learning), Barranquilla, Colombia
Maria Redden, BA (Hons, Psychology), Halifax, NS
Faculty Recognitions
Teaching Excellence Awards were presented to:
Dr. Bohdan Luhovyy
, Department of Applied Human Nutrition – President & Vice-President's Advanced Teaching Award
Dr. Danielle Cox
, Department of Mathematics – The Alumnae Early Career Teaching Award
David Wilson
, Department of English – The Alumnae Part-Time Faculty Teaching Award
The Mount presented an Award for Research Excellence in recognition of a faculty member's contribution to the research community and to the University's research climate to:
The Mount presented the Senate Award in Service in University Governance in recognition of a faculty member's extensive, consistent, and valuable contributions to the academic governance of the University to:
The Mount conferred titles of recognition on four individuals for their significant contributions to the University:
Dr. Tony Davis
, Professor Emeritus, Department of Sociology and Anthropology
About Mount Saint Vincent University
As a leader in distance and experiential learning, and based on a strong tradition of social responsibility, Mount Saint Vincent University takes a personalized approach to education to nurture socially responsible global citizens. Founded in 1873, the Mount has been nationally recognized for having one of the lowest student-to-professor ratios, for providing students early access to valuable research opportunities, for its legacy in the advancement of women, and for facilitating critical advancements in food security, healthy aging, literacy, and childhood development.
---
For more information:
Gillian Batten
Manager, Communications
Mount Saint Vincent University
902-457-6439 / 902-441-0505
Gillian.Batten@msvu.ca