Hands-on science exploration for students (and teachers too!)
Mount Saint Vincent University is taking a new approach to getting students in grades 9 to 12 interested in pursuing post-secondary studies in science with the launch of a new "Science Circles" program.

Hoping to create a greater understanding of university science programs for high school students, "Science Circles" are a new way to engage students through hands-on activities in areas such as biology, math, psychology, chemistry, physics and applied human nutrition. The circles will include lab and classroom components through which students will get a taste of university learning and what it's really like to enter into the science program at the Mount.

At this point, three sessions are planned – one this November, another in February 2017 and another in March 2017. The topics for each session are as follows:
November: Wildlife in the Lab
February: The Psychology of Human Behaviour – Using Science to Unravel Mysteries
March: How to Win – The Mathematics of Games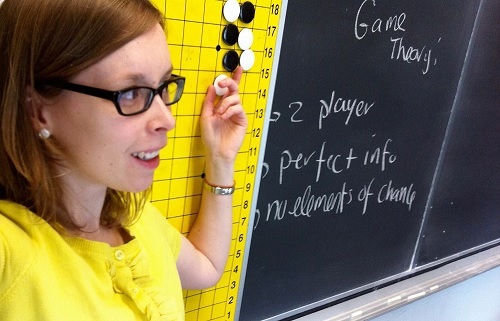 Mount Math professor Danielle Cox, together with a team of dedicated professors from the Faculty of Science who have helped start the circles, hopes that participating students leave with both an appreciation for the sciences and some new knowledge. Another goal of the circles is to connect students with other like-minded students from across the Halifax area.

"They will get to see what university laboratories are like and see that university professors are not scary, but rather approachable, regular people who love to share knowledge and excite students about learning…and the free pizza will be great too!" says Danielle.

Building on a successful history
Danielle was previously the program director of Nova Scotia Math Circles. Similar to the science circles, the math circles aim to "enrich the experiences of Nova Scotia students in all areas of mathematics through interactive, creative, and meaningful presentations". The math circles involve monthly events at Dalhousie University for junior high and high school students and also visit schools all across the province for free. Now working in a smaller university with a diverse group of science professionals, Danielle saw the opportunity to start Science Circles at the Mount after the success of the Math Circles.

"Science circles are really a great way for high school students to get a taste of what it's like to be in university and certainly gain insight on specific science programs," Danielle notes.

The Mount is proud to foster the circles and encourages future students to get to know the possibilities for science studies in university. With a high number expected to be in attendance, the first circle is set for Wednesday, November 9, from 5:30 p.m. to 7:30 p.m., and will focus on Biology. Professor Ron McKay will present. So grab your beakers and microscopes and join other students and teachers in discovering what's out there for science programs!

For more information or to register for Science Circles events, visit the Science Circles site here.