Janet Mills has "enriched the lives" of History faculty and fellow students during her time at the Mount
To Mount History student and valedictorian Janet Mills, there is a truly fascinating, personal quality to history – she notes that history is not just a story, it is the memories of individuals and their actual lives that build their perspectives. And in that vein, Janet is a part of the fabric of the Mount's history, returning to the University to complete her degree nearly 30 years after she first came to campus, and now addressing her peers as valedictorian of her graduating class.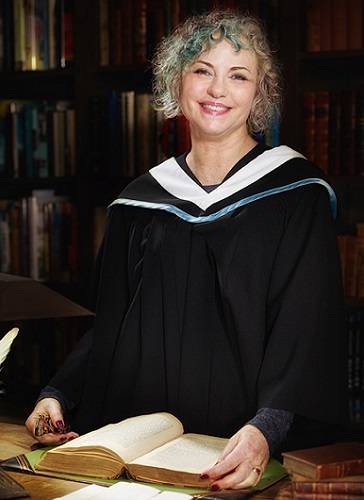 "My whole life has been a progression of learning," Janet says, and she's not kidding. "I grew up in a blue-collar family, where nobody really thought about university."
Though Janet had originally come to the Mount to study sciences, she ended up leaving for a home in the country and what would be a 14-year career in an administrative support role.
"I hated it," Janet laughs. "I have a strong work ethic and told myself I just had to power-through; but then I had the opportunity to take some courses to become a fitness instructor. I taught fitness and Pilates for 20 years, and while I never expected that for myself, it was wonderful."
Through fitness instruction, animal rescue, and her passion for gardening, Janet could maintain her interest in science while allowing it to take a new form – her guiding principle in academics, work and life in general, is to harness opportunities. It was shortly after her parents passed away when the next big opportunity presented itself.
"My husband and I were going through old papers and documents, and we came across my old transcripts," Janet explains. "I knew then that I wanted to go back to school."
Janet returned to the Mount, this time to study history – another passion she has carried throughout her life. The link between sciences, fitness, and history might not seem obvious, but for Janet the connection is simple – it is the passion for life and living things.
Not only did Janet succeed in her studies, she thrived. Maintaining an impressive grade point average throughout her degree (a
Bachelor of Arts with Honours in History
) Janet has been the recipient of several scholarships, including the Walter Shelton Essay Prize and the Sister Francis d'Assissi Prize in History which is awarded to the most outstanding graduating history student. In the fall, Janet will begin her Master of Arts degree in History at Dalhousie University, armed with the prestigious and highly competitive Joseph-Armand Bombardier Canada Graduate Scholarship which will fund her graduate studies.
When asked if she has any plans beyond her Master's, Janet says she is interested in pursuing a PhD, but doesn't have anything more specific in mind.
"You see, the best things that have come to me in my life are things that have happened organically. I like to see what happens, and what feels right, and then make the most of it!" Janet remarks. "So whatever is next, whatever that may be… that is what I am looking forward to."
---
Janet Mills will deliver her valedictory address during the Mount's morning convocation ceremony on Friday, May 19, 2017, which gets underway at 10 a.m. [watch the ceremony live online]