"I really feel that science communication is needed now more than ever in Canadian society and students who choose this path will have significant impact across the globe."
Rachel Witt will be a long way from Salmon Arm, BC as she takes the stage to deliver the valedictorian address on May 18, 2017.
When weighing her post-secondary options as a senior in high school, Rachel was looking for a way to compliment her passion for chemistry with her love of public speaking and graphic design and happened upon the description for the Mount's
Science Communications program
.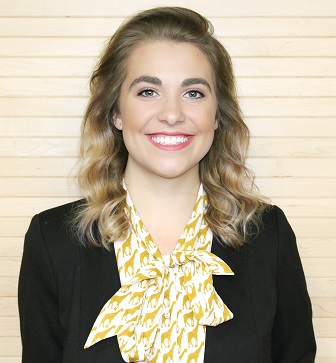 "My parents and I came to Nova Scotia in the summer before my high school grad year to tour the Mount and meet some of the faculty, and it became clear that trained science communicators are essential," said Rachel. "I decided that I owed it to myself and my community to pursue a path in this important field of study."
The Bachelor of Science (Science Communication) is relatively new to the Mount, being established in 2010. Its purpose is to help build a bridge between science (and the work of scientists) and the general public.
While excited about the opportunities this degree would provide her, Rachel knew that it would mean travelling across the country to pursue her dream; thankfully her family was supportive.


---
"I have found a way to combine my love of all things nerdy with my core belief in feminism and have started referring to myself as a 'STEMinist'. The very first thing we learned in Foundations of Science Communication is that when people think 'Scientist' they think of a man. I am seeking to change this perception."
— Rachel Witt
---
"Growing up my family never allowed me to set limits on my goals and always pushed me to step out of my comfort zone and to think big," said Rachel who was awarded the 2016
CSC Silver Medal Award
as the top chemistry student entering the final year of study at the Mount. "They always encouraged me to seek opportunities that would give me a broader perspective and I was certain that moving to the East Coast would help me meet that objective."
Rachel has achieved this objective and much more since arriving at the Mount. In addition to her excellent academic performance, Rachel dedicated a significant amount of time to initiatives taking place on and off campus; this included taking on the challenging role of Chairperson for the Science Atlantic Chemistry Conference in 2016 (ChemCon2016).
---
"I am proud of ChemCon2016 because I played a key role in seeing a dynamic group of men and women presenting incredible chemistry research. What was even better was watching these scientists interact and listen to each other. Chemistry can often be a small subgroup in university science programs, and it was so rewarding to host an open learning environment for students to exchange research ideas."
---
The Mount is well known for its advancement of social issues, including women's rights, so it's no surprise Rachel found a way to tie her dedication to science to her values around equality by joining the Mount's Feminist Collective. "I'm really interested in curricular change that increases exposure for young women to STEM fields," she said. "There are multiple organizations that provide opportunities for science lovers like me to volunteer my time and mentor the next generation of female scientists. I'm dedicated to finding a way to pass my science passion and capabilities onto the next generation."

As Rachel embarks on a new chapter, her hope is to establish a career as a science communicator, "I'm passionate about making complex scientific information easily understandable by the general public. In this age of 'infotainment,' misinformation and misinterpreted science spread so quickly that I do believe government agencies and science-based companies need science communicators."
She also hopes future students see the same potential she saw with the Science Communications program. "Science communication is necessary to shape the scientific thinkers of tomorrow in an effort to make their knowledge accessible for all. What good is a scientific leader without the backing of a general public that feels safe, respected and informed?"
---
Rachel Witt will deliver her valedictory address during the Mount's morning convocation ceremony on Thursday, May 18, 2017, which gets underway at 10 a.m.