New community SciMath program to engage girls and Aboriginal youth
A new initiative by Mount Saint Vincent University faculty, a Community SciMath program, has received funding from the Natural Sciences and Engineering Research Council of Canada's latest round of
PromoScience
awards as announced by the Honourable Kirsty Duncan, Minister of Science, on May 12th ($66,000 over three years).
The NSERC PromoScience program offers financial support to organizations working with young Canadians to promote the understanding of science and engineering. The program has a focus on hands-on learning experiences.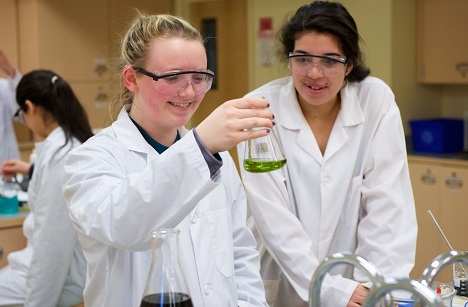 The Mount's Community SciMath program has two pillars – one working with girls and the other working with Aboriginal youth in Nova Scotia. Through this program, these young Canadians will be engaged in hands on STEM activities and will have the opportunity to meet face-to-face with professional women working in STEM fields. This program engages girls in grades nine to 12, first-year science students and Aboriginal youth in grades seven to 12. As part of this work, a Mount outreach program, Science Circles, which promotes hands-on science exploration to students in junior and senior high, will be expanded to host monthly events. WISEatlantic, another Mount outreach program, will expand to host additional summer science camps for girls. The framework for activity development for the pillar aimed at partnering and engaging with Aboriginal youth in Nova Scotia, will be based on Mi'kmaq Elder Albert Marshall's guiding principle of Two-Eyed Seeing (Etuaptmumk). That is, Indigenous knowledge will be intertwined with STEM teachings.
Three Mount faculty members from different Science and Math disciplines have teamed up to ensure the success of this program. The Community SciMath program is led by
Dr. Tamara Franz-Odendaal
, Professor of Biology and NSERC Chair of Women in Science and Engineering – Atlantic Region (WISEatlantic) at the Mount, and builds on her existing WISEatlantic program. The other Mount faculty members involved in this new initiative are
Dr. Danielle Cox
, Assistant Professor of Mathematics, and
Dr. Shannan Grant
, Assistant Professor of Applied Human Nutrition.
"We have collective track records in successfully engaging girls and partnering with Aboriginal communities and are excited to launch this new initiative," says Dr. Franz-Odendaal.
The program will launch in August 2018 with a week-long Science summer camp for girls in grades nine to 10, during which students will learn about research conducted by female researchers in Nova Scotia. A Science, Technology, Engineering and Math (STEM) career awareness event will take place on October 18.
---
Media contact:
Gillian Batten
Manager, Communications
Mount Saint Vincent University
902-457-6439
Gillian.Batten@msvu.ca