600 students crossed the stage throughout three Convocation ceremonies.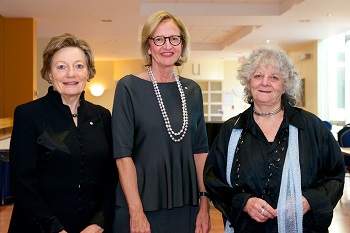 Mount Saint Vincent University (the Mount) celebrated more than 600 graduates from 22 countries during spring convocation ceremonies held in Halifax, Nova Scotia from May 15-16. Students crossed the stage from Arts, Science, Education, and professional programs to accept a wide range of certificates, diplomas and degrees before becoming part of the Mount's network of more than 28,000 alumni.
"Each day I spend at the Mount confirms my sense of what an extraordinary university this is and how fortunate I am to be a part of this community," said President and Vice-Chancellor Ramona Lumpkin, addressing the graduates. "I wish each of you all the rich benefits you deserve as a result of your hard work. I also trust that you will in turn share those benefits with your society, inspired by the example of our honorary doctorate recipients."
The Mount welcomed three accomplished women on-stage to accept honorary degrees (pictured above) and share their experiences with students: Dennice Leahey, corporate leader and community activist; Catherine (Kiki) Delaney, president and founder of C.A. Delaney Capital Management; and Ada Yonath, a Nobel Prize winner and scientific pioneer in the study of protein biosynthesis.
All three outstanding recipients are welcome ambassadors of the Mount's 140-year history of advancing the leadership of women, and sharing accessible, high-quality education with all members of the community.
Faculty Recognitions
The Mount conferred titles of recognition on three pioneering leaders for their significant contributions to the University throughout the Mount's history:
Dr. Sue MacGregor, Professor Emerita, Faculty of Education
Dr. Frances Early, Professor Emerita, Department of History
Peter Glenister, Librarian Emeritus
The Mount presented Teaching Innovation Awards in recognition of a faculty member's creativity in curriculum development or course design to:
The Mount presented an Award for Research Excellence in recognition of a faculty member's contribution to the research community and to the University's research climate to:
Dr. John L. Schellenberg, Department of Religious Studies
The Mount presented the Senate Award in Service in University Governance in recognition of a faculty member's extensive, consistent, and valuable contributions to the academic governance of the University:
Student Awards
Valedictorian Prizes for significant contributions to extra-curricular activities at the Mount and in the community-at-large were awarded to:
The President's Prize, awarded to graduates whose generosity, energy and commitment enriches the university, was presented to:
Alissa Ali, Bachelor of Science (Chemistry)
Teaghan Larkin, Master of Arts (Family Studies & Gerontology)
Membership to Kappa Gamma Pi, the National Catholic College Graduate Honor Society, is based on scholarship, leadership, and service, and was presented to:
Kyle Rogers, Bachelor of Science (Communication)
The Governor-General's Medal is given once per year for the highest aggregate in the final three years of a university program to one graduate level student, and one graduating master's student:
Undergraduate – Melanie Chanelle Riley, Bachelor of Science (Applied Human Nutrition)