Partnership will focus on promoting education and research collaboration among faculty, students and staff.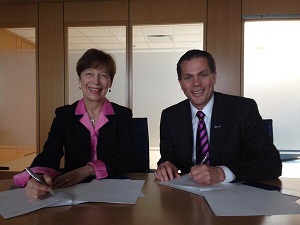 Mount Saint Vincent University (the Mount) and the Nova Scotia Community College (NSCC) have signed an agreement that will bring the two together to promote educational and research collaboration among their students, faculty and staff in fields of shared interest.
"This is a strong opportunity to build on years of partnership between our two institutions," says Dr. Ramona Lumpkin, President and Vice-Chancellor of the Mount. "We look forward to the many benefits of further collaboration."
The Mount and NSCC will now look for areas of cooperation in education and research activities that benefit their students and will exchange academic materials to enhance programs and services. Additionally, the two learning organizations will work on exchanges with faculty and staff members for research, lectures, discussions and other projects.
"This is another exciting agreement for NSCC," says NSCC President Don Bureaux. "Harnessing the knowledge at both institutions will help us enhance our education and grow the province."
The memorandum of understanding, signed today at NSCC, is for a period of three years with the possibility of a renewal.
---
Mount Saint Vincent University
Recognized as a leader in distance and experiential learning, Mount Saint Vincent University takes a personalized approach to education to nurture socially responsible global citizens. The Mount has been nationally recognized for having one of the lowest student-to-professor ratios, for providing students early access to valuable research opportunities, and for facilitating critical advancements in food security, healthy aging, literacy, and childhood development.
Contact: Ben Boudreau, Manager, Communications & Marketing, (902) 457-6439
Nova Scotia Community College
NSCC is committed to building Nova Scotia's economy and quality of life through education and innovation. Serving the province through a network of 13 campuses, NSCC offers over 100 programs in five academic schools. These programs reflect the labour market needs and opportunities of the provincial economy and set graduates on a course for career success. According to NSCC's 2012 Graduate Follow-up Study, 86% of NSCC graduates are employed, most in their field of choice. Of those, 94% live and work in Nova Scotia.
Contact: William Comeau, Communications Specialist, (902) 491-2213