Prestigious award recognizes Dr. Lumpkin's leadership and contributions both on and off-campus.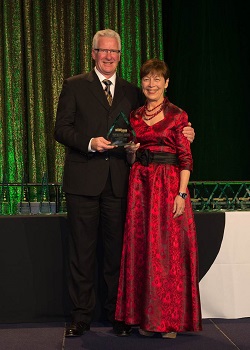 On the heels of her recognition as one of the 2013 Progress Women of Excellence, the Mount's President and Vice-Chancellor Ramona Lumpkin is once again the subject of celebration, this time as one of Atlantic Canada's Top 50 CEOs. Dr. Lumpkin accepted the award last night at a gala presented by Atlantic Business Magazine.
"It's a true privilege to be included among so many incredible leaders from across the region," said Dr. Lumpkin, who became the Mount's 12th President and Vice-Chancellor in 2010. "I'm pleased to be welcomed into such an accomplished community and to see good friends and colleagues also recognized for their work."
To date, Dr. Lumpkin has led the development of the Mount's new strategic plan and the $12-million capital campaign that will reshape campus with the construction of the new McCain Centre, a building that celebrates the role women have played in shaping our society.
"Dr. Lumpkin is a dedicated advocate for the Mount and its students," said Deanne MacLeod, Chair of the Mount's Board of Governors. "Her vision and energy in furthering the Mount as a place of accessible education and the advancement of women will leave a lasting legacy for generations of students to come."
In addition to her role on-campus, Dr. Lumpkin is the current Chair of the Association of Atlantic Universities and a valued resource to many community groups.
"Ramona's profound contribution to our community has gone well beyond her impact as the President of the Mount," said Danny Graham, one of three senior leaders to endorse Dr. Lumpkin's nomination. "Her engaging and understated personality, combined with her clear thoughts and hard work, have made her a 'must-have' contributor to many organizations and initiatives shaping the future of Nova Scotia."