Camp is a partnership between Sipekne'katik First Nation, Pictou Landing First Nation, and the Mount
Mount Saint Vincent University was delighted to welcome youth and chaperones from Sipekne'katik First Nation and Pictou Landing First Nation this week for a new camp. The NSERC Promo-Science Two-Eyed Seeing Summer Day Camp started at the Mount on Tuesday, July 3rd, 2018 and will continue in Sipekne'katik and Pictou Landing for the rest of the week.
The camp is made possible through a grant from the Natural Sciences and Engineering Research Council of Canada's (NSERC) PromoScience Program, obtained by three Mount faculty (
Dr. Shannan Grant
,
Dr. Tamara Franz-Odendaal
and
Dr. Danielle Cox
) and one former Mount staff member, Art Stevens. Since assisting with the grant, Art has joined the Faculty of Agriculture, Dalhousie University, as Manager, Aboriginal Students, but has maintained involvement in the project.
A team of Mount students worked closely with Dr. Grant, Ann Sylliboy, Velvet Paul (of Sipekne'katik), Sheila Francis (of Pictou Landing) and countless others to develop the camp curriculum; deeply influenced by Mi'kmaq Elder Albert Marshall's guiding principle of Two-Eyed Seeing (Etuaptmumk).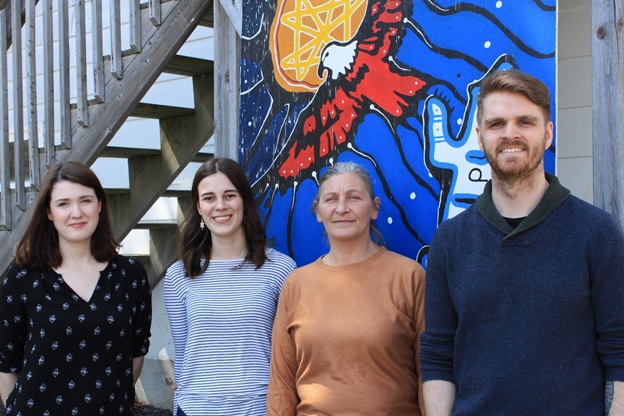 Above: Mount student members of the camp curriculum development team (from l to r): Chelsey Purdy (Acadia First Nation), Ashley Copage (Sipekne'katik First Nation), Florence Blackett (Millbrook First Nation), Iain Caldwell (Unama'ki); Photo credit: Antonia Harvey
Dr. Grant, the student development team, Ann, Art and others attended the Indigenizing the Academy Conference in Unama'ki (Cape Breton) in May 2018 to share their camp plan and related research, to obtain feedback and engage with Elders and other keepers of Mi'kmaq teachings, including Albert Marshall himself. "Co-creation of camp curriculum with representatives of Sipekne'katik and Pictou Landing was critical to the development process," said Dr. Grant, a non-Indigenous settler born in Unama'ki, who has been influenced by the two-eyed seeing framework since completing her first degree at the University College of Cape Breton (now Cape Breton University).
An opening ceremony, led by
former Nancy's Chair at the Mount
Elder
Cathy Martin
(Millbrook First Nation), Dr. Grant and Chief Deborah Robinson (Acadia First Nation), kicked off the camp. This well attended ceremony was held at the Mount wikuom and included traditional dancing and drumming by All Nations Drum group. The Indigenous student members of the development team (Florence Blackett and Chelsey Purdy, pictured above) introduced their colleagues, greeted the campers, and shared the curriculum.

Following the opening ceremony, campers completed six hands-on activities, including:
1.The Voice of the Drum – campers were asked to record the sound of different drums and measure their unique voices using teaching from physics/math.
2.Dreamcatcher Calculator – campers created large dreamcatchers while learning about prime numbers.
3.
The Science and Art of Cooking Trout
– campers learned how to fillet trout (in a traditional way) while experiencing a foods laboratory (adapted from a first year Department of Applied Human Nutrition Laboratory created by
Judy Fraser- Arsenault
).
4.Botany Lab – campers explored the teachings plants have to offer at the macroscopic and microscopic levels with a focus on plants of cultural significance to Mi'kmaq people.
5.Composting Critters – campers were provided with hands-on exposure to the world of composting through the Mount Community Garden.
6.The Teachings Living Things Offer – campers stopped by the Mount bee hive to hear the Anishinaabe story of how the bee got its stinger, to learn why the Mi'kmaq word for bee is "amu" and to study of the role of bees in their ecosystem.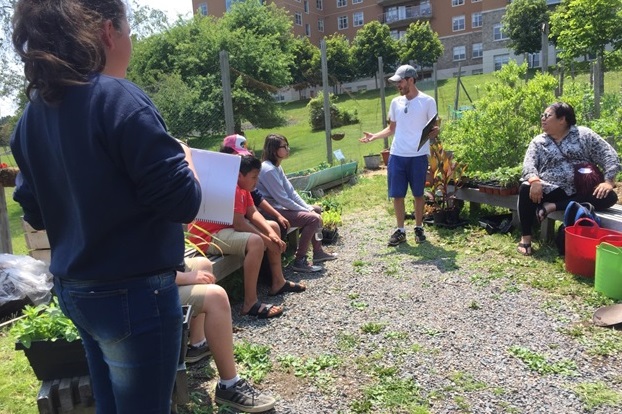 Above: Composting Critters, led by Ryan Lane, Garden Coordinator/ Internship Education Program, Department of Applied Human Nutrition
On Wednesday (July 4th) and Thursday (July 5th), student camp counsellors will visit Sipekne'katik and Pictou Landing (respectively) to support campers in adapting the knowledge they learned at the Mount to their own community. For example, the drum activity can become an exploration of sounds in community, while the botany lab can become a plant scavenger hunt or plant pressing activity. On Friday (July 6th), campers will complete a medicine walk (led by Dorene Bernard) and showcase their work through a Two-Eyed Seeing Fair in Sipekne'katik. All community members from participating communities are welcome to attend. For more information, please email:
Two-Eyed-Seeing-Camp@msvu.ca
.
A second science summer camp for Indigenous youth is already planned to take place at the Mount in the summer of 2019.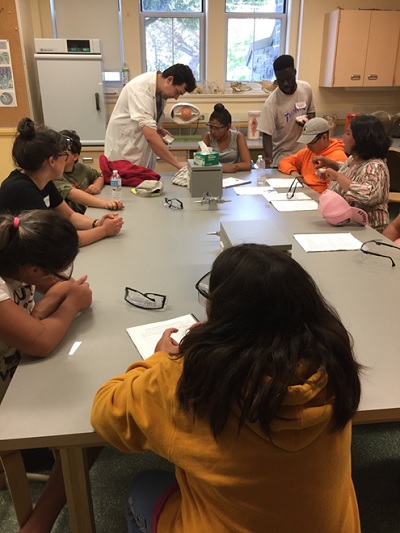 Left: Botany Activity, led by Chelsey Purdy and Kwaku Agyare, camp counsellors