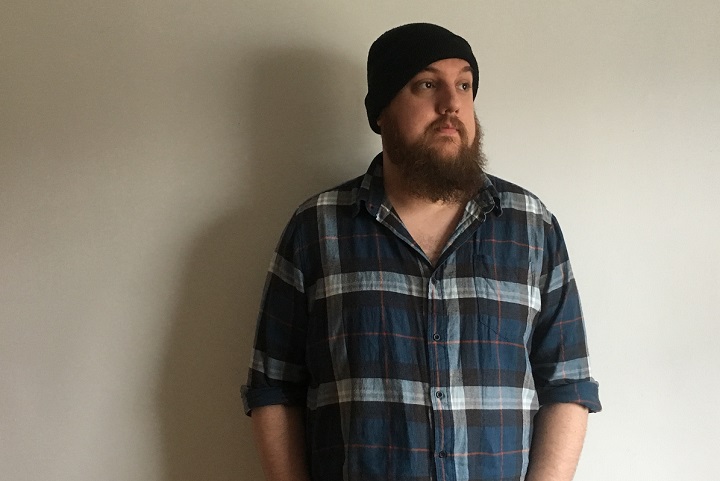 Mount Cultural Studies faculty member Mike McGuire is getting ready to set sail on the adventure of a lifetime. Mike has been invited to guest lecture on the international
Peace Boat
as it sails from Iceland to Nova Scotia next month.
Mike will join the boat on July 3 as it docks in Reykjavik, Iceland and disembark in Halifax on July 10. He will be one of three guest lecturers aboard for the week-long sail, joining former Australian Senator Scott Ludlam and polar exploration expert Yumi Nakayama. As the sole Canadian, he is tasked with introducing passengers to Canadian, and specifically Maritime, culture, history and current issues. He will also deliver his well-known hip-hop and social justice workshop, along with a few other hip-hop surprise experiences for guests.
The Peace Boat is a Japan-based project that sets sail each year to create awareness and action based on effecting positive social and political change in the world. It seeks to advance collaboration on issues of international peace, human rights, equal and sustainable development, and the environment. This is done through "the organization of global educational programs, responsible travel, cooperative projects and advocacy activities," notes the organization's
website
.
Lessons learned from hip-hop
The world of music, and specifically Atlantic Canadian hip-hop, is Mike's life passion. He has released five original albums under the pseudonym Hermitofthewoods, including collaborations with the groups Higher State and Arrhythmia. His work has made him a three-time member of the Halifax Slam Poetry Team at the Canadian Festival of Spoken Word.
Mike merged his hip-hop passion with his education, completing his undergraduate degree at the Mount in History with a minor in Peace and Conflict studies and subsequently completing a Master's in History at Dalhousie, including a thesis focused on the hip-hop movement in Nova Scotia. The only academic in the region to focus on this particular field, he is now completing a PhD in Educational Studies via the Mount (through the NS Inter-University Doctoral Program), and archiving Atlantic Canadian hip-hop works for public and academic use. He plans on documenting his trip and lectures aboard the Peace Boat for future reflection and reference.
At the Mount, Mike is a well-known faculty member in the Cultural Studies department. His music-based courses are popular among students from across disciplines, and are offered both on campus and through distance. He regularly teaches History of Rock and Roll, a course he took during his undergraduate degree, and he has designed and now teaches Music and Culture and Rap, Resistance and Religion.
"
Cultural studies
is a great way to think about who we are and what we do," Mike notes. "Music, like most art, is a great reflection of society and culture. It allows us to investigate social justice issues and cultural theory in familiar and surprising ways. I enjoy helping people take their perspectives and consider them in a different way and apply them in a different context."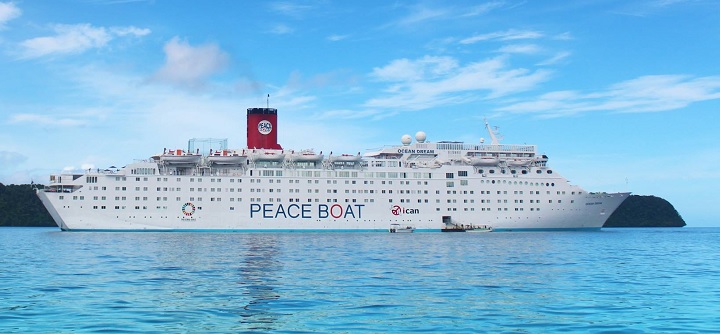 (Photo from Peaceboat.org)


Transcending borders
No doubt, Mike will inform perspectives as he shares his professional talents – for teaching and performance – aboard the Peace Boat next month. The ship houses more than one thousand travelers as it makes its way around the world. This is the 98th Global Voyage for the Peace Boat, and will include visits to 25 ports in 23 countries from May to August. As their website states, "the Voyage will be host to the 2018 'Global Voyage for a Nuclear-Free World: Peace Boat Hibakusha Project', in which a delegation of Hibakusha (survivors of the atomic bombings of Hiroshima and Nagasaki) [will] travel onboard to give personal testimony and call for the abolition of nuclear weapons."
Mike is excited to bring his hip-hop twist to the vessel's focus on social justice. "At its core, hip-hop is about social justice," he explains. "It has always been about the battle to make things better. The roots of the culture translate everywhere – anyone can connect to it if it's understood in that context."
Mike will have a day to explore Reykjavik before he begins the week-long sail. The vessel will continue on to New York after docking for a day in Halifax. He hopes he'll have armed the passengers with the information they need to make the most of their day in the Maritimes before he hops off and returns to teach summer courses at the Mount.
"I was thinking of planning an adventurous summer trip before the organizers approached me," Mike says. "Although this is a big leap into the unknown, I'm excited to take it all in."