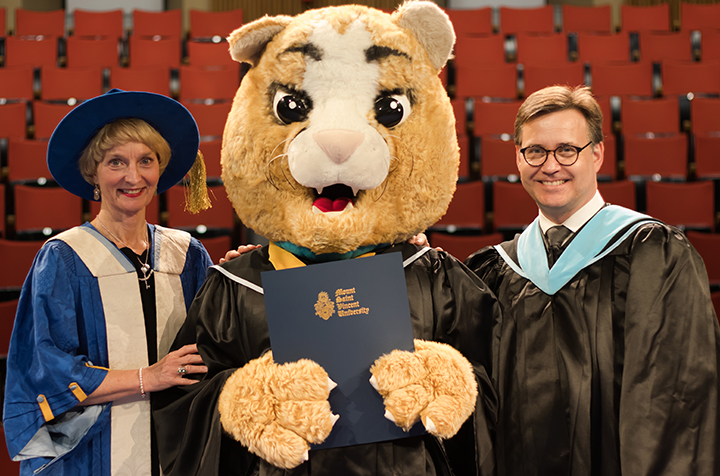 Pictured above: Monty (centre) with Dr. Mary Bluechardt, President & Vice-Chancellor at the Mount, and Paul Cantelo, University Registrar
---
This fall, the Mount will say goodbye to a part-time student and well-known campus personality. Monty, who joined the Mount in 2006 and made history as the University's first official mascot, received his degree this past spring. He's graciously agreed to stay on campus until a new mascot is introduced this September.
During his time at the Mount, Monty was known for his dedication and reliability. "Whether he was cheering on our student athletes at varsity games or working the crowd at Open Campus Day, Orientation, Multicultural Night, and too many other University events to name, Monty had a permanent smile on his face," said Nikki Jamieson, President of the MSVU Students' Union.
Monty has left big shoes to fill for the next University mascot. "This is a demanding job that involves lots of traveling and improvisation – it takes tremendous stamina," said Paula Barry, AVP Student Experience at the Mount. "Not once in 12 years did I hear Monty complain."
Understandably, the years of mascot duties have taken their toll on Monty. He overheats easily, his uniform is tattered and, quite frankly, he's tired. He is more than ready to move on and let a new mascot take centre stage. While Monty loves everyone at the Mount, he holds a special place in his heart for Dr. Jeff MacLeod, who was instrumental in bringing Monty the mascot to life.
In February, a committee was assembled consisting of representatives from those groups who have the most interaction with the mascot. This included the Students' Union Executive, student athletes, undergraduate and graduate students, as well as reps from the Office of Student Experience, Communications, Marketing & Student Recruitment, and Advancement. The committee quickly got to work determining a fitting replacement.
"After a lot of research, passionate discussion and informal consultation, we believe we've landed on a fantastic new mascot for the University," said Paula Barry. "The group knew it was important for the Mount community to be involved in the process in a meaningful way, so a naming contest will be launched in the fall, and we'll be exploring other opportunities for input."
The new mascot will be revealed this fall – just in time for Orientation. Monty plans to pursue a career in zoology.