Mount Saint Vincent University celebrated more than 340 graduates from 12 countries during fall convocation ceremonies held in Halifax, Nova Scotia on November 4. Students crossed the stage from Arts, Science, Education, and Professional Programs to accept a wide range of certificates, diplomas and degrees before becoming part of the Mount's network of more than 34,000 alumnae.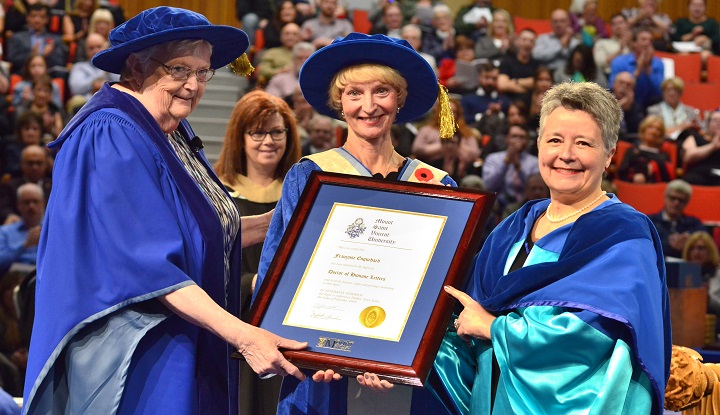 Honorary degree recipient
The Mount bestowed an honorary degree on
Françoise Enguehard
(at right in the photo above)
, whose life's work has focused on bilingualism and the Francophonie, in particular the advancement of minority language rights. A former journalist with Radio-Canada and today a columnist for the only independent French newspaper in the Atlantic Provinces, l'Acadie Nouvelle, Ms. Enguehard also serves as President of the Fondation Nationale de l'Acadie and is the recipient of the Légion d'Honneur from France (France's highest award of merit) and l'Ordre des Francophones d'Amérique. (
photo and bio – in French and English
)
In her address, Dr. Enguehard encouraged graduates to make learning a lifelong pursuit – be curious, ask questions, and think independently and analytically. She also implored graduates to "care and act on it."
"You cannot ever go wrong by caring. Let this be the basis of everything else you do," Dr. Enguehard said. "Because to care is to want to understand others, it is to question injustice, it is to use your brain to help your fellow human beings, it is to be curious of the circumstances and hardship of other people. And because, in the end, caring and acting accordingly are what give purpose to a life well-lived."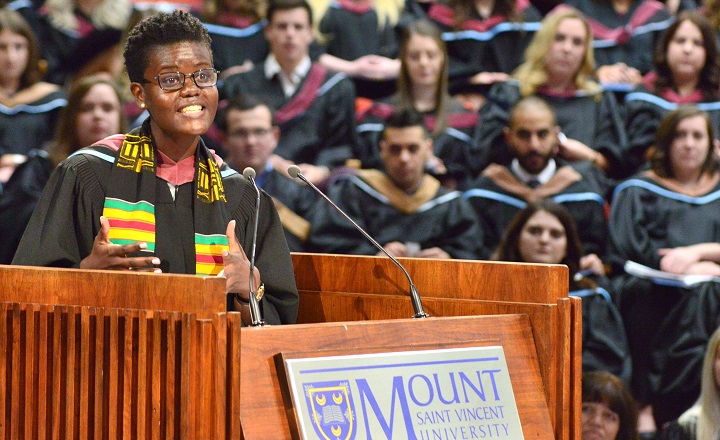 Student prizes
Valedictorian Prizes for significant contributions to extracurricular activities at the Mount and in the community-at-large were awarded to:
–
Sharon Ishimwe
, Master of Public Relations, Kampala, Uganda
(see photo above)
The President's Prize, awarded to graduates whose generosity, energy and commitment enriches the university, was presented to:
– Cassey Deveau, Bachelor of Public Relations, Belle Cote, NS
– Edward Parsons, Master of Education (Lifelong Learning), Spryfield, NS
Membership to Kappa Gamma Pi, the National Catholic College Graduate Honor Society, is based on scholarship, leadership, and service, and was presented to:
– Lisa Christmas, Bachelor of Arts (Psychology), Membertou, NS
– Jennifer Waterhouse, Master of Education (Lifelong Learning), Norman Wells, NT
Graduate Thesis Award
– Jessica Long, Master of Arts in Communication Studies, Dartmouth, NS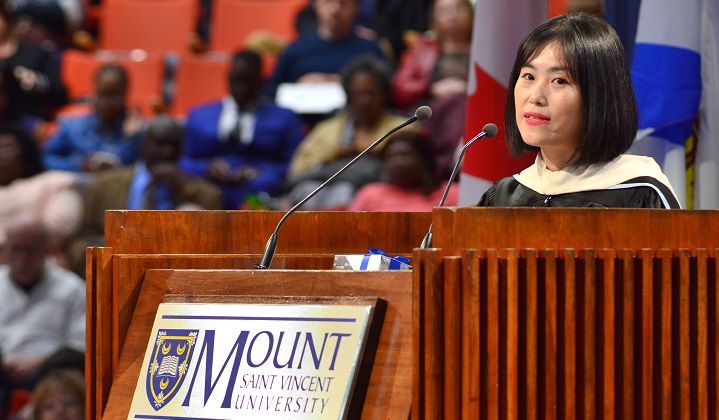 About Mount Saint Vincent University
Recognized as a leader in distance and experiential learning, and based on a strong tradition of social responsibility, Mount Saint Vincent University takes a personalized approach to education to nurture socially responsible global citizens. Founded in 1873, the Mount has been nationally recognized for having one of the lowest student-to-professor ratios, for providing students early access to valuable research opportunities, for its legacy in the advancement of women, and for facilitating critical advancements in food security, healthy aging, literacy, and childhood development.
---
Gillian Batten
Communications, Mount Saint Vincent University
902-457-6439