Mount Saint Vincent University will recognize the achievements of several hundred students during fall convocation ceremonies on Sunday, November 4, 2018. Graduates will be joined by Françoise Enguehard who will be awarded an honorary degree of Doctor of Humane Letters.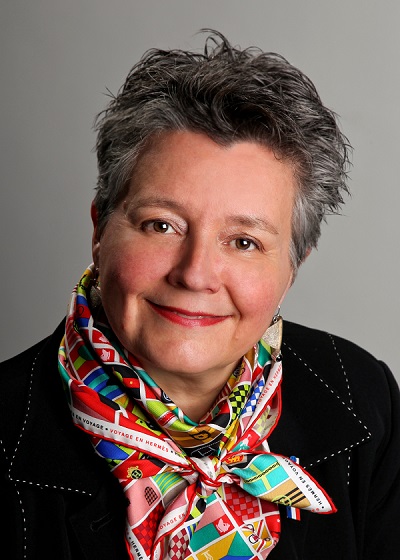 Françoise Enguehard, BA, MA, was born on the French islands of Saint-Pierre et Miquelon and came to Canada at an early age to continue her studies. For more than 40 years she has been living and working in St. John's, Newfoundland, devoting much of her energy to the Acadian and Francophone communities in the Atlantic region, in the country and around the world.

From 1989 to 2001, she was a radio and television reporter for Radio-Canada. She hosted several Newfoundland television productions and remains a regular columnist for the only independent French newspaper in the Atlantic Provinces, l'Acadie Nouvelle.

Françoise manages her own communications consulting company, VIVAT Communications. In this capacity she organized several large cultural celebrations including the 2004 celebrations of 500 years of French presence in Newfoundland and Labrador, and the bicentennial of the return of Saint-Pierre et Miquelon to France in 2016.

Françoise is an award-winning author, whose novels have been translated and published in English. She has just finished writing her first novel in English. She is also the recipient of numerous awards, chief among them the Légion d'Honneur from France (France's highest award of merit) and l'Ordre des Francophones d'Amérique.


Convocation Ceremony Details
Françoise will be honoured during the morning (10 a.m.) ceremony on Sunday, November 4, 2018 in the Seton Academic Centre Auditorium. The event will also be streamed live on the University website.


About Mount Saint Vincent University
As a leader in distance and experiential learning, and based on a strong tradition of social responsibility, Mount Saint Vincent University takes a personalized approach to education to nurture socially responsible global citizens. Founded in 1873, the Mount has been nationally recognized for having one of the lowest student-to-professor ratios, for providing students early access to valuable research opportunities, for its legacy in the advancement of women, and for facilitating critical advancements in food security, healthy aging, literacy, and childhood development.

-30-

Media contact:

Gillian Batten
Director, Communications
Mount Saint Vincent University
(902) 457-6439
Gillian.Batten@msvu.ca
---
L'Université Mount Saint Vincent soulignera la réussite de plusieurs centaines d'étudiants lors des cérémonies de collation des grades qui auront lieu le dimanche 4 novembre 2018. Sera également présente Françoise Enguehard, qui se verra décerner un doctorat honorifique en lettres humaines.

Françoise Enguehard, B.A., M.A., née dans le petit archipel français de Saint-Pierre et Miquelon, est arrivée au Canada à un jeune âge pour poursuivre ses études. Vivant et travaillant depuis plus de quarante ans à Saint-Jean de Terre-Neuve, elle consacre une grande partie de son énergie aux communautés acadiennes et francophones de la région de l'Atlantique, du Canada et du monde entier.

De 1989 à 2001, elle travaille comme journaliste à la radio et la télévision pour la Société Radio-Canada et anime plusieurs émissions de télévision à Terre-Neuve. Aujourd'hui encore, Mme Enguehard rédige régulièrement des articles dans l'Acadie Nouvelle, seul journal francophone indépendant dans les provinces de l'Atlantique.

Dirigeant son propre cabinet de conseil en communication, VIVAT Communications, elle a organisé plusieurs grands événements, dont le 500e anniversaire de la présence française à Terre-Neuve-et-Labrador en 2004 et le bicentenaire de la rétrocession de l'archipel de Saint-Pierre et Miquelon à la France en 2016.

Mme Enguehard est une auteure primée dont les romans ont été traduits et publiés en anglais; elle vient d'ailleurs de terminer son premier roman en anglais. Mme Enguehard a reçu de nombreux prix, dont la Légion d'honneur (la plus haute distinction française) et l'Ordre des francophones d'Amérique.


Détails sur la cérémonie de collation des grades
Mme Enguehard recevra un doctorat honorifique en lettres humaines lors de la cérémonie qui aura lieu le dimanche 4 novembre 2018, à 10 h, dans l'auditorium du Seton Academic Centre. La cérémonie sera diffusée en direct sur le site Web de l'université.


À propos de l'Université Mount Saint Vincent
Véritable chef de file en matière d'apprentissage à distance et expérientiel et forte de son ancrage dans la responsabilité sociale, l'Université Mount Saint Vincent privilégie une approche personnalisée pour former des citoyens du monde socialement responsables. Fondée en 1873, elle est réputée au Canada pour avoir l'un des ratios étudiants par professeur les plus faibles, pour permettre aux étudiants de faire rapidement de la recherche, pour sa tradition en matière d'avancement des femmes, ainsi que pour faire progresser la sécurité alimentaire, le vieillissement en santé, l'alphabétisation et le développement de l'enfance.


-30-
Gillian Batten
Directrice, Communications
Université Mount Saint Vincent
(902) 457-6439
Gillian.Batten@msvu.ca