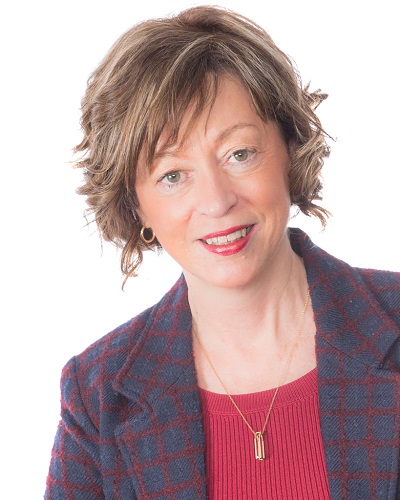 Dr.
Deborah Norris
of the
Family Studies and Gerontology Department
at Mount Saint Vincent University knows well the trials and triumphs of military family life. She's made it her life's work to research the challenges faced by military families, in particular military spouses. Along the way, her work has had powerful impact on programs, policy, and – most importantly – people.
Deborah completed her Master's degree in Family Studies at the University of Alberta. Her research work began with a focus on work-family balance. Her interest in military families specifically was sparked when she heard that Canada's very first military family resource centre was going to be set-up as a pilot at the Canadian Forces Base in Halifax. Deborah had become faculty at the Mount not too long before that.
"I was invited to plan and implement a parenting program and a program for military spouses at the centre, which I did for a few years as part of my research/service activities," said Deborah. "This was an extension of my education and experience in family studies, and involved collaboration with many others – military and non-military. The basic premise was that if you support the family, then that in turn supports the member."
Connecting research and programs
Deborah was part of a team that helped shape the
Halifax Military Family Resource Centre
in its earliest days. It was a development process that moved quickly, as Canada lagged most other countries (at the time) by about 15 years in the area of military family support.
Deborah helped develop programs for military parents, but what she enjoyed and connected with the most was her work in program development for military spouses. She credits a group of strong mentors at the Mount with helping her make the decision to dive into doctoral studies.
"Working them out, working them in"
It was during a coffee break with the military spouses – all women at the time – who she had gathered together through her program development work that Deborah identified the focus of her PhD research. Her participant-centred approach meant she developed her programs in consultation with the women they sought to support. "I was just giving them an opportunity to share their insights and their experiences and to support each other. Because my sense was without the work of these women, the military could not do the work that it does," said Deborah.
"At that point in the program, most of the spouses were spouses to naval members who would be going out on a six month deployment. So they were kind of commiserating with each other about how they have to get ready for them to leave and checking on how each other was doing. Some were talking about their children and wondering how they were going to cope with small children on their own which was exactly what the program was designed to do. They were supporting each other."
One of the women used a phrase that stuck with Deborah. She said, "Here we go again. We have to get ready to work them out and work them in." Deborah wanted to know more about the practices that the women would use to "work out" the CAF member for six months and then reintegrate them into the family system when they returned from deployment.
"I was in awe of these military women because of their resilience and their self-reliance," noted Deborah. "I was just so impressed by their strength, their inner strength and their capacities to accommodate their family needs while also ensuring that the military mission could be honoured and respected."
Deborah explained that though the women knew they played an important role, they didn't see how that work could be articulated to the military institution. "Without them, really the military could not do its work. They couldn't see how the very real contribution they were making was not just to their families and the wellbeing of their families, but also to the military."
Through her PhD research, she set out to know exactly what that work involved. "Through program development, I had the wonderful privilege of being able to support these women and these military families." Her PhD thesis title captured the phrase that struck her at the outset: "Working them out, working them in."
Expanding research interests: Military and veteran family resilience
Today, Deborah studies the everyday experiences of family members who support either Canadian Armed Forces members or veterans through the various opportunities and challenges that a military career provides. She is studying caregiving, health and work in military families, the experiences of single parents serving in the military, the experiences of female serving members in the CAF balancing work and family needs, military family resilience, the military-to-civilian transition, and post-traumatic growth in veteran family relationships. Two of these projects were implemented in collaboration with graduate students (the female serving member study and the PTG study) and the single parent study with a colleague working within the Director General Military Personnel Research and Analysis research unit.
She also continues to study the cycle of deployment, in particular how the military spouse manages the recurring in and out of the family system for the military member. As well, she is studying the impact of operational stress injuries, including service-related post-traumatic stress disorder (or PTSD), on the mental health and well-being of family members.
"Looking at PTSD, I'm aiming to better understand what the experience is for the family member – their strength is what helps the veteran. It is a bi-directional relationship. So the veteran's operational stress injury is affecting the family but if the family is supported, that cycles back and supports the health and wellbeing of the veteran," she said. A military family and veteran resilience model is in development, in collaboration with policy makers involved in implementing military family supports programs and services in the CAF.
Deborah is currently a member of a pan-Canadian research team working with Veterans Affairs Canada on their "Road to Civilian Life" program of research addressing gaps in research on veterans' families in Canada. Research has been used to develop the Caregiver Recognition Benefit, the Veteran and Family Well-Being Fund, the expansion of the Veteran Family Program across all Military Family Resource Centres in Canada, and the Centre of Excellence on PTSD and related mental health conditions. This team includes Dr. Maya Eichler of the Mount and colleagues at Queen's University, the University of Calgary, and the Université de Quebec en Outaouais.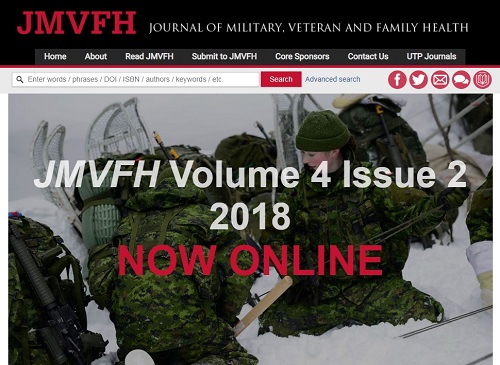 Deborah is also an associate editor of the Journal of Military, Veteran and Family Health.
The journal is available online here
.
Research fellow award
Hers is an extensive list of previous and current research efforts and one that does not go unrecognized by colleagues. Last fall, Deborah was named a Fellow of the Canadian Institute for Military and Veteran Health Research (CIMVHR). Fellows are recognized for their exceptional research advancements within the field of military, veteran and family health and well-being.
Congratulations, Deborah, on this very well-deserved recognition!