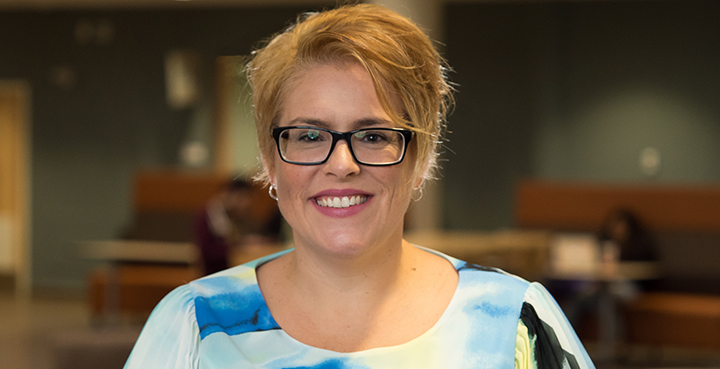 Denise Green joined the Mount community as Executive Director of Advancement in September 2018. As the leader of Advancement, Denise will further the University's priorities in the areas of fundraising, donor and supporter stewardship, and alumnae relations (with a world-wide alumnae network 34,000 strong).
An experienced fundraiser and team leader, Denise joins the Mount from the United Way Halifax where she fulfilled a range of roles with increasing responsibility and success over the past 11 years. Her most recent position was Director, Major Gifts and Donor Stewardship. She has more than 17 years of social sector experience, including in the arts and health services.
What drew Denise to the Mount was the University's strong tradition and enduring focus on social responsibility and the advancement of women. "As a woman in a leadership role and as a parent raising a daughter, I found myself connected to the mission of the Mount," she noted. "This focus also aligns well with trends among women in philanthropy. In the years ahead, women donors stand to reshape giving in Canada."
"Denise is passionate about making a difference, both in the workplace and the broader community, and has built an extensive network of contacts in the philanthropic community," said Kelly Gallant, Associate Vice-President of University Relations. "Her focus is on building community and relationships, setting and achieving goals and relying on data to drive decisions. We are delighted to have her as a member of the Mount community."
In her new role at the Mount, Denise will report to Kelly and also work closely with the President and Mount leadership team, and in consultation with the Board of Governors' Advancement and External Relations Committee.
Born and raised in Lunenburg, Nova Scotia, Denise is a proud mom to her 15-year-old daughter Robyn, a competitive swimmer for the Halifax Trojans and new high school student.