Second Annual event for girls, by girls
International Day of the Girl 2018
The Alexa McDonough Institute for Women, Gender and Social Justice (AMI) at Mount Saint Vincent University is set to host its second-annual celebration of the UN International Day of the Girl Child featuring the stories of inspirational girls from across Nova Scotia. "The goal of this event is to help bring awareness to challenges that girl children face, showcase some, inspire some and provide an opportunity for girls in Nova Scotia to get together," noted Dr. Susie Brigham, Chair of the AMI at the Mount and professor in the Faculty of Education.
When: Thursday, October 11, 2018, 1 p.m. to 3:30 p.m.
Where: Multi-purpose Room, Rosaria Student Centre, Mount Saint Vincent University, 166 Bedford Highway
[map]
Presenters will include a diverse group of eleven young women representing Aboriginal girls, immigrant girls, African Nova Scotian girls, and girls of varied socio economic backgrounds. All of the young women presenting are already working on facets of social justice.
Joining the girls will be several notable guests:
The Honourable Kelly Regan, Minister of Community Services and Minister responsible for the Advisory Council on the Status of Women Act
Mike Savage, Mayor of Halifax
Dr. Mary Bluechardt, President and Vice-Chancellor at the Mount;
El Jones, current Nancy's Chair in Women's Studies at the Mount and poet-activist; and
Catherine Martin, former Nancy's Chair and a filmmaker-storyteller from the Mi'kmaq community of Millbrook
---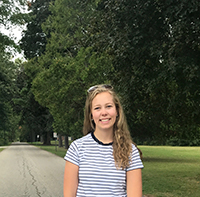 Ailin Chant
(age 19) — Ailin is attending Huron University College at Western University studying Governance, Leadership, and Ethics. Ailin is a leader and believes that it is in service of others that you develop character, experience and awareness. Her experience as Head Girl in high school has propelled her to this next phase of her life in which she is the Associate Vice President Marketing for the Students' Union, remains a Hellmuth (Presidential Scholarship) Scholar, and fulfills a variety of service and leadership roles. Ailin's passion for dance and volunteer work sparked an independent study in grade 12 where she developed a dance program for children with special needs in The Gambia, West Africa. Ailin's dedication to volunteering locally and globally has led to a passion for helping others find their voice!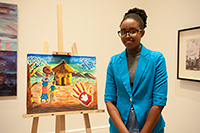 Chadia Kayinamura
(age 23) – Chadia was born in Congo and grew up in a refugee camp in Uganda. She is the first child in her family and, as such, shoulders the responsibility of setting an example for her younger siblings. She attends Université Sainte-Anne and has always dreamt of being a nurse, particularly to help alleviate the pain of others. She currently works as an assistant teacher in early childhood education. Chadia is an artist who loves making paintings of the natural world and still life. She has been drawing since she was 14 years old and says that paintings provide "An image and voice to people who don't have a chance to speak."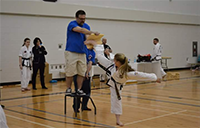 Lauren Melanson (age 19) — Lauren is a second year engineering student at Acadia University. She has been doing Taekwon-Do for fifteen years, has achieved her fourth degree black belt, and has won gold at the World Cup. As well, she owns a Taekwon-Do studio in New Minas, NS, called Melanson Taekwon-Do. Teaching Taekwon-Do has been her dream for many years and her favourite part about teaching is seeing the students grow and progress. Lauren also plays rugby for the Acadia Axewomen.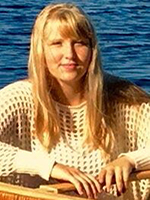 Cedar Meuse-Waterman (age 15) — Cedar is homeschooled and is in grade 10. She was born and raised in the Bear River First Nation community. She enjoys drawing, music, learning and practicing her native culture. She's recently participated in building two birch bark canoes. Her goal is to become fluent in her Mi'kmaw language and to pass her teachings on to others.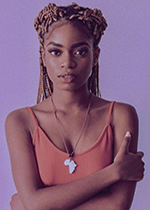 Jemima Mitima (age 16) — Jemima is a dancer, singer and actor from Halifax West High School. Growing up she was involved in soccer, swimming, and gymnastics. She enjoys playing the guitar and piano. As a girl, not only does Jemima want to see women empowering each other, she wants to see women empowering each other in a non-competitive way.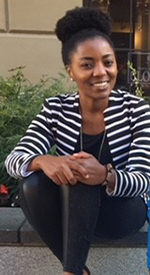 Praise Mugisho — Praise is a Congolese immigrant from Uganda, where she lived for seven years as a refugee. She is a student at Sainte-Anne and plans to be a psychiatrist. She works as a youth co-facilitator and a youth life-skills worker at Immigrant Services Association of Nova Scotia (ISANS), and has been part of a short video project by ISANS called "I am today" as well as a Social Justice photography project. Praise loves to laugh and has a passion to work in areas of social justice that amplify youth voices in the community. Her dream is to create spaces in which the wisdom, unique talents, passions, knowledge, and skills of youth can shine and in which youth from divers backgrounds can come together towards creating change.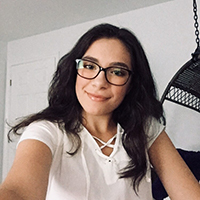 Julia Odendaal – Julia is the author of the novel "love, emily". Along with writing she loves figure skating and hanging out with her friends. Julia is in grade nine and would really like to be a lawyer one day. "Dream big, challenge your limits, don't limit your challenges."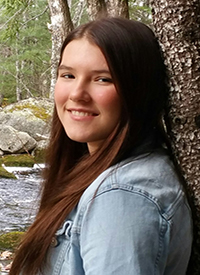 Karlee Peck (age 15) — Karlee is a member of Bear River First Nation, the daughter of Greg and Krista Peck, granddaughter of Elder Agnes Potter, and Great-Great-Great-Great Granddaughter of Malti Pictou (Master Birch Bark Canoe Builder and Native Guide whose name is engraved on the rocks at Kejimkujik National Park). Karlee is an exceptional 15-year-old, in grade 10, who enjoys being home-schooled. She is currently taking correspondence courses to obtain credits towards a Provincial high school diploma so she can further her education in university. She plans on studying journalism. Karlee enjoys the outdoors – she loves riding her horse and her (motocross) dirt bike, lacrosse, hanging out with friends, and journaling/writing. This summer, Karlee had the opportunity of apprenticing under Master Birch Bark Canoe Builder, Todd Labrador. The opportunity gave her the chance to feel more connected to her Mi'kmaq culture, and made her appreciate her roots even more. Kepmite'tmnej ta'n wettapeksulti'k – Let us greatly respect our native roots.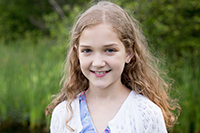 Isabelle Trudel
— Isabelle is a grade six student at École Secondaire du Sommet in Bedford, NS. She enjoys many extracurricular activities, such as dance, track, piano, acting and singing. She especially loves to bake and is hoping to attend the Le Cordon Bleu culinary school in Paris, France someday.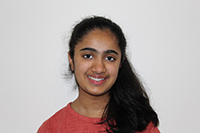 Janani Venkat – (age 14) — Janani is a grade 10 student at Charles P. Allen High School in Bedford, NS. She entered her first science competition in grade 5 and has since won several regional and national awards for her research. Janani is a two-time Gold medallist at the Canada-Wide Science Fair and was the recipient of the Youth Discovery Award for outstanding achievement in the field of science and technology. Janani was recently invited to present her science fair project to the Prime Minister and Minister of Science at Parliament. Janani loves to volunteer at science summer camps and dances ballet and Bharatanatyam (Indian classical dance).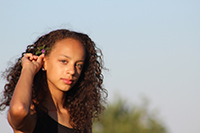 Sophia Wedderburn (age 16) — Sophia is passionate about the arts. Writing has always been a part of her life from the time she could pick up a pencil, whether it was concocting fairytales or drawing inspiration from her surroundings. Her poetry has been featured in The Young Writers of Canada Anthology of Poetry and Understorey Magazine, and it has been recognized by the Delmore "Buddy" Daye Learning Institute History Challenges for the past three years. Aside from writing, Sophia dances and sings at the Maritime Conservatory of Performing Arts, has performed in her high school musical, and dabbles in photography. She is proud to be a part of Student Government at Citadel High School where she leads the Global Initiatives Committee.
---
The event is open to everyone (not just girls) of all ages. Those interested can register on Eventbrite.
Also noteworthy this year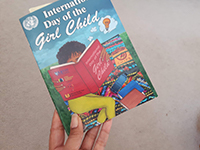 All attendees at this year's event will receive a free copy of International Day of the Girl, a book based on El Jones's spoken word performance at last year's event. The book is illustrated by Bria Miller – Bria attended last year's celebration with her 'mentee' who was also a featured speaker, Tiona Emerson, a grade 11 illustrator/artist). The book is published by the Delmore "Buddy" Daye Learning Institute.
From the UN: "The world's 1.1 billion girls are part of a large and vibrant global generation poised to take on the future. Yet the ambition for gender equality in the Sustainable Development Goals (SDGs) highlights the preponderance of disadvantage and discrimination borne by girls everywhere on a daily basis."
The Alexa McDonough Institute also hosts an annual Girls' Conference that seeks to help this generation of Nova Scotian girls develop, appreciate and celebrate their own abilities and talents and those of other girls and women, while empowering them to be a positive influence in their communities. The AMI is a hub of feminist energy, action and research that seeks to achieve equity and improve lives in their complexity and multiplicity, locally and globally.
Media are welcome to attend the event. Media interested in attending are asked to contact Gillian.Batten@msvu.ca in advance.
-30-
Media contact:
Gillian Batten
Manager, Communications
Mount Saint Vincent University
Gillian.Batten@msvu.ca
902-457-6439