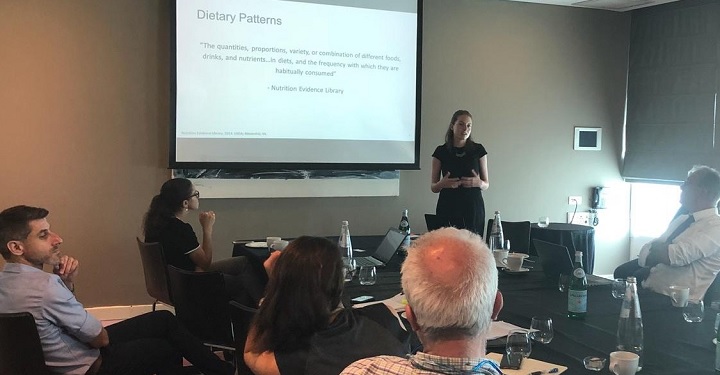 Antonia Harvey is a Registered Dietitian and student in the Master of Science Applied Human Nutrition Program at Mount Saint Vincent University (MSVU), studying under the supervision of Dr. Shannan Grant and Dr. Johan Van Limbergen. During her MSc, she was funded by a Canada Graduate Scholarship, Canadian Institutes of Health Research. Last week, Antonia was in Tel Aviv, Israel on a fully funded travel grant (The Wolfson Medical Centre Pediatric Inflammatory Bowel Disease [PIBD] Retreat Grant), with collaborators of the Grant Lab. As part of the trip, Antonia presented at the Wolfson Medical Centre's PIBD Research Unit's Research Day.
"The invitation to present at the Research Day was originally offered to Dr. Grant. However, she facilitated my attendance on behalf of the Grant Lab as it would complement the training I received during my graduate studies," said Antonia. "My family and friends were surprised that I was given this opportunity, but it is consistent with the student-centred approach at the Mount. Throughout my time here, Dr. Grant and other faculty have provided me with numerous experiences that I would likely not have had elsewhere."
Antonia gave a presentation on dietary patterns in pediatric inflammatory bowel disease, which she developed with her supervisors. This presentation summarized her graduate work on dietary pattern analysis; work done in collaboration with the IWK Health Centre (Dr. Johan Van Limbergen), Dalhousie University (Dr. Leah Cahill), and the Wolfson Medical Centre (Dr. Arie Levine and Rotem Sigall-Boneh, RD). The Wolfson Medical Centre is in Holon, which is a city on the central coastal strip south of Tel Aviv. The Research Day was held at the Azrieli Tower, which is the tallest building in Israel and located in the Sarona neighbourhood of Tel Aviv.
"After working with Antonia for over two years, I trust that she will represent our laboratory well," said Dr. Grant. "As a Supervisor, I strive to create opportunities that challenge my students, while enriching their learning and their lives. My colleagues in Israel are wonderful scientists, educators and people, so I know they will expand Antonia's learning, while appreciating the learning she brings from Canada. I returned to my home province to create opportunities like this for my students and I am proud that it is working out. Antonia has been texting me pictures of her travels in Israel with our friends (and colleagues) and I look forward to hearing more about what she has learned."
A focus on pediatric Crohn's patients
Under the guidance of Dr. Grant, Dr. Van Limbergen, and Dr. Cahill, Antonia developed five dietary indices which can be used in pediatric populations. Dietary indices are one method of dietary pattern analysis and can be used to assess an individual's adherence to a dietary pattern. Three of the indices were used, during Antonia's thesis, to conduct dietary pattern analysis in a subset of pediatric Crohn's disease patients participating in a study at the IWK Health Centre.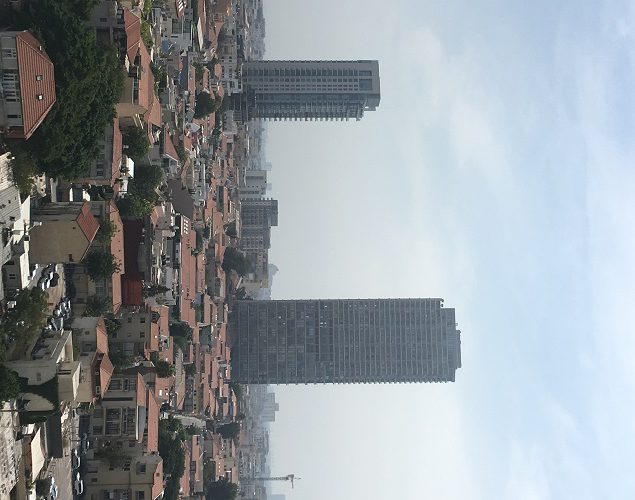 Antonia was also involved in another collaboration between the Grant Lab, the IWK, Dalhousie, and the Wolfson Medical Centre during her graduate studies. As part of her thesis work with Dr. Grant, Antonia investigated the effectiveness of online nutrition education support for children with Crohn's disease following a novel treatment diet. This work was a sub-study of a larger clinical trial which investigated the effectiveness of the novel diet (composed of specific whole foods and drinks) compared to the standard care (liquid nutrition formula). While the clinical trial included patients from the Wolfson Medical Centre, the IWK Health Centre, and Stollery Children's Hospital (Edmonton), the sub-study (and Antonia's thesis) focused on participants at the IWK.
She has spent the last few days exploring different areas of Tel Aviv, including Jaffa, Sarona, Neve Tzedek, and the beaches. Antonia has also been enjoying the cuisine of Israel, particularly the dates, tahini, hummus, and gelato. Although she has fallen in love with Tel Aviv and hopes to return in the near future, the highlight of her trip as been the opportunity to meet her colleagues from the Wolfson Medical Centre. She also enjoyed presenting at the Research Day and having the opportunity to share the work being done in the Grant Lab with the other attendees.
Antonia will share this presentation at her Halifax-based defense – date to be announced. She will be starting a new position as a clinical dietitian at the Dartmouth General Hospital this month; working on general medicine and surgical units. She is also hoping to continue teaching the Medical Nutrition Therapy II Laboratory (NUTR 4409/ GAHN 6409) with Dr. Grant in the winter 2019 semester.