The Department of Communication Studies has its holiday reading list sorted, with the exciting launch of three books this month authored by professors Dr. Ian Reilly, Dr. Amy Thurlow and Dr. Tony Yue. Their books explore themes of media hoaxing, organizational identity and the philosophy of mirrors, respectfully.

All are welcome to join Ian, Amy and Tony for a celebration of their book releases at Seven Bays Bouldering, 2019 Gottingen Street in Halifax, November 15th at 7 p.m. The event is free and open to the public.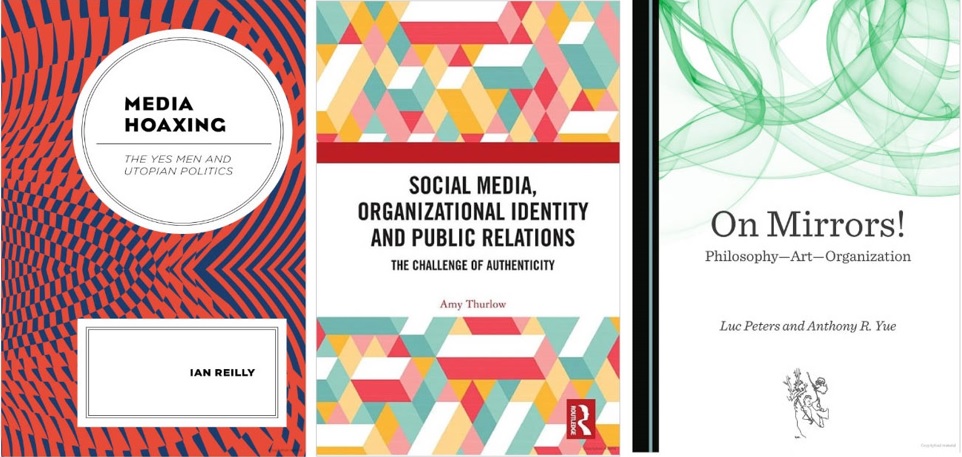 About the bo
oks:
Dr. Ian Reilly's Media Hoaxing: the Yes Men and Utopian Politics explores the work of the "Yes Men" – a pair of social activists who advance social and political causes through media events. The book examines how hoaxes like the ones they perform "contribute to the greater good."

Dr. Amy Thurlow's Social Media, Organizational Identity and Public Relations: The Challenge of Authenticity explores the creation of organizational identity through social/digital communications. It connects this virtual identity construction to PR management practices and considers the authenticity, legitimacy or plausibilty of these identities.

Dr. Tony Yue's On Mirrors! Philosophy – Art – Organization (written in collaboration with Dr. Luc Peters) explores "mirrors, philosophy, art and organization." It examines a philosophy of mirrors, as directing us without our awareness, through an investigation of painting, cartoons, architecture, music and much more.

Congratulations Ian, Amy and Tony!