A Change of Plans
Growing up, Julya Lynass didn't feel smart. She had no interest in school work and didn't apply herself. When she graduated from high school at 18, she pursued a job that she knew wouldn't require a degree.
"It's so unfortunate. But I literally used to tell myself that I wasn't smart enough to go to university," she says.
Two months into her job, Julya realized she wasn't pursuing her true passion. She had always wanted to somehow help children, families and communities, so she took a break to consider other options. One day, during a chance encounter at the IWK, Julya ended up chatting with a child and youth worker. The woman told her about the Child and Youth Study program at the Mount and encouraged her to apply.
"I said, 'That sounds great, but I can't do university. I'm not smart enough.' She told me to just do it; to apply and see if I could get accepted. Well, now it's four years later and I'm graduating from the program, and this has been the best four years of my life!"
The Perfect Match
Being the first person in her family to attend university, Julya says she didn't know what to expect. But she quickly realized that the Mount's small size and welcoming atmosphere was exactly what she wanted and needed.
"I loved the Mount," she says. "I loved the small classes, I loved that the professors, especially the ones in the Child and Youth Study program, knew the students as people, not numbers. They cared about us and wanted us to become the best child and youth supporters we could be." The program's small class size also meant that Julya developed close friendships. "Many of us are empathic and sympathetic; we have similar personality traits, so I loved getting to know them."
The program's curriculum was everything Julya had wanted. She studied early child development, middle childhood and adolescence to better understand how children develop socially, cognitively and physically. She enjoyed learning more about child and youth psychology and sociology, and different kinds of play-based therapy.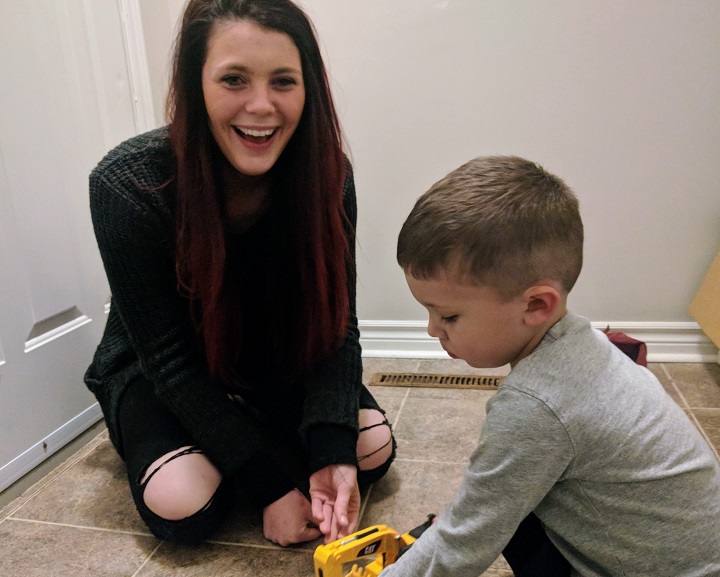 Julya says she was determined to do well in her studies and often declined social invitations in order to study. "I had this quote framed to keep me motivated in my little office where I do all my studying. It says, 'She believed she could, so she did,' and every time I was studying, I would look at it and say, 'Okay, I believe I can, so I'm doing it!'"
Real Life Experience
The Child and Youth Study program includes four practica. Julya did two practica in early childhood education settings, one pre-primary practicum through the regional school board, and a fourth practicum at a Halifax-based shelter for women and children.
"The stuff that I learned in the textbooks was great, that's your theory, but at the end of the day, it's what you learn firsthand that matters when you can't refer back to your textbook and you're in the moment and you just have to think, 'What's the best practice? What should I do in this moment?'"
Julya says that all four practica were excellent experiences but the one that made the biggest impact on her was her work at the women's shelter, helping women and children escaping domestic violence and abuse.
"I loved it. I really did. I felt like I was making a difference and like this is what I'm supposed to be doing; advocating for these families, helping moms access services and resources and giving power back to the children through play-based support. Because if you ask a child how they are feeling, they may not be able to express it verbally, but if they play, it's a lot easier for them to express themselves."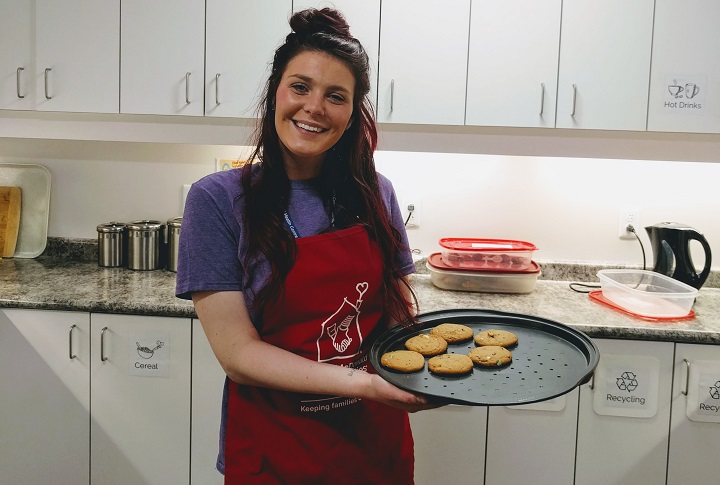 A Love of Learning
Julya is currently working full-time in early childhood education, and also volunteers once a week at the IWK's Ronald MacDonald Family Room. But her academic journey is far from over.
"I learned that I love learning! I was so hard on myself before, but I feel as though this has given me the courage and confidence to do more schooling and get my master's," says Julya. "I want to one day work with youth and tell them, 'You can do it! You just have to believe in yourself and have the passion and the drive to do it, and you can do it.' I want them to allow themselves to see the best versions of themselves, even if it's a bit hard and they have to dig down."
Throughout her journey at the Mount, Julya has had an entire community of family and friends cheering her on from the sidelines. She says they are thrilled and excited to see her cross the stage at Convocation in November.