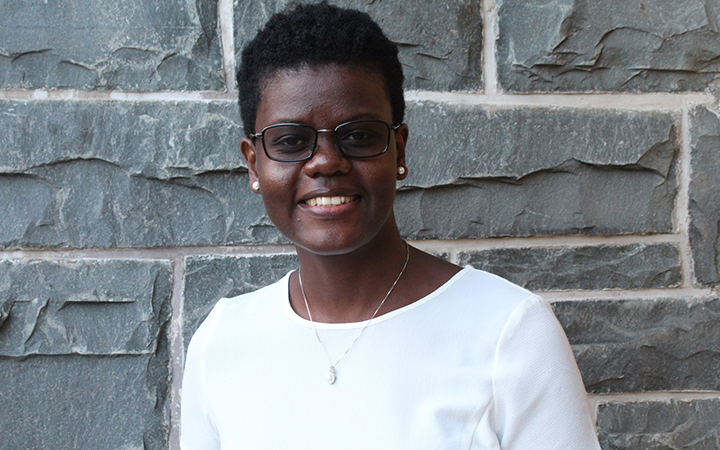 From Kampala to Halifax
When Sharon Ishimwe first heard about Mount Saint Vincent University, she was running her own successful business, and working for ChildFund International, a non-profit organization. She was living surrounded by friends and family in her home city of Kampala, Uganda, where she had earned a bachelor's degree in mass communications at Makerere University.
"From a very young age, I knew that I wanted to be a communicator; I enjoyed storytelling, both by writing and public speaking," says Sharon.
A passionate lifelong learner, Sharon wanted to travel and experience adventures and challenges beyond Kampala. Most of all, she wanted to become an even better communications professional. She started researching master's programs in the United Kingdom and the United States, and soon decided to focus exclusively on UK programs. She didn't hear about the Mount until a day when she volunteered to help give a tour of Kampala to a friend's Canadian pastor. The man, who had previously worked in communications, told her about the Mount's Master of Public Relations program and encouraged her to give it some thought.
"I checked out the Mount on the Internet, and it was amazing," says Sharon. "I submitted my application and I think they got back to me in three days! Their tuition was far less than what I would pay in the UK, and since I was paying it myself, I decided to come."
The Journey Begins
Right from the start, Sharon made it her mission to get out of her comfort zone and meet people at every opportunity. Her first chance came when she auditioned to be a host for the Mount's multicultural night. She won the audition and the night was a big success. A few days later, the Alexa McDonough Institute invited her to host the National Day of Remembrance. Following that event, she was asked to chair sessions of the 2018 Girls Conference.
Off campus, Sharon expanded her network in Halifax by speaking at events such as Momondays, volunteering and getting involved with professional organizations such as the Canadian Public Relations Society and the Nova Scotia chapter of Women in Communications and Technology.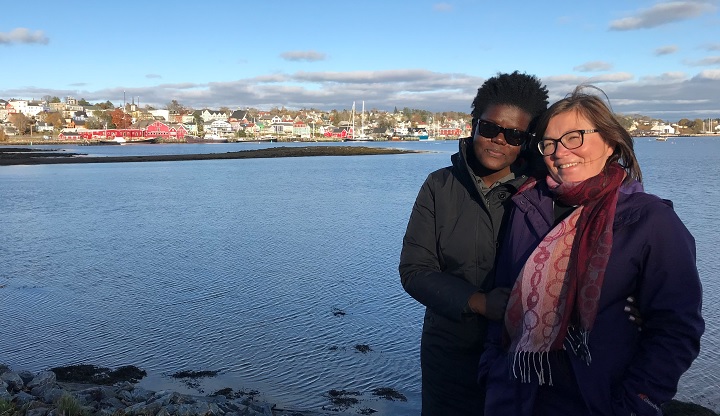 "I learned that in Halifax, if you make an effort and put yourself out there, the right people and the right opportunities will come your way."
The more Sharon embraced her new university and city, the more she felt like part of the community.
"When I would walk from the library, and people would give me a wave and a smile, that's when it started to feel like home. "
Connecting with Community
As part of the 40th anniversary celebrations of the Mount's Bachelor of Public Relations program, Sharon project managed a Student Digital Media Consulting Agency. Working with eight BPR students, she managed the development of a digital media plan for Hope Blooms, a non-profit organization dedicated to empowering youth in Halifax's north end. Sharon says it was a deeply rewarding experience.
"I was so pleased that we could provide them with a tangible digital media plan that was easy to understand and use."
Sharon also enjoyed the mentorship aspect of the project, helping bachelor's degree students find their own voices and hone their critical thinking skills.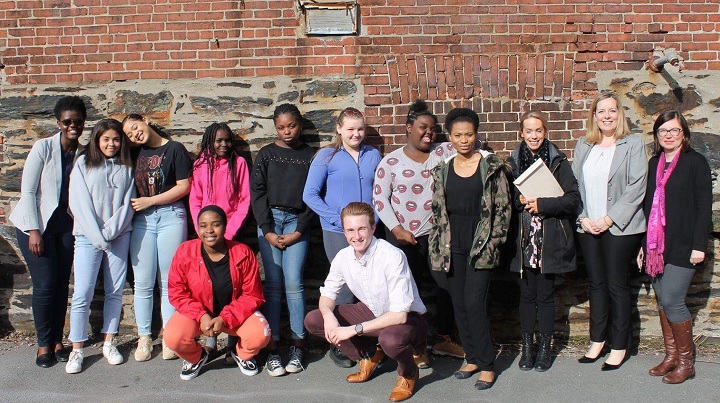 The Answers Within
Reflecting on her academic journey at the Mount, Sharon says she came to the university to become the greatest communicator she could be.
"I thought a master's degree in public relations would help me write a killer press release or the perfect communications plan – all of that stuff that's technical."
And while Sharon did acquire all of those refined practical skills and more, she says the reward was far richer.
"I did become a better communications professional, but this experience also made me a better person generally. It teaches you to think about what you as an individual can contribute to society – both as a person and as a communications professional. So, if you end up working in the corporate world, you're not just corporate minded; you're thinking about the community too."
A New Home in Halifax
In September, Sharon was thrilled to start a fulltime position as a communications officer with the Government of Nova Scotia. While she misses her friends and family back home in Uganda, she is happy to be staying in Halifax, where she has already made so many new friends including classmates, professors and community members.
"Halifax has welcomed me," she says. "In a very short time, I have carved out my own space within the city and I have learned to just be myself."
Sharon says she encourages other international students to consider studying at the Mount, and to make the most of every step in their journey.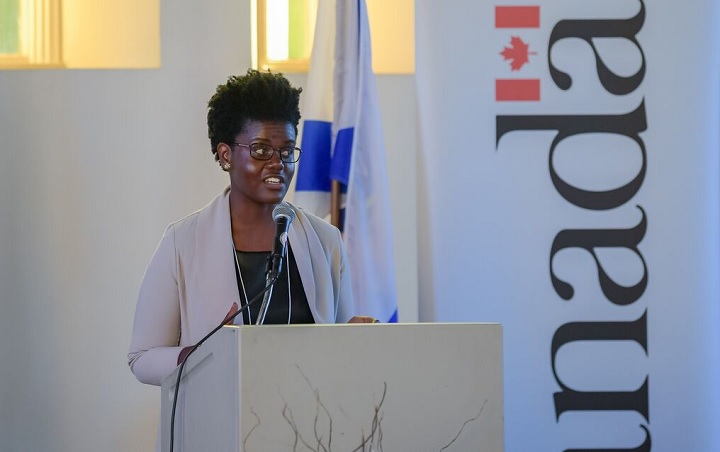 ---
Sharon will deliver her valedictory address during the morning convocation ceremony on Sunday, November 4, 2018, which gets underway at 10 a.m.