Gift enables Canadian Public Relations Society memberships for Mount PR students
Bachelor of Public Relations (BPR) students at Mount Saint Vincent University will now have the opportunity to expand their industry connections and knowledge through membership in the Canadian Public Relations Society (CPRS).
Starting this fall, Mount BPR students will become members of CPRS thanks to a generous gift to the University from the estate of Neil and Ivy Oakley. With this support, the
Communication Studies
department enrolled all first- to third-year BPR students in CPRS Nova Scotia this fall. And fourth year students were enrolled as CPRS National student members.
Mr. Oakley was a long-time member of CPRS, and served as the national president from 1976-1977. He was instrumental in the establishment of the Bachelor of Public Relations Program at the Mount 40 years ago.
The announcement of this initiative was made at a special event hosted by CPRS-NS at the Mount on October 24 that featured guest speaker and Mount alum Alison MacDonald, Communications Manager at Halifax Harbour Bridges and CPRS-NS 2018 Communicator of the Year.
"The opportunity to join CPRS provides great benefit to our students as they will have access to excellent professional development resources, mentorship, and networking opportunities. This will also continue to strengthen the long-time relationship between CPRS and the Mount," said Professor
Dr. Amy Thurlow
. "The Communication Studies department is grateful for the late Mr. Oakley's contributions both to the Mount and the profession more broadly."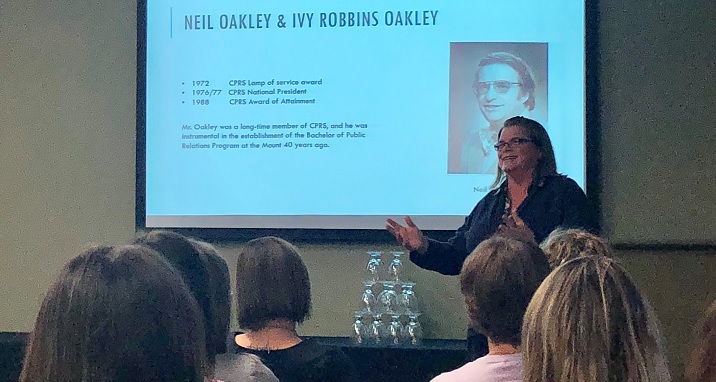 "As a Mount Bachelor of Public Relations graduate myself, I'm thrilled future practitioners will be given the opportunity to get involved with the Canadian Public Relations Society both locally and nationally. This partnership with the Mount continues to ensure that the CPRS Code of Professional Standards is instilled from day one, creating a strong foundation of professional ethics on which students can build successful lifelong careers," said Dana Dean, APR, FCPRS LM, National President, Canadian Public Relations Society.
"We are excited about this renewed partnership and support in promoting ethical public relations in this province," said Terri Mosher, President of CPRS Nova Scotia. "Nova Scotia plays an important role in the public relations profession, not only in Canada but also around the world. This is driven by the top-quality education and innovative research occurring at the Mount."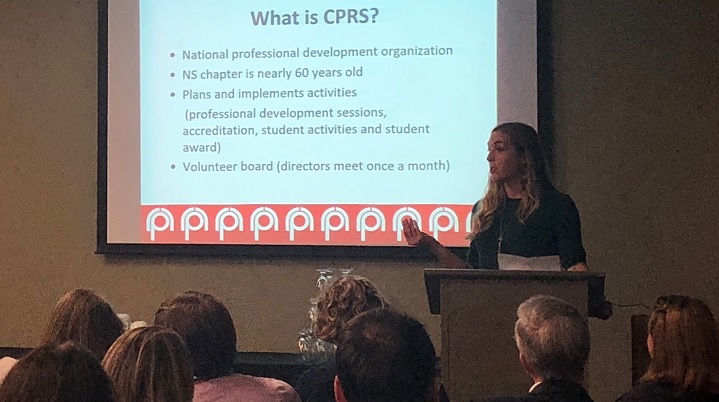 This initiative will continue for future students. Noted Dr. Thurlow, "This will be a permanent benefit that we offer our BPR students to help them get the most out their education and their profession."
About Mount Saint Vincent University
Recognized as a leader in distance and experiential learning, and based on a strong tradition of social responsibility, Mount Saint Vincent University takes a personalized approach to education to nurture socially responsible global citizens. Founded in 1873, the Mount has been nationally recognized for having one of the lowest student-to-professor ratios, for providing students early access to valuable research opportunities, for its legacy in the advancement of women, and for facilitating critical advancements in food security, healthy aging, literacy, and childhood development.
About the Canadian Public Relations Society
Founded in 1948, the Canadian Public Relations Society (CPRS) is a not-for-profit organization whose members are engaged in the practice, management or teaching of public relations. Members work to maintain the highest standards and to share a uniquely Canadian experience in public relations. CPRS is a federation of more than 2,500 members across 14 Member Societies based in major cities or organized province-wide.
---
Gillian Batten
Communications
Mount Saint Vincent University
Gillian.Batten@msvu.ca
902-457-6439
Kiki Cloutier
Director, Marketing and Communications
Canadian Public Relations Society
kcloutier@cprs.ca
416-239-7034 ext. 224