Chemistry student Matthew Timm has built important relationships in the Mount's science research community and has received many awards for his unprecedented work as an undergraduate student.


With a history of deconstructing gadgets and putting them back together, Matthew Timm has had an affinity for science and math since he was young. Now, Matthew is a fourth-year
chemistry
undergraduate student at the Mount, where he has been able to pursue his quest to understand how the world works. Winning many awards and conducting research along the way, he has been able to make meaningful connections with his professors and the chemistry community – relationships that he considers the key to his success.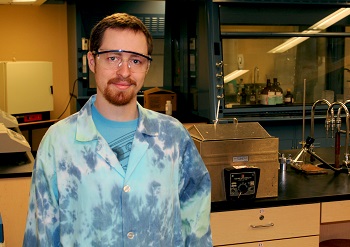 Matthew has worked with almost every faculty member in the Mount's Chemistry Department, most notably on projects with
Dr. Ian Pottie
,
Dr. Chérif Matta
and
Dr. Aibing Xia
. Each collaboration has provided Matthew with the opportunity to explore different areas of research – from synthetic organic chemistry to computational physics.
Research award winner
Matthew's work as a research assistant has been made possible by two grants from the Natural Sciences and Engineering Research Council of Canada (NSERC), and an Undergraduate Student Research Award given to students who have a strong academic record and demonstrate research aptitude. Most recently, he was awarded the Science Atlantic Communication Award at the Science Atlantic/CIC Annual Student Chemistry Conference in recognition of his exceptional presentation on Primary Retention following Nuclear Recoil in β-Decay: Proposed Synthesis of a Metastable Rare Gas Oxide (38ArO4) from (38ClO4–) and the Evolution of Chemical Bonding over the Nuclear Transmutation Reaction Path. Essentially, Matthew's Honour's project analyses the ability of radio activity to create a new product unlike its usual function of destruction. He has also contributed his findings to two scientific publications.
Matthew's role as a research assistant at the Mount is uncharacteristic of most undergraduate students. In many post-secondary institutions graduate students more commonly fill those roles, but Matthew was inspired to delve into research after seeing the accomplishments of senior-level students. He has also become further involved in the chemistry community as a teacher's assistant, another role traditionally filled by graduate students, and as a Science Representative on the Student's Union.
"Here we are talking about the crème de la crème in every respect," Dr. Chérif Matta said of Matthew. "On a personal level, I find Matt a most gentle and kind person, honest, understated and modest, and extremely generous in sharing his knowledge and expertise with his student colleagues."
Professor support key to success
Overall, Matthew attributes much of his success to the professors who have supported his growth and encouraged him to let curiosity guide his work. Working side-by-side with these professors, Matthew has built a network of like-minded individuals who share the desire to know how the world works. Each of Matthew's mentors were able to proffer unique lessons and advice that have shaped his journey at the Mount.
"If you get to know your professors it's much easier for you to do well because you know that they will also be looking out for you — they will notify you of opportunities," said Matthew. "The Mount is great because whether it's helping out in the lab or assisting in supplemental instruction…[the University] gives undergraduates a lot of practice in being academics."
Next up for Matthew: attending the University of Toronto for his PhD in Chemistry. And also likely in his future? Countless more research innovations and successes – a science career worth watching!