Three minutes. Three of the Mount's best minds. One trip to the regional competition in Montreal.
On Tuesday March 31st, 2015, graduate students from Mount Saint Vincent University gathered to compete in our local Three Minute Thesis (3MT) competition. These graduate students had to present their thesis research to a room of students and faculty from across campus in an interesting, engaging and accessible way… in under three minutes. And at the end of the competition, Dayna Bell, a student in the
Master of Arts in Communication
program, was chosen to represent the Mount at the regional competition in Montreal (watch Dayna's presentation
here
).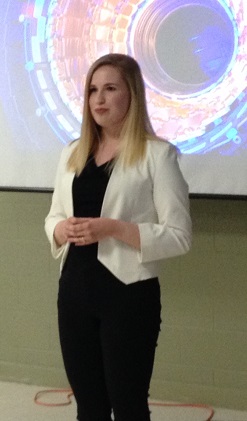 Students, faculty, judges and 3MT participants gathered in Rosaria for the event. Laura A.V. Teed, also a MA Communication student, began the event by presenting her research, Investigating the communication understanding and effectiveness among contemporary artists in Nova Scotia. Next, Dayna Bell, flanked by an image of the large hadron collider, spoke about Science Communication and Ethics. Maureen Green, the evening's final competitor and a MA student in
Family Studies and Gerontology
, presented on Older LGBTQ Adults' Experience Living in Long-Term Care. Each student was allowed to use a single static slide to support and illustrate her presentation.
An opportunity to put it out there
After the speeches, the competitors discussed their experiences of preparing for the event. "It's helping me move forward in actually finishing my thesis," Maureen Green admitted.
Laura Teed talked about the challenges of making complex academic research accessible to a broad audience. "It's hard to cut it down and make it concise, but you've got to go back to your communications skillset and think of it as a pitch," she said. "You craft something, and you hope that it's something that people can remember and grab onto…. It's nice to be able to talk about what you work on and spend all your time doing. This gave us an opportunity to put it out there."
For local competition winner Dayna Bell, 3MT is a chance to prepare for that inevitable question: What is your thesis about? "I have to say that the best part of this competition, my most favourite part, is waiting for someone to ask me what my thesis is about, and I'm going to be able to tell them, 'Do you have three minutes?' and Bam! I can't wait! It's going to be a great day when that happens."
Next Up: Regionals
Judges
Dr. Elizabeth Church
, (Vice-President Academic), Students' Union President
Paul Whyte
, and English professor and Writing Co-ordinator
Dr. Susan Drain
evaluated each presentation on comprehension, communication and engagement before awarding the night's prize—an expenses-paid trip to attend the regional 3MT competition in Montreal—to Dayna Bell.
Dayna will present her research for a chance at the regional and national prizes at Concordia University on May 7th.
Learn more about 3MT.