Greg Haller and Brianna Burns deliver award-winning presentations at the 2015 Science Atlantic Conference
On March 6 – 8, 2015, 150 faculty and students from across Atlantic Canada came together for the annual Science Atlantic Aquaculture & Fisheries and Biology Conference, held at the University of Moncton. The annual conference aims to advance science education and research opportunities for undergraduates and assembles a weekend of oral and poster undergraduate presentations. Honours and directed study students are given the opportunity to present their high quality, diverse research.
This year, two notable Mount biology students returned from the conference with special recognition – Greg Ha
ller (supervised by Dr. Tamara Franz-Odendaal of the Mount) with a third place win for "best oral presentation" and Brianna Burns (supervised by Dr. Cindy Staicer of Dalhousie University) with a fourth place award in the "best poster presentation" category
(both students are pictured below, with Dr. Ron MacKay, Chair of the Department of Biology)
.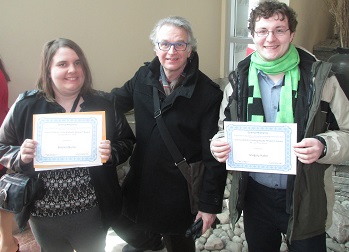 Greg's presentation showcased his work with in vitro culturing, which means taking cells and tissues out of their natural environment and putting them in an artificial culture medium to see if they will continue to grow. He successfully observed the ossification (or bone tissue formation) within the eyeball of a chicken embryo in vitro, which has never been done before.
Brianna's poster explained her research on a common bird species in North America. Her study explored the geographic variation in the male Magnolia Warbler songs within Nova Scotia. Brianna found that 'mate attracting' songs were relatively consistent throughout Nova Scotia, but 'territory defending' songs differed by location.
Reflecting on the experience Greg said, "It's neat to share my work with the rest of our university, but then also with Atlantic Canada. It's really exciting to show what I've been doing."
Brianna noted, "It isn't important if you win or don't win, but [what's important are] the memories you have gained from the experience. It is important for people to attend the Science Atlantic Conference because it gives a chance to connect with both instructors and other students who share similar interests."
Last year, Greg volunteered at the conference, giving him the opportunity see other students' presentations and better understand what to expect when he showcased his own findings this year. He suggests that other students who are interested in the conference should take the opportunity to showcase the hard work and dedication they put into their research.
"It was a bit of a confidence booster because although your supervisor gave you a topic, this research is yours," said Greg. I got up there at the conference and I knew that I was the one who figured this out. I know this subject, I had to learn it as I went. You feel like you are a master of your own subject."
Six Mount students participated in this year's conference, including (in addition to Greg and Brianna): Alexis Lefait, Sarah Pickrem, Megan Reardon, and Ashley Martel. "This was the largest cohort of students that the
Biology Department
has ever had represent the Mount in the history of this conference," said
Kevin Shaughnessy
, Senior Lab Instructor of the Biology Department. "All the students made us very proud. I cannot imagine the Mount being better represented at this conference than we were this year."